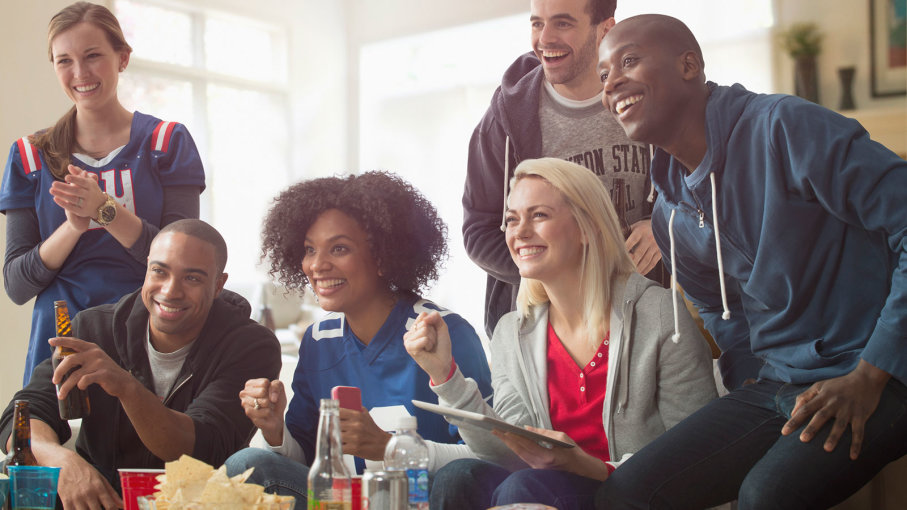 On February 13th, fans will gather to celebrate America's biggest professional sporting event: The Super Bowl. When the 2021 season ends, households everywhere will host viewing parties for Super Bowl 56. Most viewers are true football enthusiasts, some prefer the half-time show and others are most excited about catching funny commercials during the game. However, there's one thing we can all agree is the priority when it comes to a Super Bowl party: The snacks! At Chestnut Hill Farms, we have rounded up our favorite Super Bowl party recipes—with a pineapple twist, of course!
Kick Off the Afternoon with Immune-Boosting Bites
In the low temperatures of early February, your immune system appreciates an extra boost. While you might think of pineapple as a tropical summer treat, our perfect pineapple is always in season! Freshen up super bowl party recipes with this superfruit and all the health benefits it has to offer. While guests enjoy tasty snacks over some healthy competition, they'll also benefit from the immune-boosting properties of the queen fruit.
Glazed Pineapple Ham Picks
Easy to eat and perfect for sharing, Glazed Pineapple Ham picks are the perfect bite-sized addition to your Super Bowl party recipes.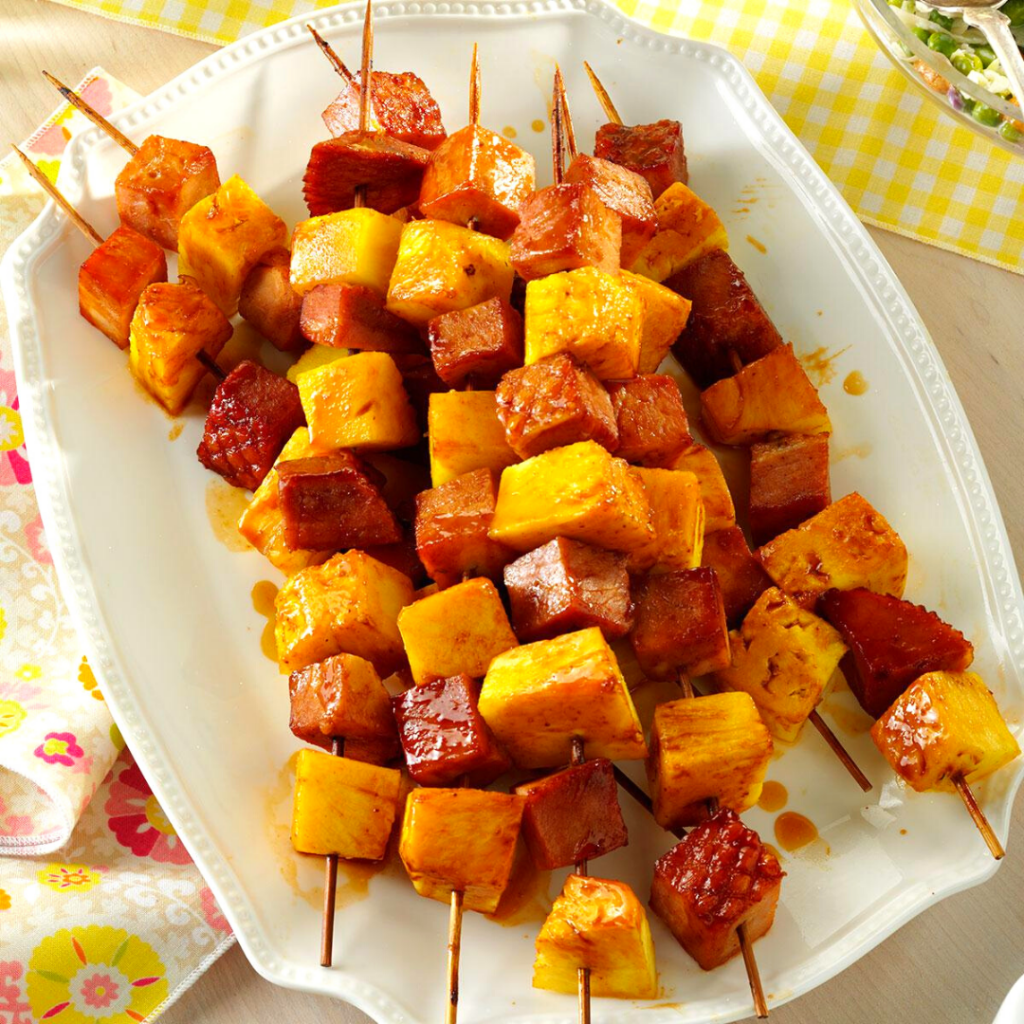 Recipe from A Spicy Perspective
Ingredients
2/3 cup apple butter
2/3 cup BBQ sauce
1 lb. slab cooked ham, 3/4-inch thick
1/2 fresh Chestnut Hill Farms pineapple
Instructions
Preheat the oven to 400 degrees F.
Combine apple butter and BBQ sauce in a large bowl and stir well.
Dice the ham and pineapple into ¾ inch cubes. Stack on a toothpick and brush each piece with the BBQ sauce mixture, covering all sides.
Bake for ten minutes and serve warm.
Tropical Pineapple Guacamole
What's a football party without chips and dip? Serve up a twist on a classic favorite with this sweet and refreshing pineapple guacamole.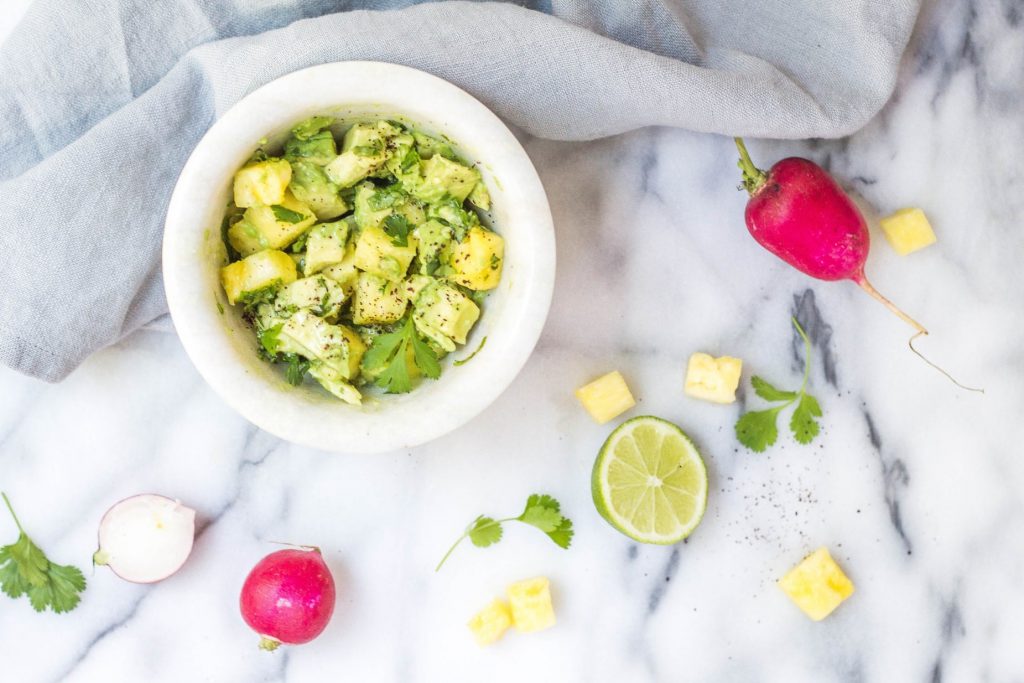 Recipe and photo sourced from Taste of Home
Ingredients
3 ripe avocados
2 cups of fresh, chopped Chestnut Hill Farms pineapple
1 medium tomato
2 jalapeno peppers, chopped
1/3 cup cilantro, minced
2 tablespoons of lime juice
3 minced garlic cloves
1 teaspoon salt
1/2 teaspoon pepper
Tortilla chips for dipping
Instructions
In a large bowl, mash the avocados and stir in the remaining ingredients to combine.
Serve with chips or fresh veggies.
Pineapple Chicken Quesadillas
Nothing is tastier than a gooey quesadilla. These hand-held, savory bites are easy to eat so you can keep your snacking game strong while never missing a touchdown celebration. Whip up a batch of these for the game, but don't be surprised when they disappear before halftime!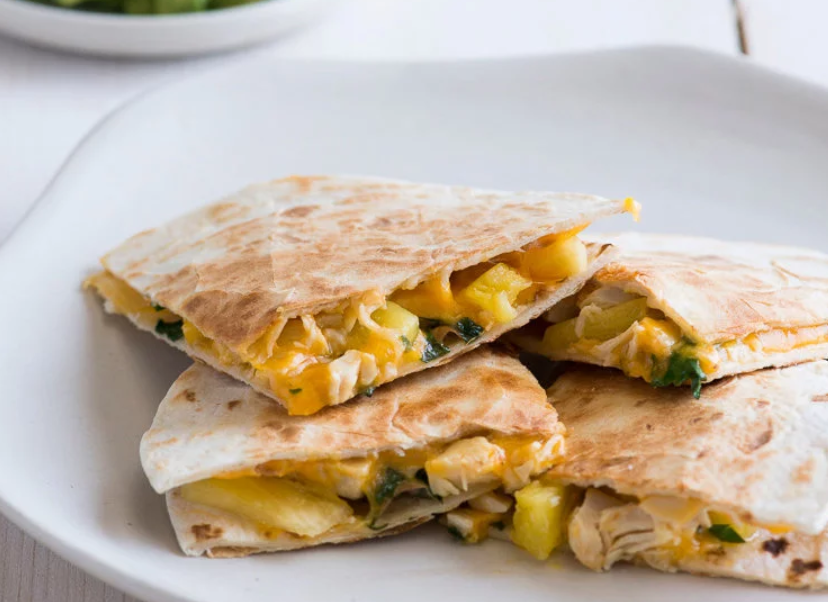 Recipe and photo sourced from Food and Wine
Ingredients
1/2 lb. boneless, skinless chicken breast
Eight 8-inch flour tortillas
6oz cheddar cheese, grated
1 cup of fresh Chestnut Hill Farms pineapple, diced
1/2 cup chopped cilantro
Salt and pepper to taste
Instructions
In a large pot, cover the chicken breasts with water. Bring to a simmer and cook for 15 to 20 minutes, or until cooked through. Remove the chicken from the water and let cool. Shred the chicken into bite-size pieces, season with salt and pepper and set aside.
Layer the tortillas with half of the cheese and top with the chicken and the pineapple. Add the remaining cheese and spread the filling evenly throughout each tortilla. Top with the remaining tortillas.
Heat a large skillet over medium-high heat. Place a filled tortilla on the pan and cook until the bottom is golden. Carefully flip the quesadilla and cook for another 2 to 3 minutes until the second side is golden and the cheese is completely melted.
Repeat step three for the remaining quesadillas, allow to cool, cut into pieces and serve warm.
Don't Miss Out on Game Day Recipe
Hungry for more? Check out even more pineapple football recipes here.
Stay up to date with all of the latest pineapple news and tasty recipes by subscribing to our newsletter.