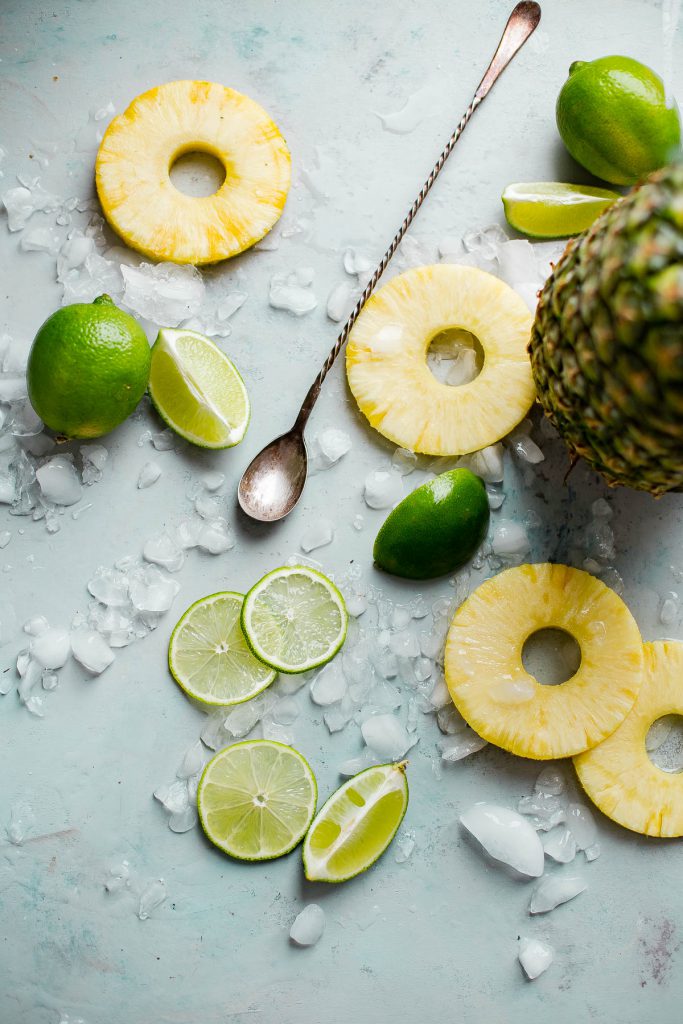 Raise a Glass to National Cocktail Day with These Pineapple Aperitifs
Though they may be the most well-known pineapple cocktail, you don't have to like Pina Coladas – or getting caught in the rain – to add a tropical twist to your toast this National Cocktail Day. With a subtle tanginess and tons of flavor, pineapple is the perfect addition to many spirits and offers a delicious fruity base for both sweet and savory cocktails. So, whether you prefer rum, vodka, or gin, you can be sure you'll find a drink you'll be eager to celebrate with this March 24th. Cheers!
Grilled Pineapple Mojitos
For those who just can't seem to get enough pineapple, this mojito may be the perfect answer. While the classic ingredients of lime and mint offer refreshing flavor to this muddling, pineapple really stars with wedges of grilled fruit included in each glass.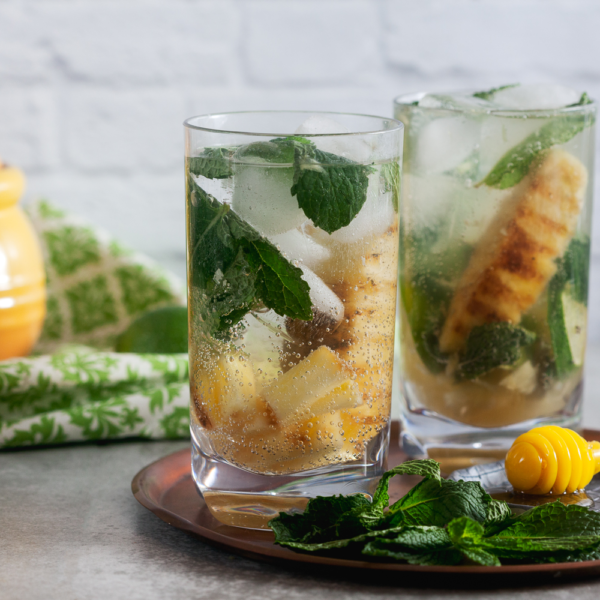 Ingredients:
For the Grilled Pineapple:
1 tbsp honey
1 tbsp rum
2 limes, juiced
1 Chestnut Hill Farms pineapple, peeled and cut into 16 wedges
For Mojitos:
4 limes, cut into eights
8 tsp honey
1 cup fresh mint
3/4 cup rum
Ice
Club soda
Directions:
In a shallow dish, mix together the honey, rum and lime juice. Add the pineapple and turn to coat. Let sit 5-10 minutes.
Heat your grill to medium high. Add the pineapple and cook 1-2 minutes on each side, or until the fruit softens slightly and golden brown grill lines appear. Remove from heat and let cool.
Roughly chop half the grilled pineapple. Divide the chopped pineapple among 8 collins glasses. Add 2 lime wedges, 1 tsp. honey and 10 mint leaves to each glass; muddle to combine. Stir in the run, then fill each glass with ice. Top with club soda.
Garnish with remaining grilled pineapple, lime wedges and mint leaves.
Pineapple Punch with Ginger Beer
Ginger beer isn't just for Moscow Mules anymore! The sparkling soda adds a refreshing and spicy twist to this pineapple punch, making it perfect for sipping as the warmer weather approaches.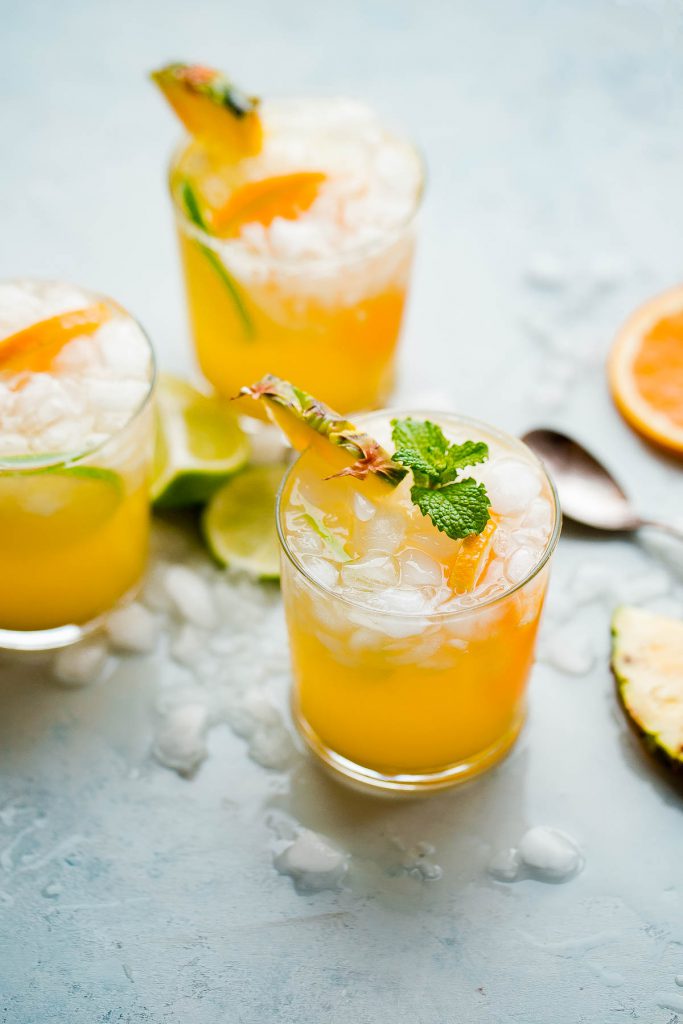 Ingredients:
1 cup Chestnut Hill Farms pineapple juice (learn how to make fresh pineapple juice)
1/2 cup orange juice
1/2 cup light rum
1/3 cup freshly squeezed lime juice
32 to 34 oz chilled ginger beer
Ice
Directions:
In a large pitcher, combine the pineapple juice, orange juice, rum, and lime juice. Stir until blended.
Just before serving, add the ginger beer and stir until just combined.
Pour into individual glasses and serve.
If you'd like, garnish each glass with an orange slice, lime slice, wedge of pineapple, and mint sprig. Serve immediately.
El Gallito
If you prefer savory to sweet, this is the drink for you. Made in a pitcher, El Gallito is a pineapple-vodka cocktail that's sure to impress at any party. Cherry tomatoes, cilantro, and scallions balance out zesty flavors from lime and pineapple, and adobo sauce adds a bit of extra interest and kick. For adventurous cocktail drinkers, this is definitely not one to miss!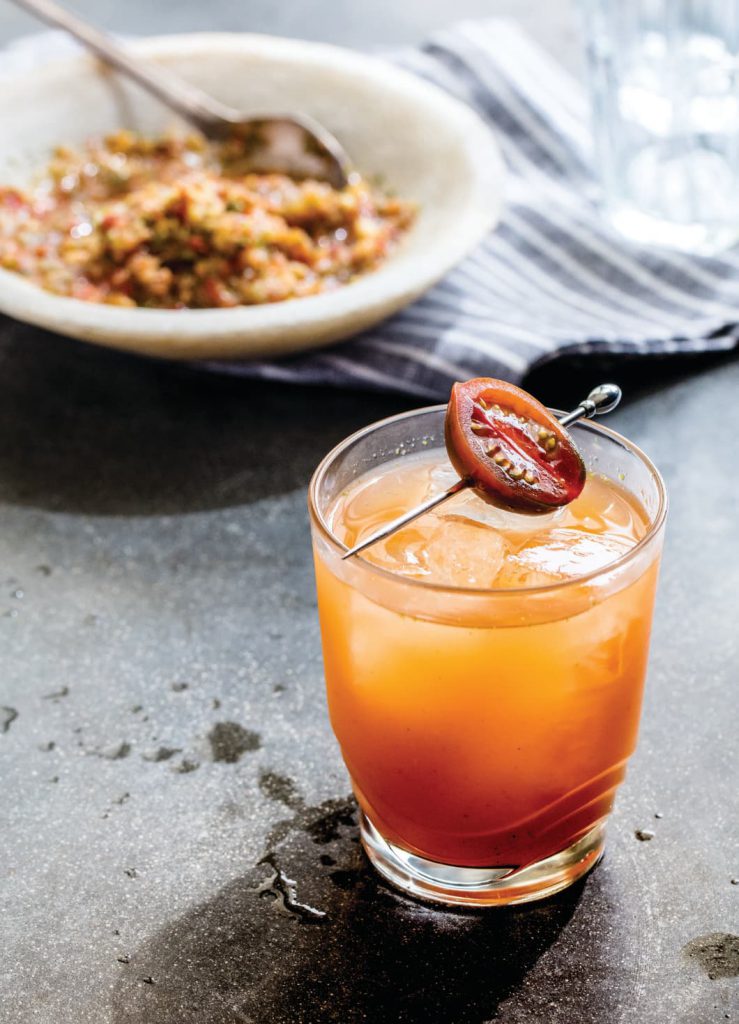 Ingredients:
25 fresh cilantro stems with leaves
2 medium scallions, top third of greens removed
8 cherry tomatoes
1 cup diced fresh Chestnut Hill Farms pineapple
8 oz freshly squeezed lime juice
5 oz water
4 oz undiluted agave nectar
1 oz adobo sauce from canned chipotles
Pinch salt
About 24 oz vodka
Ice
Directions:
Cut the cilantro and green onions into 3-inch segments. Place in a blender. Add the tomatoes, pineapple, lime juice, water, agave nectar, adobo sauce, and salt. Process until smooth. Strain through a chinois or fine-mesh strainer into a large measuring cup. Set aside solids to serve as a salsa, refrigerating if not serving immediately.
Measure the liquid mix (it should yield about 24 ounces) and pour into a 2-quart pitcher or resealable container along with an equal amount of vodka. If not serving right away, refrigerate for up to 3 hours.
When ready to serve, stir mixture well, then add 1 1/2 cups ice to pitcher and give it another gentle stir. Pour into ice-filled rocks glasses and garnish each one with a speared cherry tomato half.
Pineapple Gin & Tonics
For those who feel like something classic, you can't go wrong with this slightly tropical twist on a gin and tonic. Add a little bit of extra flavor with pineapple juice for a cocktail that'll have you refreshed and relaxed with just a single sip.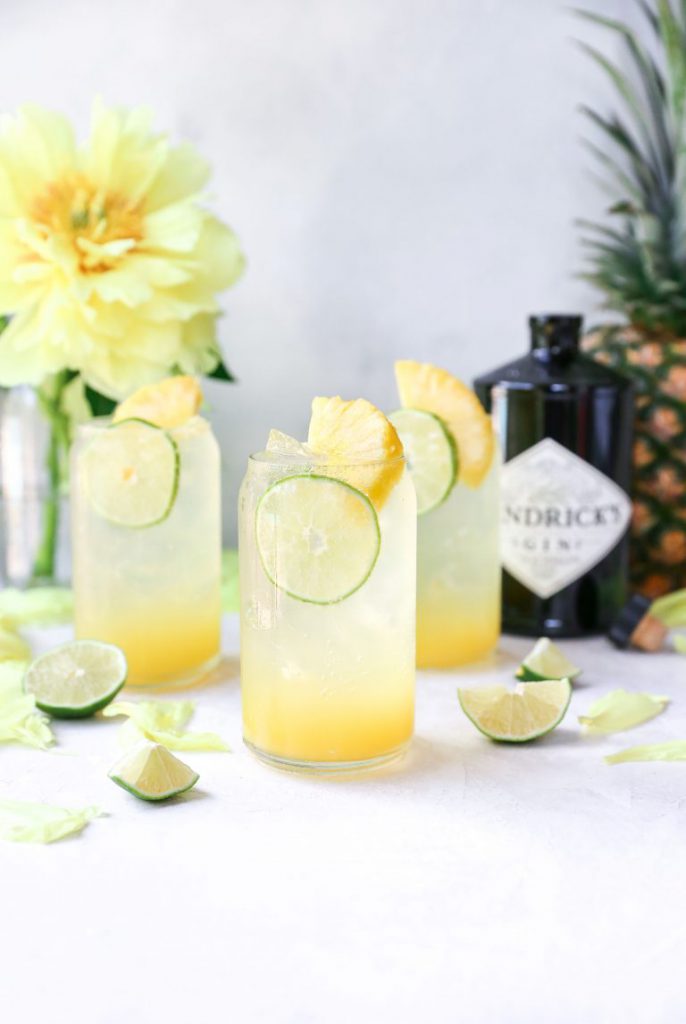 Ingredients:
6 oz Chestnut Hill Farms pineapple juice
8 oz gin
12 oz tonic water
3 limes, juiced
Lime wedges, for serving
Pineapple slices, for serving
Directions:
Pour pineapple juice into four glasses filled with ice, dividing evenly between the glasses.
Add gin and lime juice, dividing evenly. Stir gently with a spoon or straw to combine.
Top each glass off with tonic water and garnish each glass with fresh lime and pineapple slices. Serve immediately.
The Chestnut Hill Farms Perfect Pineapple Punch
For a drink that takes you straight to the tropics, look no further than the Chestnut Hill Farms Perfect Pineapple Punch. This delicious cocktail was shaken up just for us by one of Florida's best bartenders, Josue Romero. A blend of rum, bitters, and pineapple juice, this cocktail is served in a cored pineapple and is guaranteed to make you feel like you're on vacation any time of the year.
For the full recipe, click here.
---
If you mix up one of these cocktails, be sure to take a picture and tag us on Instagram!
For more pineapple recipes sent straight to your inbox, sign up for our newsletter today.