Healthy doesn't have to taste anything but delicious when you incorporate fresh Chestnut Hill Farms pineapple, known to have loads of vitamin C, anti-inflamation agents like bromelain and waist-line slimming properties.
We've concocted a tried and true green smoothie recipe that will have you setting sail to summer with a tasty – and healthy – blend of ingredients that will take your taste buds to the tropics. Read more here about the amazing health benefits of pineapple and check out the recipe below to get your New Year started off right.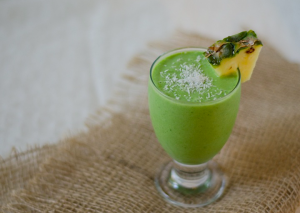 Serving: 1 tall glass
INGREDIENTS
1 cup Chestnut Hill Farms pineapple, cut into chunks
1 tablespoon fresh ginger
3 tablespoons coconut flakes, unsweetened OR 1 tablespoon coconut flakes, sweetened
1 cup lite coconut milk (may also use almond milk or water to substitute)
1 cup fresh baby spinach or kale
1 large banana, sliced and frozen (if using fresh banana, just add ice)
1/2 juice squeezed from lemon or lime
INSTRUCTIONS
Place all the ingredients inside blender.
Cover with lid and blend until smooth on high speed, stopping on occation if using a low-powered blender to push down anything stuck on the sides. If needed, add more milk or water to help blend smoothly.
Let blend for at least 1 minute so all ingredients are well balanced.
Pour into glass and garnish with any extra coconut flakes and slice of pineapple. Leftovers may be stored in refrigerator for up to 24 hours, though it is best when fresh.
Hint #1: To ensure you don't have any spinach pieces in your healthy Pina colada, blend the almond milk/water/liquid you are using with the spinach before adding other ingredients.
Hint #2: Store kale or spinach in freezer to keep green smoothie ready so you always have ingredients on hand.