According to feng shui practitioners, certain "lucky" fruits symbolize each month of the year, bringing prospects from money to health and happiness. The Chinese word for pineapple is "ong-lai," which means "fortune cones," and according to feng shui masters are a necessary item when preparing your home for the New Year.
Bring luck to your loved ones as you ring in the New Year with a fun twist on the classic mimosa below. Cheers!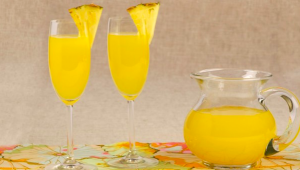 INGREDIENTS:
6oz Sparkling Wine or Champagne
1oz Passionfruit Puree or Nectar
1oz fresh Pineapple Juice  (Hint – for the best taste and New Year's luck, use the juice of  a fresh, Chestnut Hill Farms pineapple!)
Slice or two of fresh, Chestnut Hill Farms pineapple (grilling the pineapple is a fun option to add even more interesting flavor!)
Dash of Nutmeg to finish
DIRECTIONS:
In a champagne flute, fill the glass ¾ full with sparkling wine or champagne.
Once the bubbles settle, pour in 1oz each of passionfruit puree or nectar and fresh pineapple juice from your Chestnut Hill Farms pineapple.
Top with a small dash of nutmeg and garnish with a wedge or ring of pineapple on the rim.
Toast to a prosperous 2018 ahead!
Hosting a party? For more pineapple cocktail recipes, including the Perfect Pineapple Punch, click here! 
Looking to serve in something different? Try our pineapple key idea here!