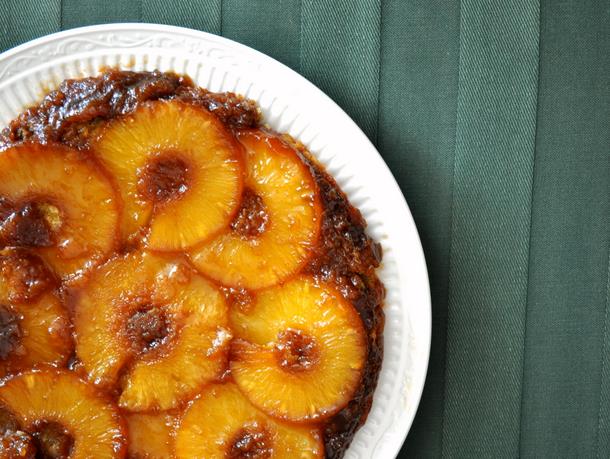 Keep the Queen Fruit Alive this Autumn With Pineapple Fall Recipes
As fall recipes begin to fill our Pinterest boards, our favorite summer flavors, such as pineapple, tend to wither in the shadows as essences of pumpkin take center stage. This is, quite possibly, one of the BIGGEST mistakes any foodie can make. Get ready to fill the season with pineapple fall recipes.
By maintaining a diverse diet, you will not only be saving your taste buds from dull dinners but Katherine Marengo LDN, RD backs that mixing it up is proven to keep you healthy. Incorporate ingredients that are rich in nutrients to keep your body feeling its best. Say goodbye to seasonal norms and hello to conquering your next cold with these fall recipes.
---
Brown Sugar Roasted Pineapple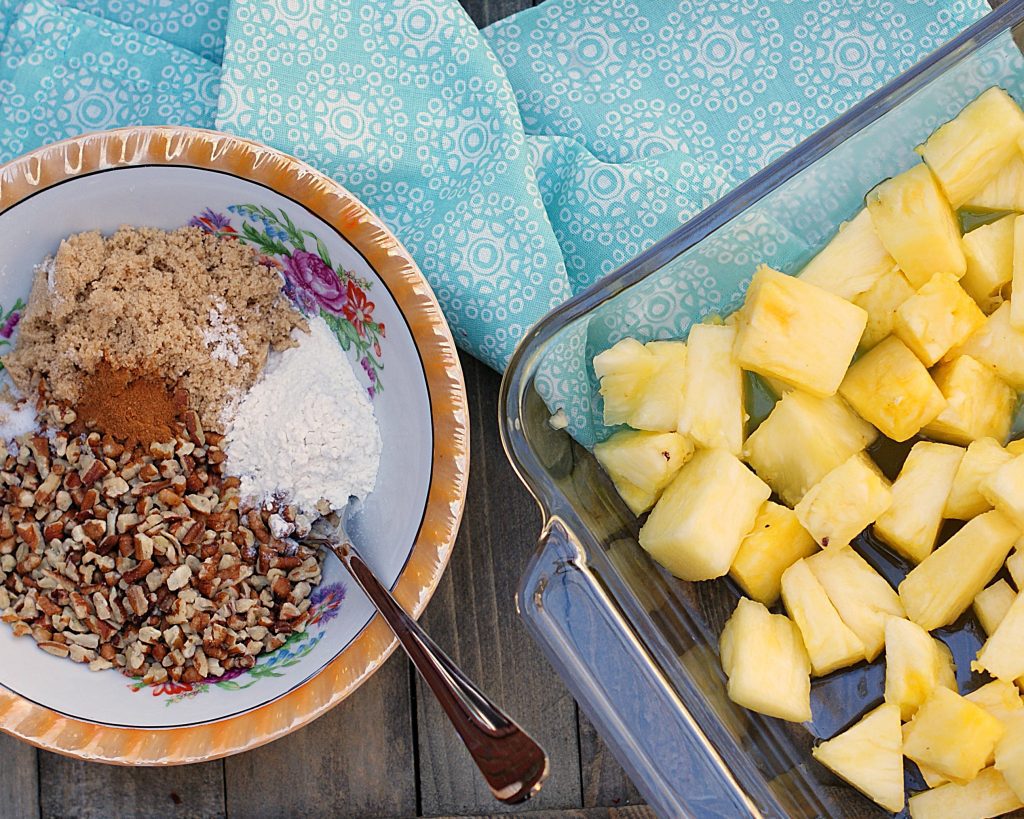 Recipe and Photo Sourced From Southern Discourse
Autumn months bring peak pecan harvesting season. These phosphorous and fiber-rich nuts are perfect atop juicy pineapple roasted into decadent perfection with brown sugar and cinnamon. Serve as a flavorful desert or spice up a classic side to a ham.
Ingredients
4-5 cups fresh Chestnut Hill Farms pineapple, cut into chunks (about 1 pineapple)
1/2 cup chopped pecans
1/4 cup pineapple juice
1/4 cup brown sugar, packed
1/4 cup butter, melted
1/8 cup flour
1/2 tsp cinnamon
1/4 tsp salt
Instructions
Preheat oven to 450 degrees Fahrenheit.
Arrange pineapple chunks in a single layer on the bottom of a 9×13 baking dish. Pour pineapple juice over the pineapple.
Mix dry ingredients well in a small bowl. Sprinkle dry ingredients over the pineapples, then toss so that all of the pineapple is well-coated.
Drizzle melted butter over the coated pineapples.
Roast in the preheated oven for 30 minutes or until the pineapples are golden and the brown sugar mixture caramelized. Stir every 10 minutes.
Allow the dish to cool 5 minutes before serving.
Recipe Notes
Pop the pineapples under the broiler for 1-3 minutes if you want a more caramelized look.
---
Polynesian Pineapple Chicken Casserole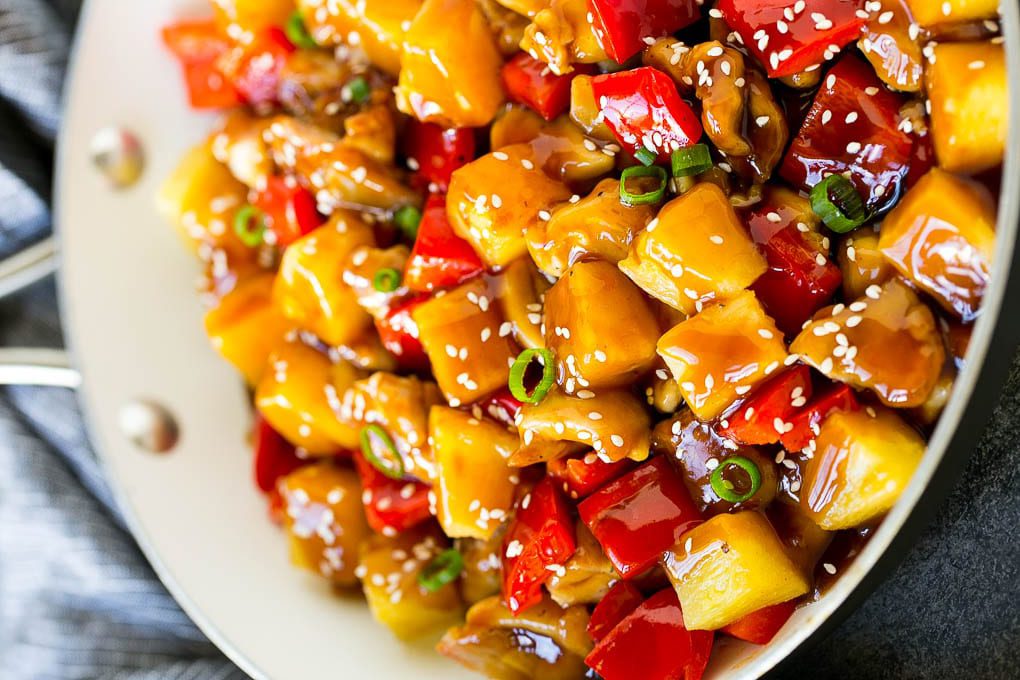 Recipe Sourced From What's Cookin' Italian Style Cuisine
A southern classic, the pineapple casserole, gets a facelift. Your mouth will be watering as you pour tangy Polynesian brown sugar garlic sauce over cayenne black pepper chicken and then top with sliced peppers and pineapple. Serve over rice and get ready for your taste buds to experience sweet and savory sapidity.
Ingredients
8 chicken thighs or breasts
2 to 3 tbsp canola oil, sesame oil or olive oil
1/2 tsp salt
1/4 tsp black pepper and cayenne pepper
1 tsp granulated garlic
1 1/2 cups fresh Chestnut Hill Farms pineapple chunks
2 tbsp brown sugar
reserved pineapple juice
3 to 4 tbsp rice vinegar or regular vinegar
1 tbsp soy sauce
1/2 cup sliced green or red peppers or both
1 can chicken broth
1 tbsp cornstarch
1 tbsp butter melted
Instructions
Heat the oil and brown chicken on both sides on low heat, season with salt and pepper, cayenne if using. Remove chicken and place in an oil sprayed casserole dish.
In another medium-size bowl, blend together the melted butter, soy sauce and rice wine vinegar. Add the pineapple juice, brown sugar, garlic, broth and stir to combine.
Pour over the chicken. Place the sliced peppers and pineapple on top and bake at 350 degrees preheated oven for 25 minutes covered. Remove cover and bake until chicken is fork-tender around 15 to 20 more minutes. If you want a thicker sauce, add more cornstarch. For a thinner sauce, add more pineapple juice.
---
Skillet Pineapple Upside Down Cake Recipe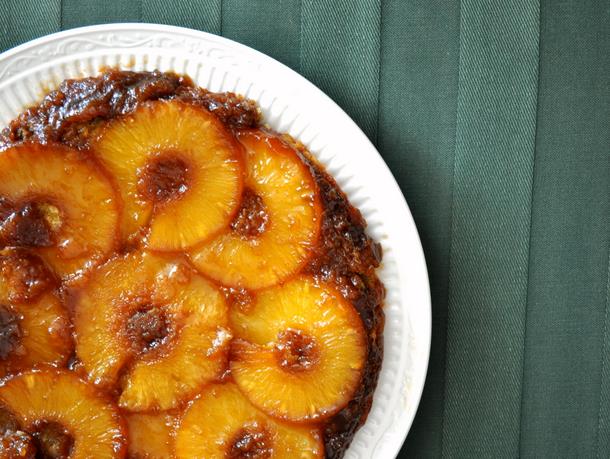 Recipe and Photo Sourced From Serious Eats
No matter how full your dinner party guests are, this dish is guaranteed to be empty by the end of the evening. No one can resist a slice of spongy pineapple upside-down cake oozing with notes of caramel. This recipe is perfect for the less than experienced baker — as it is made in a cast-iron skillet. Out in less than an hour, you can impress your guests without getting stressed.
Ingredients
9 (1/2-inch) slices fresh pineapple, from 1 medium pineapple
12 (1 1/2 sticks) tbsp unsalted butter at room temperature, divided
3/4 cup packed light brown sugar
1 1/2 cups all-purpose flour
2 tsp baking powder
1/2 tsp salt
1 cup sugar
3 eggs
3 1/2 tsp dark rum, divided
1 tsp vanilla extract
1/2 cup pineapple juice
Instructions
1. Adjust oven rack to middle position and preheat oven to 350°F. Heat 6 tablespoons butter in 10-inch cast-iron skillet over medium-high heat until melted. Stir in brown sugar and cook until caramelized, about 4 minutes. Remove from heat. Lay pineapple rings in overlapping circles to cover the surface of the skillet. Set aside.
2. In a medium bowl, whisk together flour, baking soda, and salt. In a large bowl, cream together the remaining 6 tablespoons butter and sugar with a wooden spoon or electric mixer until light and fluffy, about 4 minutes. Beat in eggs one at a time. Beat in vanilla and 1 1/2 tablespoons rum. Add half of the dry ingredients into the bowl and beat to combine. Add pineapple juice. Add remaining dry ingredients to the bowl and beat until just combined.
3. Pour batter over pineapples and smooth surface with a spatula. Transfer to oven and bake until a cake tester comes out clean, about 40 minutes. Let the cake cool for 5 minutes in the pan, then invert onto a plate. Sprinkle remaining rum over cake.
---
Sign-up for our newsletter to receive more authentic and delicious pineapple recipes.