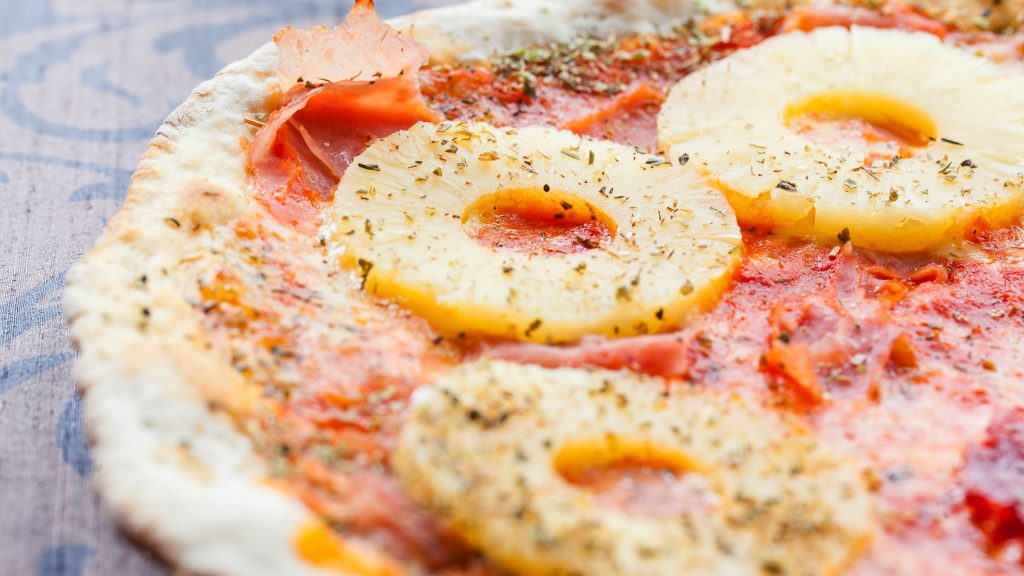 Let's settle the debate over pineapple pizza.
There is no doubt that pizza is one of the most popular foods around the world. Warm bread, rich marinara and melty cheese — you can't go wrong! Or can you? Today we are tackling one of the greatest food debates of all time: does pineapple belong on a pizza?
Let's look at the stats. To start, world-famous chef Gordon Ramsey says pineapple on pizza is a no-go. The culinary extraordinaire declared the salty and sweet combination does not please his palette. One point for the non-believers!
However, Chef Ramsay might be in the minority after all. According to HuffPost, pineapple makes the cut of the top 10 most popular pizza toppings. Our favorite prickly fruit barely squeezes its way onto the list at number nine, but we still consider it a win.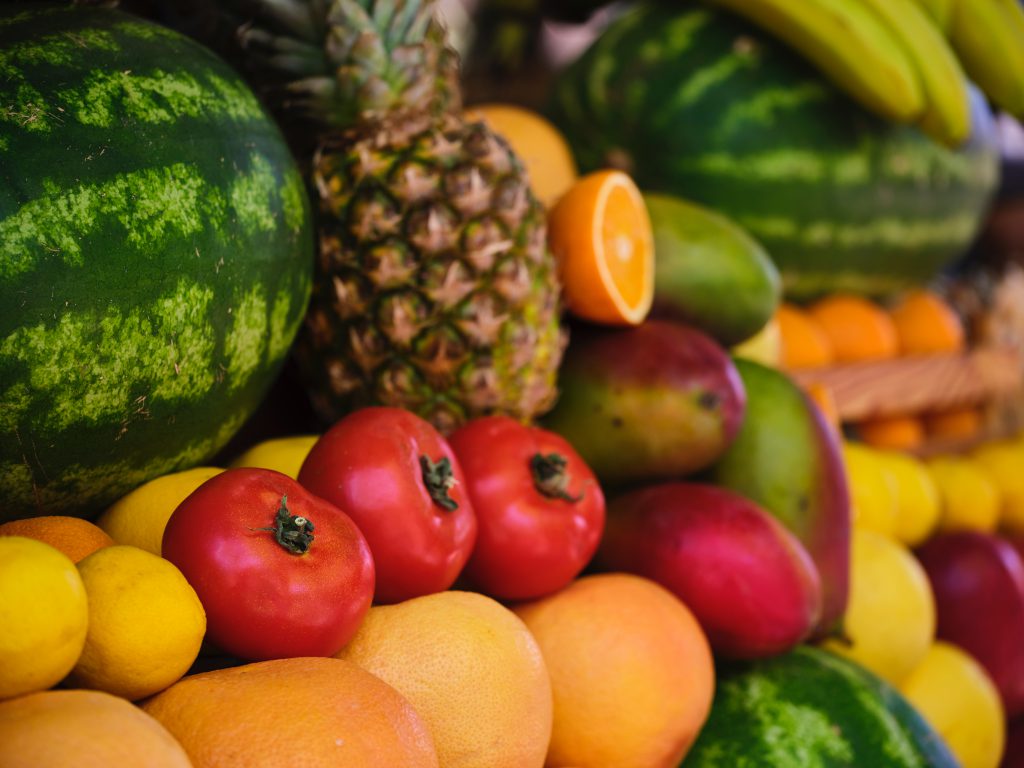 The Science Behind Pineapple on Pizza
Why is this such a controversial flavor combination? Well, it stems from the different aspects of a traditional pizza.
On the one hand, many people do not like the mixture of dairy and pineapple. There is actually a scientific reason for this. The bromelain enzyme found in pineapple is an amino acid that breaks down the casein protein in milk. There is nothing harmful or dangerous about this chemical reaction, but it does result in a bitter taste, which some people might experience stronger due to their unique taste buds.
On the flip side, pineapple and tomato work in harmony. The sweetness of the pineapple cuts through the acidity of the tomato, and vice versa, the tomato mellowing out the sugary taste of pineapple. Another common way people mix pineapple and tomato is in salsa. It makes for a refreshing taste!
If you are a pineapple pizza supporter, top your pie with the highest quality pineapple available. Chestnut Hill Farms Perfect Pineapples are packed with vitamin C and many other health benefits, so you could almost say pineapple pizza is healthy. Almost.
An even better way to hop on the health train is to make your own perfect pineapple pizza at home. These are a couple of our favorite recipes and are easy and fun to make.
Gluten-Free Mini Perfect Pineapple Pizzas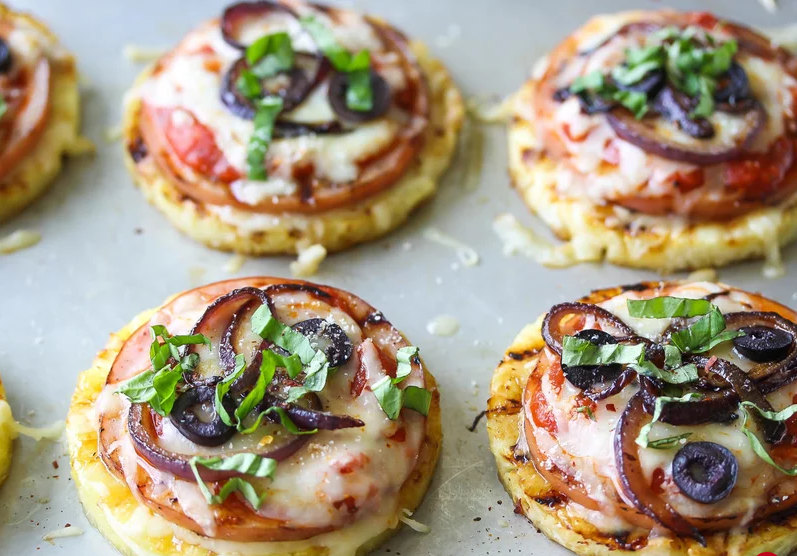 Recipe and photo sourced from Cooking Light.
Embrace the unexpected with this allergen-friendly twist on the classic Hawaiian pizza. This recipe is great as an appetizer or party platter.
Ingredients
1 medium Chestnut Hill Farms Pineapple, peeled and cored
2 tablespoons canola oil, divided
8 slices of Canadian Bacon
½ cup red onion, thinly sliced
2/3 cup mozzarella cheese, shredded
½ cup pizza sauce
2 tablespoons black olives, thinly sliced
3 tablespoons fresh basil, chopped
½ teaspoon crushed red pepper flakes
Instructions
Preheat broiler to high with oven rack 6 inches from heat.
Heat a grill pan over medium-high. Slice Chestnut Hill Farm Pineapple into 8 rounds. Brush 1 ½ tablespoons of oil on both sides of pineapple rounds. Cook, 3 minutes on each side, until char marks appear.
Transfer to a rimmed baking sheet.
Place Canadian bacon slices on grill pan and cook, 1 to 2 minutes on each side, until heated through. Set aside.
Heat remaining 1 ½ teaspoons oil in a separate nonstick skillet over medium. Add onion and cook, 3 to 4 minutes, stirring often, until softened.
Top each Chestnut Hill Farm pineapple round with 1 tsp. Of cheese. Place 1 slice Canadian bacon on top of the cheese. Top each with 1 tablespoon pizza sauce and 1 tablespoon cheese. Top evenly with onion and black olives. Broil on HIGH for 2 to 3 minutes, until cheese is bubbly and melted.
Sprinkle basil and crushed red pepper flakes evenly on top. Enjoy!
Ham and Perfect Pineapple Pizza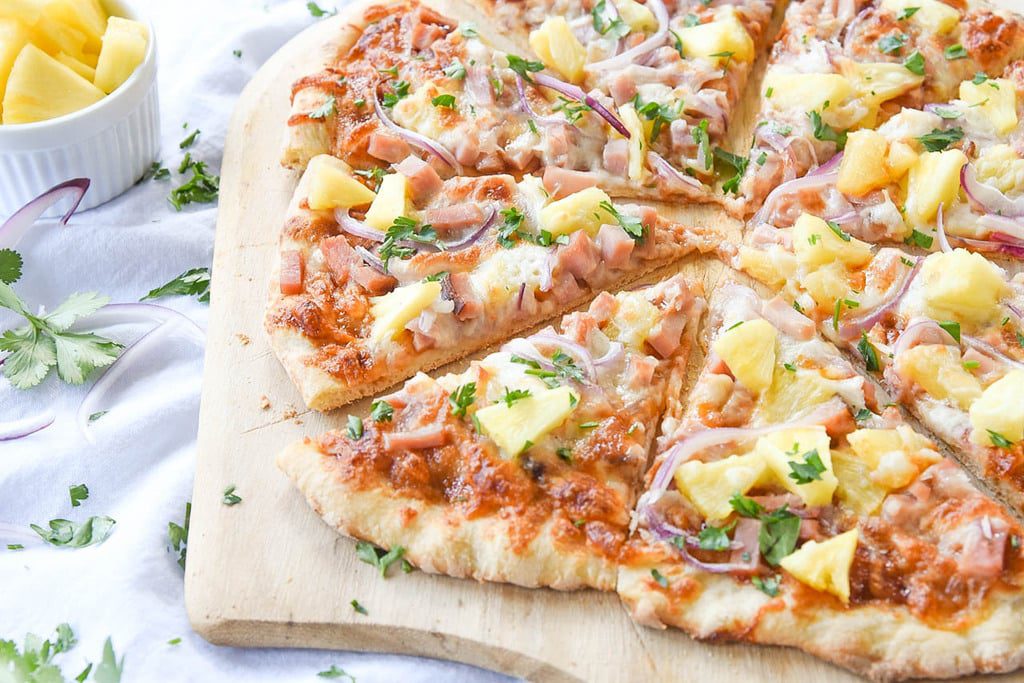 Recipe adapted from Food Network. Photo sourced from Your Home Based Mom.
You simply can't beat the classics. Follow along with the below recipe for a step-by-step guide to a traditional ham and perfect pineapple pizza.
Ingredients
1 tablespoon yellow cornmeal
Two 8-ounce pieces of store-bought pizza dough
¾ cup marinara sauce
1 1/3 cup pasteurized mozzarella, grated
2 tablespoons Parmesan, grated
1 Chestnut Hill Farms perfect pineapple, cored and chopped
4 thin slices of cooked ham, coarsely chopped
Instructions
Position one oven rack in the center of the oven and the second rack on the bottom. Preheat to 450 degrees F.
Sprinkle cornmeal over 2 rimless baking sheets. Roll out each piece of the pizza dough into a 10- to 11-inch round. Transfer one dough each to the prepared baking sheets.
Spoon the marinara sauce over the dough, dividing equaling and leaving a 1-inch border around each pizza. Sprinkle the cheeses over the sauce. Arrange the Chestnut Hill Farm pineapple pieces in a single layer over the cheeses. Sprinkle with the ham.
Bake the pizzas until the crusts are crisp and brown on the bottom and the cheese is melted on top, about 12 minutes.
Cut the pizza into wedges and serve immediately. Enjoy!
Stay Connected with Chestnut Hill Farms
Sign up for our newsletter to receive more surprising and delicious pineapple recipes, delivered straight to your inbox!