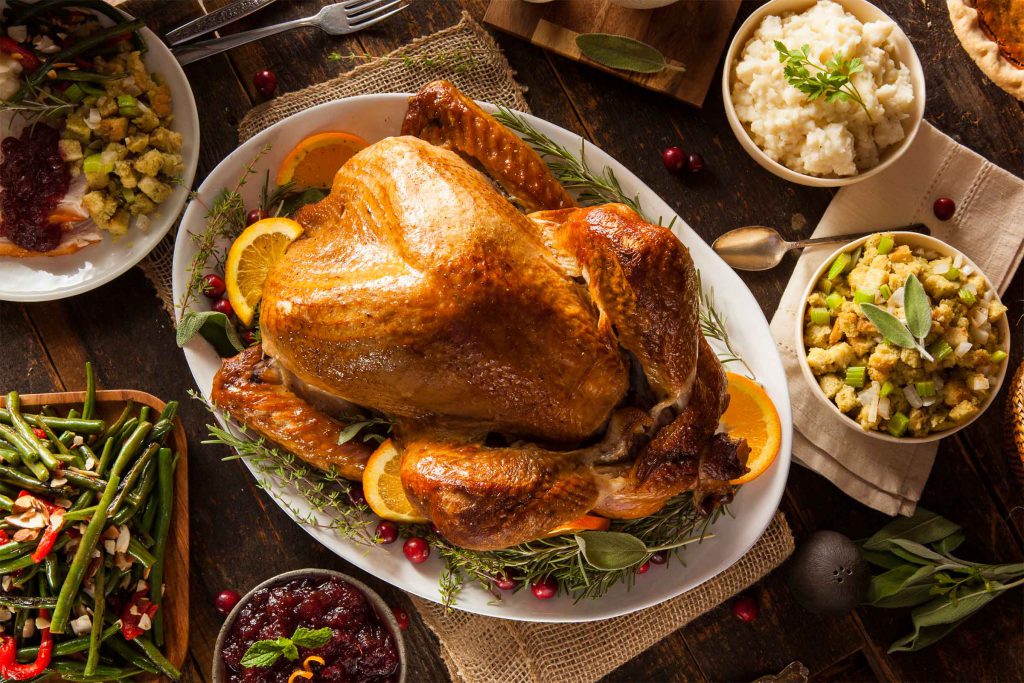 Put a Perfect Pineapple Twist on Classic Sides with these Unique Thanksgiving Recipes
The breezy autumn air has arrived, and Thanksgiving food is on the brain. Visions of mashed potatoes, savory stuffing, and green bean casserole fill our minds as we dream up the ultimate Thanksgiving Day menu. While there's no replacement for classic dishes, why not jazz up the table this year with some interesting twists on age-old favorites? Versatile and flavorful, our Chestnut Hill Perfect Pineapples fit in surprisingly with several fan-favorite holiday dishes. Enjoy added health benefits and refreshing flavors in these unique Thanksgiving recipes.
Unique Thanksgiving Pineapple Stuffing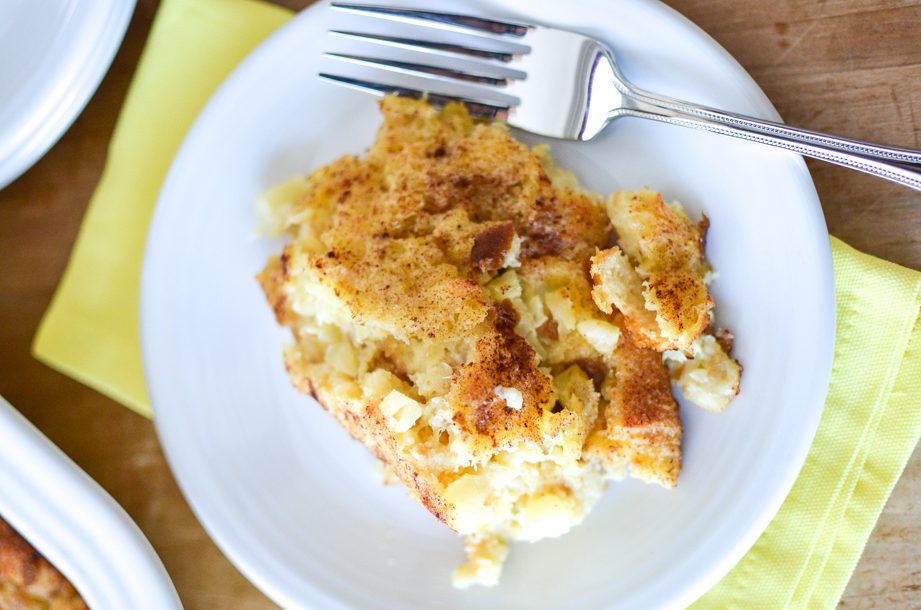 We are kicking off our recipe round-up with a tropical twist on a Thanksgiving staple, stuffing! Normally, pineapple stuffing is quite sweet and almost dessert-like. We've whittled down this 5-ingredient recipe to create a balanced, hearty, and not-too-sweet side dish. Prepare this stuffing ahead of time to save your sanity on the big day and enjoy it paired with honey-baked ham, cranberry sauce, or any other treat on your plate!
Recipe and photo sourced from Simply Whisked
Ingredients
½ cup dairy-free buttery spread
½ cup sugar
4 eggs
12 slices of white bread
20 ounces of 1 Chestnut Hill Farms Pineapple, crushed (Learn how to crush your own pineapple here!)
Directions
Preheat the oven to 350 degrees F. Cut the loaf of bread into cubes and set aside in a big bowl.
In a large bowl, cream the butter and margarine with an electric mixer until light and fluffy. Add the eggs one at a time, mixing well between each addition.
Add pineapple, pineapple juice, and the cubed bread pieces into the egg mixture. Stir until the bread is evening coated with the wet ingredients.
Pour stuffing into a 9×13 baking dish and sprinkle with cinnamon.
Bake for 50 minutes to 1 hour, until the stuffing has set, and the top begins to turn golden brown and toasted. Allow to cool before serving.
---
Unique Thanksgiving Pineapple Bourbon Sweet Potato Casserole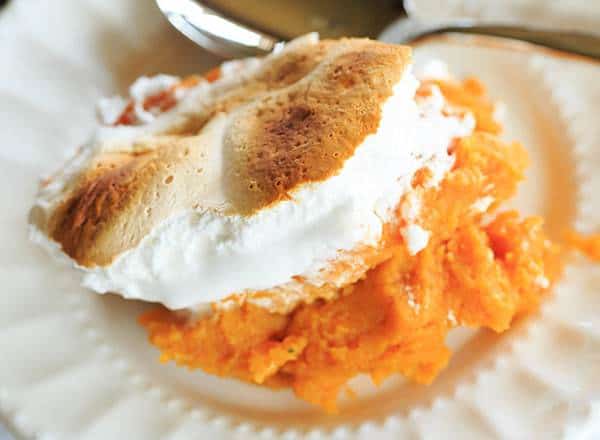 Trust us, this recipe is every bit as delicious as it sounds. A classic, spiced sweet potato casserole gets a makeover thanks to crushed pineapple and bourbon. We topped this warm, refreshing, and slightly spiced dish with fluffy, toasted marshmallow crème. The result is a mouth-watering and rich, yet not too sweet, side dish that will have your guests fighting over the leftovers.
Recipe and photo sourced from Brown Eyed Baker
Ingredients
5 ½ pounds sweet potatoes
½ cup dark brown sugar
¼ cup bourbon
¼ cup unsalted butter, melted
1 teaspoon kosher salt
1 teaspoon ground cinnamon
1 teaspoon ground ginger
½ teaspoon allspice
½ teaspoon freshly grated nutmeg
½ teaspoon ground black pepper
2 eggs
1 cup of Chestnut Hill Farms Pineapple, crushed (Learn how to crush your own pineapple here!)
1 cup marshmallow crème
Directions
Preheat oven to 350 degrees F. Place whole sweet potatoes on a foil-lined, rimmed baking sheet and bake for 1 ½ hour until tender. Let cool. Remove the peels.
In a food processor, puree the peeled sweet potatoes, 1 cup of crushed Chestnut Hill Farms Pineapple, brown sugar, bourbon, melted butter, salt, cinnamon, ginger, allspice, nutmeg, pepper, and eggs until completely smooth. Scrape the sides of the bowl as needed to ensure the ingredients are fully incorporated.
Transfer the sweet potato mixture to a 3-quart baking dish and bake for 25 minutes. Remove the dish from the oven and generously spread the marshmallow crème on top. Switch the oven broiler to high and return the baking dish to the top half of the oven. Keep a close eye on the marshmallow and let broil until lightly brown for about two minutes.
---
Honey-Glazed Turkey Breast with Roasted Pineapple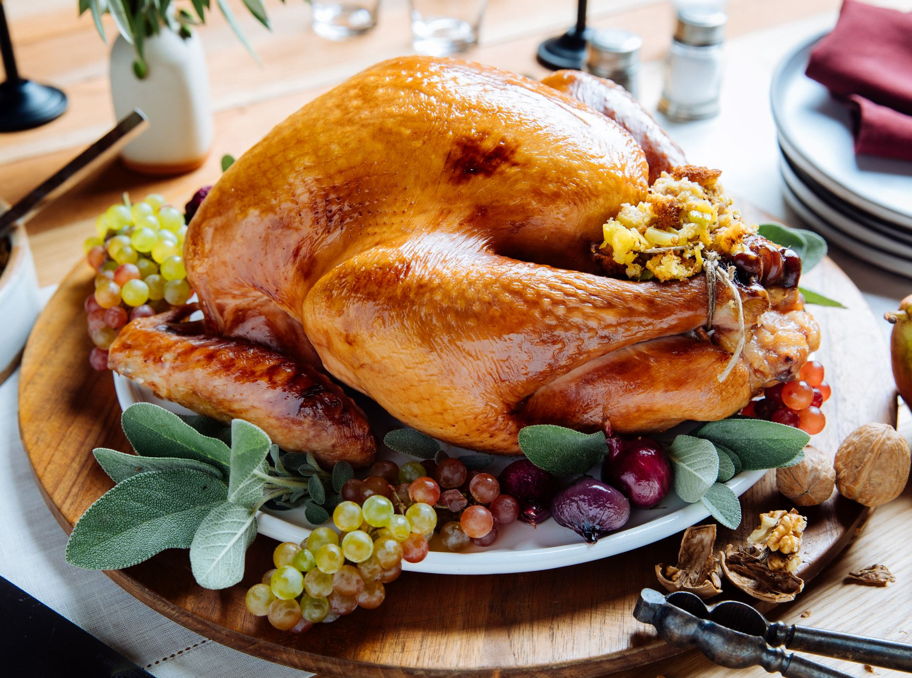 Thanksgiving dinner wouldn't be complete without a stunning, roasted turkey centerpiece! This year, prepare yourself for a game-changing new turkey taste. We've combined sweet honey and refreshing pineapple with savory soy sauce and a zing of ginger for a flavor explosion. Add this to your list of unique Thanksgiving recipes, because guests will be asking for it year after year!
Recipe sourced from Betty Crocker
Ingredients
1 bone-in whole turkey breast, about 5 lbs
1 Chestnut Hill Farm Pineapple, about 3 lbs
½ cup dry white wine or apple juice
2 tablespoons honey
2 tablespoons soy sauce
1 teaspoon finely chopped ginger root
1 clove garlic, finely chopped
2 teaspoons cornstarch
2 tablespoons cold water
Directions
Preheat oven to 325 degrees F. On a rack in a shallow roasting pan, place the turkey breast, and skin side up. Insert a meat thermometer into the thickest part of the meat, without touching any bone. Roast the turkey uncovered for one hour in the oven.
Time to slice up your Chestnut Hill Farms pineapple! Carefully cut off the rind, and then cut the pineapple in half, lengthwise. Cut out the core and cut each half crosswise into 8 slices.
Mix wine, honey, soy sauce, ginger root, and garlic together. Remove the turkey from the oven, add pineapple slices to the same pan and brush the turkey and pineapple with the wine mixture. Roast uncovered for another hour, frequently basting the turkey and pineapple in more wine mixture. Roast until the thermometer reads 165 degrees F.
Pour the pan drippings into a measuring cup. Add enough water to the drippings to measure 1 cup total of liquid. Boil the drippings in a 1-quart saucepan. Mix cornstarch and cold water and add to the boiling mixture. Return to boil and stir for 1 minute. Serve with turkey and pineapple as a sauce. Enjoy!
---
Pineapple Meringue Pie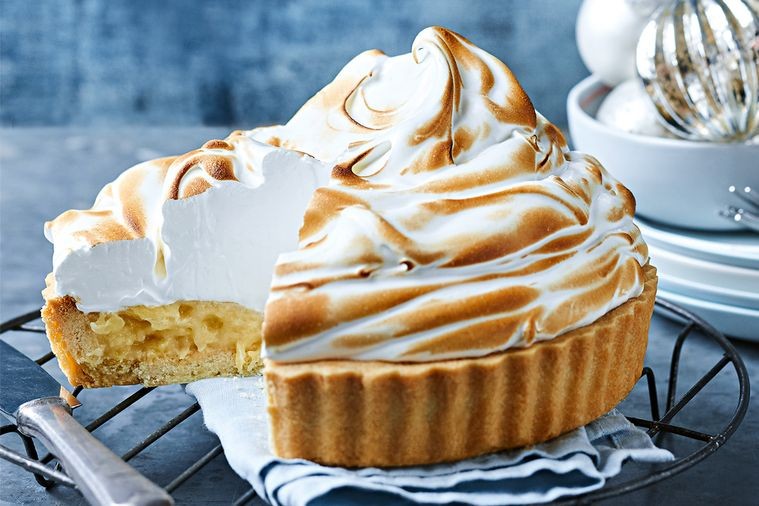 Fluffy, toasted, and sweet with a slight crunch, this pineapple meringue pie holds its own as a finale to a meal filled with unique Thanksgiving recipes. Not only is it stunning with its fluffy clouds of gorgeous meringue, but it's also perfectly balanced in the flavor department. After a large meal, guests will welcome a dessert that is light, slightly sweet, and refreshing.
Recipe sourced from Pillsbury
Ingredients
2 cups pecan shortbread cookie crumbs (about 18 cookies)
1 1/3 cups flaked coconut
¼ cup butter, melted
2 cups milk
¼ cup cornstarch
3 eggs, separated by whites and yolks
¼ cups sugar
20 oz of a Chestnut Hill Farms Pineapple, crushed (Learn how to crush your own pineapple here!)
1 tablespoon butter
1 teaspoon vanilla
Directions
Preheat oven to 350 degrees F. In a small bowl, mix together shortbread cookie crumbs, 1 cup of coconut flakes, and melted butter.
Spray a 9-inch glass pie plate with cooking spray. Firmly press the cookie and coconut mixture into the bottom and up the sides of the pie plate. Bake for 10 to 12 minutes or until lightly browned. Allow to cool completely and reduce oven temperature to 325 degrees F.
Stir milk and cornstarch with a whisk in a heavy saucepan with a whisk until the cornstarch is dissolved. Stir in 3 egg yolks and ¾ cup of sugar.
Cook over medium-low heat for 8 to 10 minutes, stirring constantly and making sure the scrape the bottom of the pan as you mix. When the mixture begins to bubble and is thick enough to hold small peaks, remove it from the heat.
Stir in Chestnut Hill Farms pineapple, one tablespoon of butter, and vanilla. Spoon the mixture into the prepared crust.
In a medium bowl, beat egg whites with an electric mixer on high speed until they begin to foam. Add in the remaining ½ cup of sugar, 1 tablespoon at a time, while continuing to beat on high speed. Stiff peaks should form and the mixture will become a pure white and glossy meringue. Spread the meringue over the hot filling, right up to the edges to seal in the pie. Sprinkle the remaining 1/3 cup of coconut over the meringue. Bake for 20 to 25 minutes in the 325 degrees F oven until golden brown.
Cool completely. Refrigerate for 4 hours before serving. Enjoy!
---
Happy Thanksgiving from Chestnut Hill Farms!
We hope you enjoy these unique Thanksgiving recipes as you gather around the table with loved ones this year. Don't forget to subscribe to our newsletter to receive more fun recipes this holiday season!