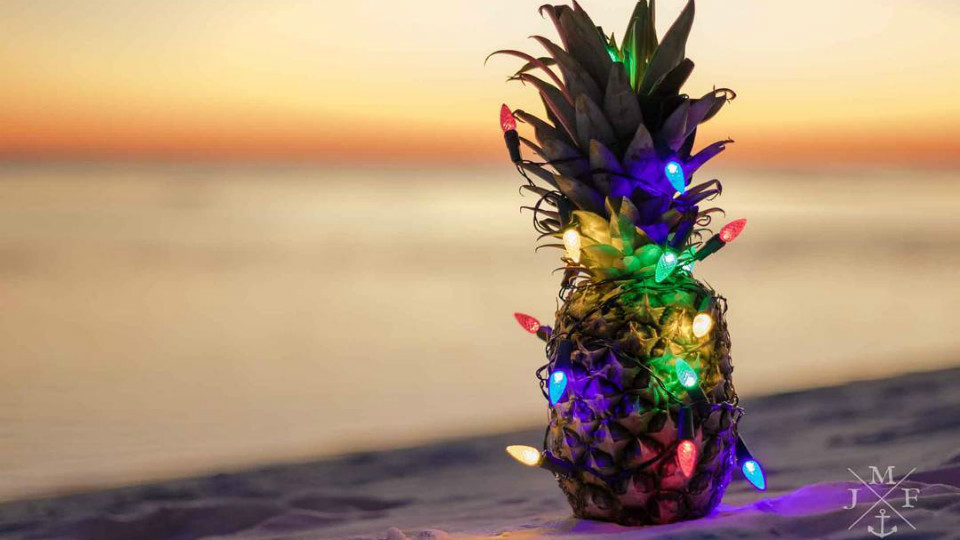 Celebrate the Holidays with a Tropical Twist
In December, every weekend quickly books up with holiday festivities. With Christmas cookie exchanges, New Year celebrations and holiday office parties galore, there's no shortage of excuses to get together. This year, set your holiday party apart from the rest with unique and memorable personal touches featuring our favorite fruit: The Perfect Pineapple. While some may associate pineapples with summer months, the queen fruit is always in season and adds something truly special to your winter holiday party.
No matter the season, we love to celebrate at Chestnut Hill Farms. Here are some of our favorite ways to spruce up a holiday party.
DIY Classy Centerpiece
Every holiday party needs some classy decor. That's why we love this elegant centerpiece that comes together in a snap! Creating a holiday centerpiece out of fruit also means there's plenty of leftover pineapple to snack on when the craft is done (sounds like a win-win to us.) In just five steps, you'll have a festive and unique centerpiece ready for your holiday tables.
Materials
Chestnut Hill Farms Perfect Pineapple
Pineapple corer
Metallic gold spray paint
One taper candle
Directions
Cut off the base of the Chestnut Hill Farm's pineapple.
Remove the core with a pineapple corer and set aside.
Spray paint the pineapple exterior metallic gold and let dry.
Use a knife to create a secure space in the crown of the pineapple for the candle.
Insert a candle and enjoy!
Festive Pineapple Bruschetta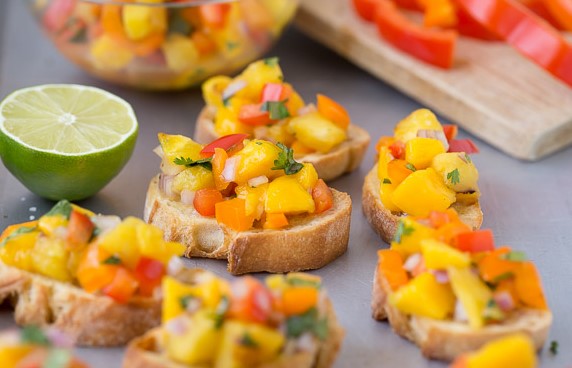 Recipe and photo sourced from Your Cup Of Cake.
Never let good fruit go to waste! Use the leftover pineapple from crafting the holiday centerpiece to create a delicious, (and surprisingly nutritious,) pineapple bruschetta. This light and tasty crowd-pleaser will start the party off right.
Ingredients
1/2 of a Chestnut Hill Farm's Pineapple, cut into rings
1 mango, diced
1 bell pepper, diced
1/4 red onion, diced
1/4 cup cilantro, chopped
Juice of 1 lime
Salt to taste
1 French baguette, cut in 1/2 inch slices
1/4 cup olive oil
Directions
Grill the pineapple over medium-high heat for 2-3 minutes per side, let them cool and then dice into cubes.
Mix the pineapple, mango, bell pepper, onion, cilantro, salt and lime juice together in a bowl.
Let the mixture rest for 15 minutes to let the juices mix, allowing the flavors to come together.
Preheat oven to 400 degrees F.
Place the bread slices on a sheet pan and brush with olive oil.
Toast the bread in the oven for 10-12 minutes or until they reach your desired crispiness.
Top the bread slices with a spoonful of the topping and enjoy!
Celebratory Pineapple Champagne Punch
Recipe sourced from Sugar and Soul.
No party is complete without a killer cocktail. Ring in the new year sipping a classy champagne punch. As an extra bonus, keep health and spirits high by making your own fresh pineapple juice. Not only is fresh-squeezed juice packed with nutrients, but the taste is also unbeatable!
Ingredients
1 cup Triple Sec
1 cup blackberry brandy
1/2 cup Chambord
2 cups Chestnut Hill Farms pineapple fresh squeezed juice
4 cups ginger ale
2 750ml bottles Pink Champagne
Raspberries for garnish
Instructions
Combine the Triple Sec, blackberry brandy, Chambord, and juice in a large pitcher or punch bowl. Cover and store in the fridge for 4 hours or overnight.
Just before serving, add the Triple Sec mixture, ginger ale, and the champagne together in a large punch bowl. Serve over ice and garnish with fresh raspberries if desired.
Get Ready For Fun
Now you are all set to throw an amazing holiday celebration. Subscribe to our newsletter for year-round tips and tricks on holiday-related fun!