Oh, Christmas!
Chestnuts roasting on an open fire. Jack Frost nipping at your nose. Yuletide carols being sung by a choir. And folks…clamoring for some traditional Christmas ham?
So it doesn't rhyme. But it's true! Christmas ham is an American tradition. Sure, every region does things a little differently, but a staple of an American Christmas – like the trees and the presents – is a sweet, glazed, succulent ham.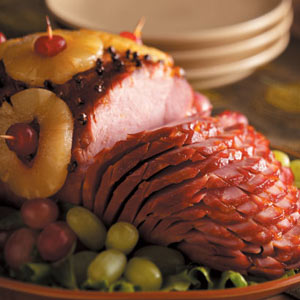 Mmm. Our mouth is starting to water just thinking about it! And everyone knows that the best hams, while recipes might vary from family to family, they all have one thing in common: pineapple.
If you're looking to try out a new recipe or just shake it up a bit, this contest-winning submission from TasteofHome.com is pretty on point.
What you'll need:
Ingredients
1 boneless fully cooked ham (about 6 pounds)

1 tablespoon whole cloves

1 can (20 ounces) sliced pineapple or a fresh Perfect Pineapple

1 cup apricot preserves

1 teaspoon ground mustard

1/2 teaspoon ground allspice

Maraschino cherries
TOTAL TIME:

Prep: 20 min. Bake: 2 hours
Enjoy,
Dr. Lloyd