Celebrate Independence Day with Patriotic Pineapple Treats
It's time to celebrate Independence Day the only way we know how: Family, friends, fun in the sun and plenty of home-cooked grub. No Fourth of July celebration is complete without a full spread of patriotic treats! Follow our lead to whip up perfect pineapple Fourth of July additions that will brighten up the picnic table.
Pineapple Fourth of July Sparkler Centerpieces
Set the stage for your patriotic spread with a centerpiece that seamlessly joins summer vibes with 4th of July good times. Let red, white and blue pineapples rule the picnic table all afternoon. When the sun begins to set, light up the sparklers for a fun opening act to the real firework show!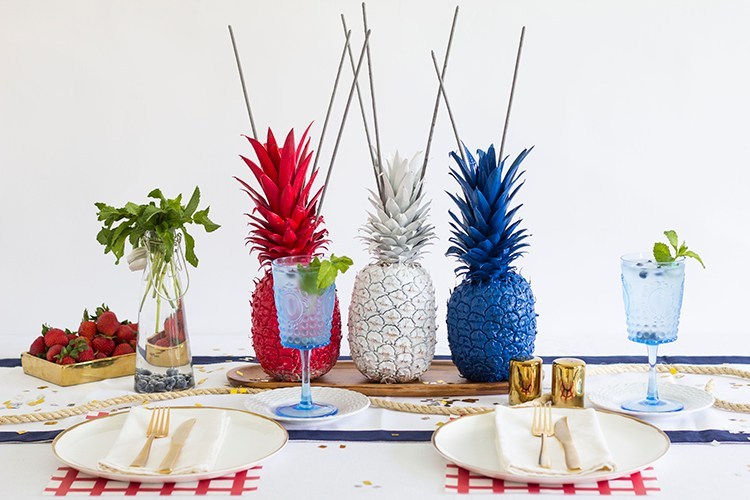 Materials
3 Chestnut Hill Farms Pineapples
Red, white and blue spray paint
Sparklers
Directions
Spray paint pineapples red, white and blue. Allow the pineapples to dry completely.
Insert 2-3 sparklers into the pineapple tops, leaving space between the fronds of the pineapple and the sparkler portion of the stick.
Do not spray any additional spray paint once sparklers are inserted!
Arrange as a festive centerpiece on your outdoor table. When dusk hits, light the sparklers and step back for a fun miniature fireworks display!
Patriotic Pineapple Skewers
Show off your patriotic side with these fresh berry skewers! This simply stunning party food is a snap to make. All you need are a few supplies and some American spirit!
Materials
1 Chestnut Hill Farms Pineapple
Raspberries
Blueberries
Strawberries
Wooden skewers
Star-shaped cookie cutter (optional)
Directions
Carefully cut up your pineapple and dice the fruit into cubes (Learn how to cut a pineapple here!) Reserve the prickly sides of the pineapple to use as a stand.
Lay out 10-12 skewers in a row. Arrange pineapple, blueberries, raspberries and strawberries onto skewers in a likeness to the American flag.
Stick skewers into pineapple sides as a stand to display your Perfect Pineapple Fourth of July flag!
Optional: Use a star-shaped cookie cutter on the remaining pineapple for added patriotic decoration around the base.
Fourth of July Pineapple Sangria
A refreshing glass of Sangria spritz on a hot summer day? Yes please! Since July afternoons can be hotter than fireworks, enjoy a glass of this Fourth of July Pineapple Sangria. It's bursting with fresh fruit flavors and is sure to liven up the party!
Materials
Serving pitcher
1 Chestnut Hill Farms Pineapple
Strawberries
Blueberries
Raspberries
Lemon
Wine (any type)
Soda water
Star-shaped cookie cutter
Directions
Carefully cut open the Chestnut Hill Farms pineapple, chop into slices and use the star-shaped cookie cutter to create pineapple stars.
Place strawberries, blueberries and raspberries into the pitcher.
Pour in the wine of your choice. Add in a squeeze of lemon.
Add pineapple stars and stir well.
When you're ready to serve the sangria, garnish glasses with fresh fruit. Pour in the drink mixture and top off with soda water. Cheers!
Sign up for the Chestnut Hill Farms newsletter for more fresh pineapple recipe ideas!