Hosting this holiday season? Try our juicy holiday ham with fresh pineapple and impress your guests.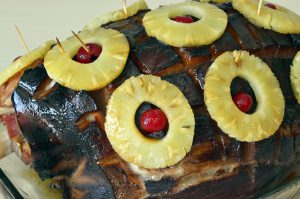 What's better than the holidays? Food is a pivotal component to welcoming company, new and old, and they are guaranteed to be impressed with this easy to make version of traditional holiday ham. Grab your Chestnut Hill Farms Perfect Pineapple, a ham of your choice, and get ready to serve up a delicious meal this season.
Looking for drink ideas to complement your party? Try our Perfect Pineapple Holiday Punch here!
The Perfect Pineapple Holiday Ham
Ingredients
Fully cooked bone in smoked ham (any weight)
1 cup ginger ale
2 cups brown sugar
1 cup honey
12 whole cloves (optional)
12 maraschino cherries
1 Chestnut Hill Farms Pineapple, sliced (reserve pineapple juice from the pineapple)
Directions
Preheat oven to 325°F.
In a small sauce pan over medium high heat add the juice from your Chestnut Hill Farms pineapple, brown sugar, honey, and ginger ale. Cook over medium high heat until sauce thickens slightly, around 5 -10 minutes.
Place ham in a baking pan. Score top of ham and cover with heavy-duty foil. Bake for about 30 minutes. Remove ham and baste with glaze. Cover and bake again, basting every 30 minutes. Your ham will need to cook about 10 minutes per pound so be sure to figure on the proper cooking time for the size of the ham you make.
The last 30 minutes of cooking time remove ham from oven. Place the pineapple slices all over the top of the ham and in the middle of the slice secure a cherry with a tooth pick. If using the clove stick one into each cherry. Baste again and bake uncovered for 30-45 minutes so that the ham and the pineapple reveal a golden color.
Serve and enjoy! Happy Holidays!