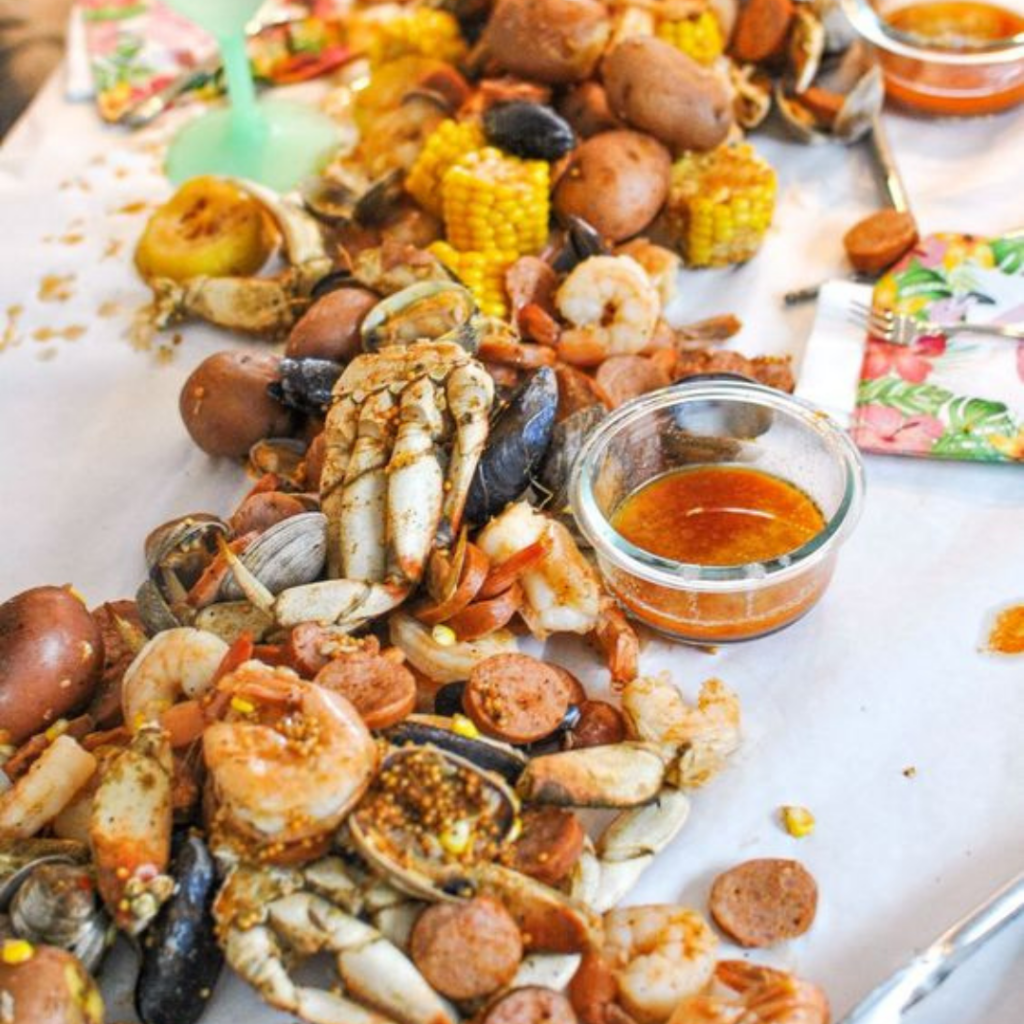 A Brief History of the Seafood Boil
With spring in full swing, people are digging out their biggest pots and calling up their local seafood suppliers to begin the seafood boil season. Just as the flowers are in bloom, so are the people gathering around a boil to enjoy a good meal and quality time together. In some parts of the United States, a seafood boil is as common as a backyard BBQ. Seafood boils vary by region, some with more spice and some with different types of seafood, but they are most common in the Southern Gulf Coast as well as the New England area. Although the exact origination of seafood boils has been a subject of debate, it is thought that the Cajuns brought it over to Louisiana when they were exiled from Canada in the 1700s.
Traditionally, seafood boils are a communal meal! The South is notorious for participating in a pot-luck culture, with someone bringing the fixins, someone bringing the seafood, and someone bringing the boil mix and seasonings. Prop up a few fold-out tables in a neighbor's backyard, grab trays to lay the food out on, and let's get to boiling!
Add Some Sweet To Your Spices
It is widely known that the Southeast enjoys a little spice—or should we say, they can't eat a meal without it! A seafood boil wouldn't be right without a healthy dose of heat included. The most common boils in Louisiana and the southern United States are crab boils and crawfish boils.
Although every family gives their crawfish boil a little bit of a twist, it all comes back to the same base ingredients to give the crawfish that perfect taste. The top three added ingredients that are not traditional to a seafood boil are pineapple, mushrooms, and Brussels sprouts, although there are many others that find their way into the modern mix.
Southern Crawfish Boil Recipe With Pineapple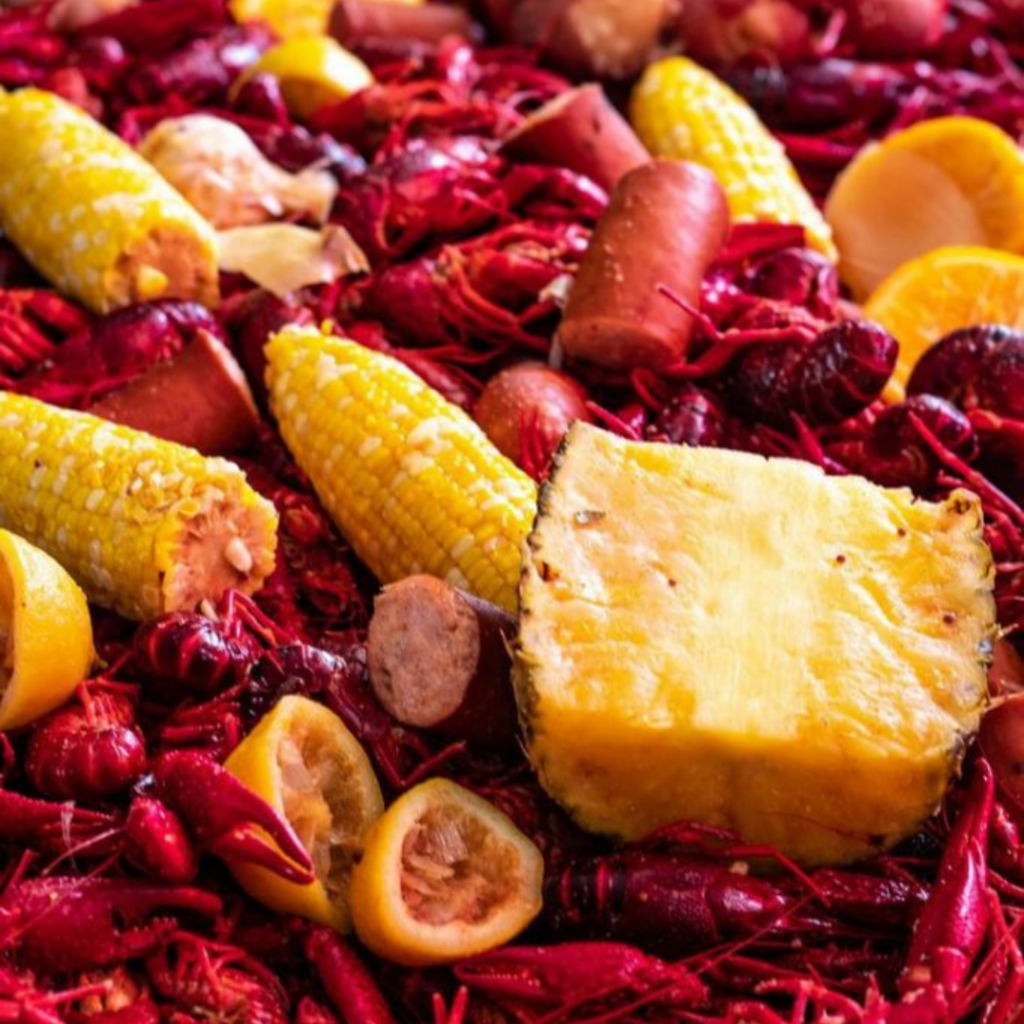 To level up your boil, consider Chestnut Hill Farms Perfect Pineapple as an addition to give your tastebuds a whirl in this crawfish boil recipe. Popping in the pineapple when there are only about 10 minutes left to boil gives it time to soak up the seasonings without having it in the water long enough for the fruit to become soggy. The combination of spicy and sweet is sure to have you and your party reminiscing for days to come. Keep in mind that this recipe is subject to change based on how many people are attending your boil. A rule to keep in mind for crawfish is that three lbs. is typically a good amount for one person.
Serves 6
Ingredients:
-1 Pineapple
-18lbs of crawfish (live)
-6 fresh ears of corn, cut in half
-A sack of red potatoes
-1lb andouille smoked sausages or hot dogs
-Louisiana crawfish, shrimp, and crab boil seasoning
-6 lemons
-6 oranges
-3 heads of garlic
Directions:
Using an outdoor boiling station, bring your water to a boil in a large pot. While the water comes to a boil, this will give you time to prepare your other ingredients.
Cut your red potatoes, lemons, and oranges in half. Slice your proteins into smaller pieces, which will be better for sharing around the table. Cut your pineapple into small chunks and set aside with the other ingredients.
Once the water begins to boil, add your crawfish boil seasoning. Although you can measure this out on the back of the packaging, many people prefer to measure with their hearts.
As the boil comes to life, add your garlic, potatoes, and corn to the water. Next, individually squeeze each lemon and orange into the water to give your boil just a hint of delicious citrus.
Allow these ingredients to boil for 10 minutes.
Using caution around the heat of the boil, add your crawfish to the boil and allow it to cook for 3-4 minutes, or until the crawfish are bright red. Then, turn off your heating method and allow the boil to soak for at least 20 minutes.
When the boil has 10 minutes left to soak, add in your pineapple.
Using heat-resistant gloves and help from friends, drain the water from your pot, serve, and enjoy!
Helpful Tips For Your First Seafood Boil: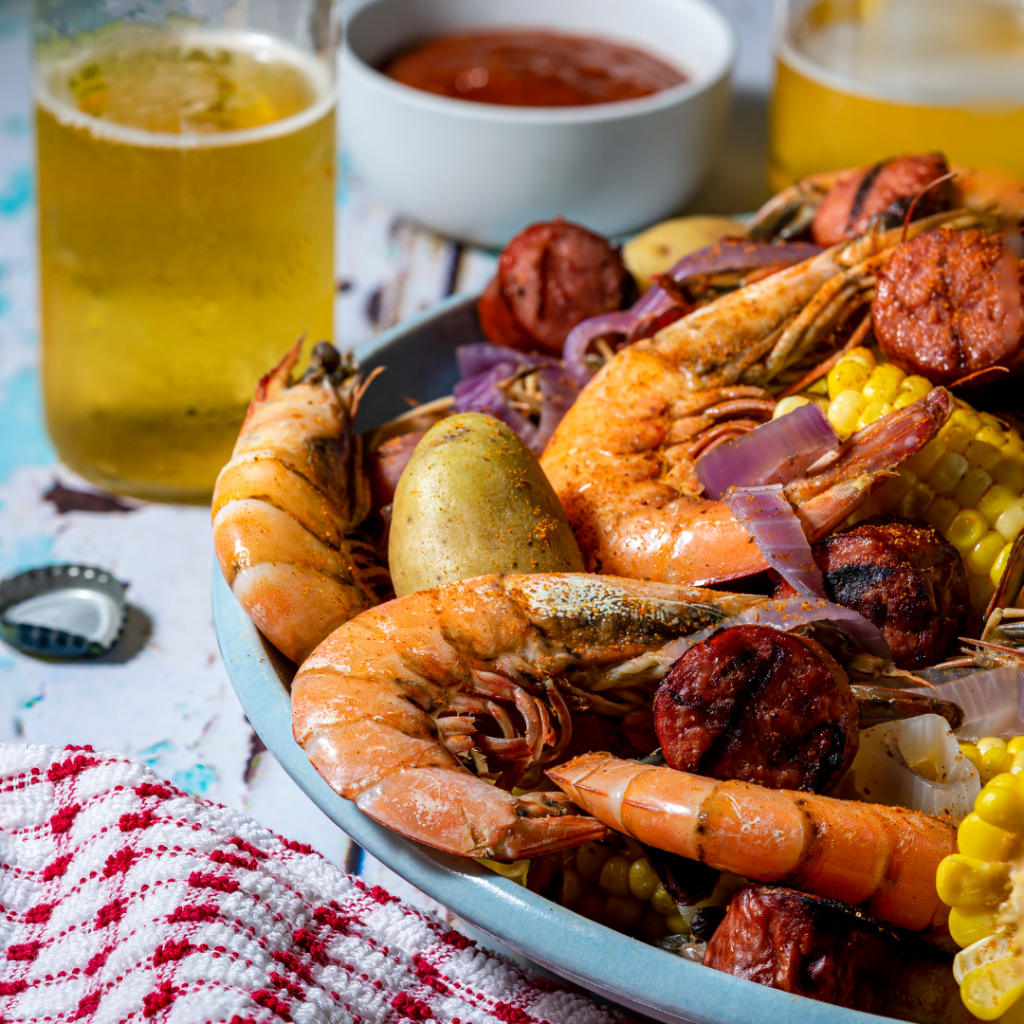 -Consider using gloves when handling your cooked crawfish, as the spices would temporarily burn your eyes if you get close to them. Using gloves allows you to keep your hands clean in case you need them!
-Paper towels or an alternative are a must and should hit the table before the crawfish does, as this dish is messier than most.
-Staying hydrated is important when eating crawfish due to its high salt count. Make sure you're drinking plenty of water!
-If you are feeding crawfish to someone younger, consider peeling their portion beforehand so that they have no risk of choking on the shell or shell debris.
---
Stay Connected with Chestnut Hill Farms
Looking to learn about more pineapple-related recipes? If you're interested, be sure to subscribe to our monthly newsletter!