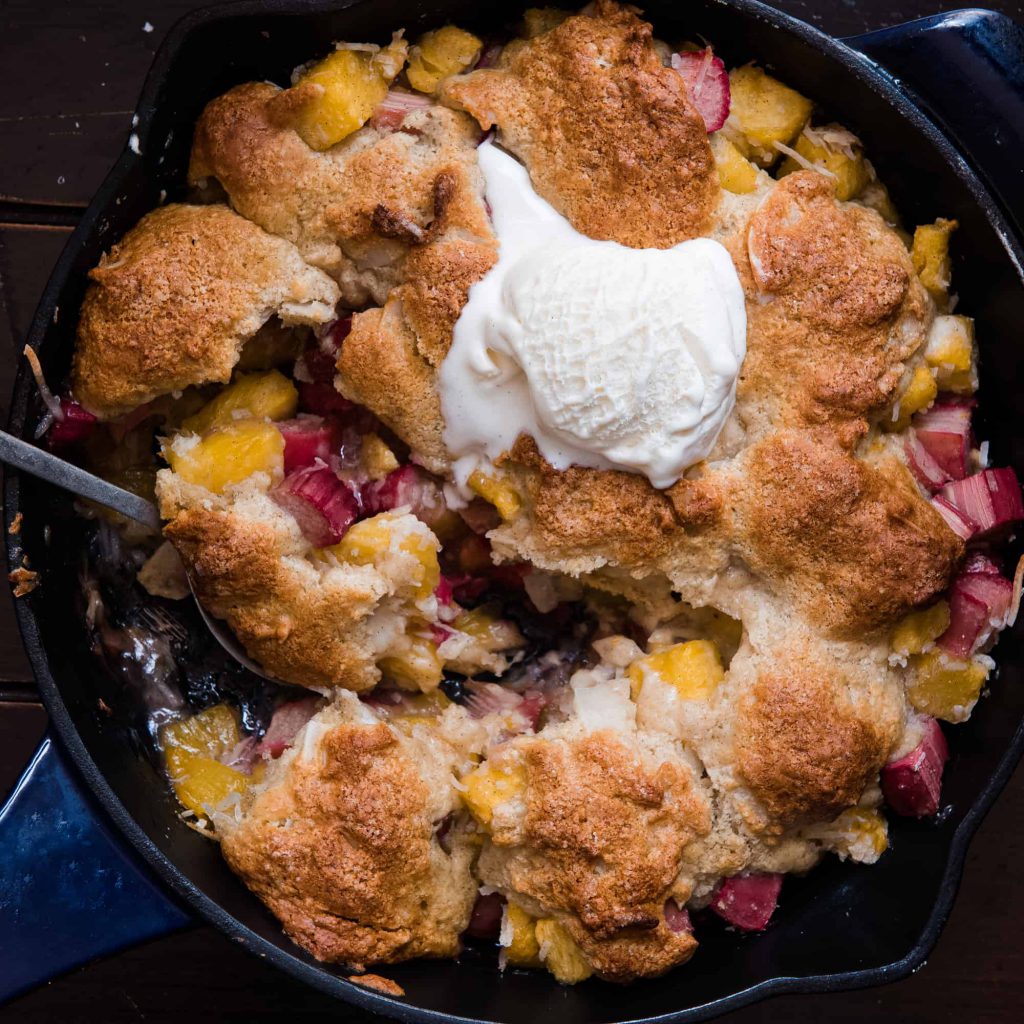 Welcome in the Warmer Weather with These Spring-Friendly Recipes
With the first day of spring rapidly approaching, more and more produce is coming into season. Though Costa Rican pineapple is ripe and available year-round, it pairs perfectly with seasonal spring options. From classic combinations like pineapple and mango to more original ones like pineapple and peas, the tropical fruit will bring an extra bit of brightness and flavor to your table this month. Read on for four perfect pineapple pairings for spring.
Fennel: Arugula, Fennel, and Pineapple Salad
While many people may be familiar with fennel seed – common in Italian sausage – fresh fennel is also delicious. With a subtle, anise-like flavor, fennel offers a light crunch (much like celery) that tastes distinctly spring-like. In this salad, fennel and pineapple pair well for a light, refreshing offering.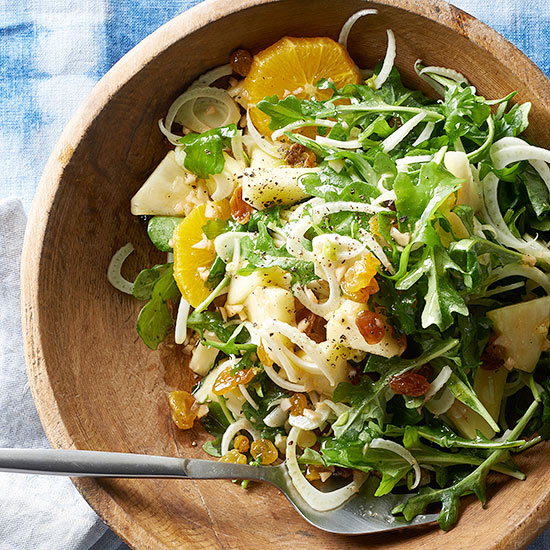 Ingredients:
1/4 cup white balsamic vinegar
1/4 cup olive oil
1 clove garlic, minced
1/4 tsp salt
1/4 tsp freshly ground black pepper
1 bulb fennel, trimmed, halved, and cored
3 cups arugula
1 cup cubed Chestnut Hill Farms pineapple
1/2 cup golden raisins
Directions:
In a large bowl, whisk together vinegar, oil, garlic, salt, and pepper.
Using a mandolin, slice fennel into bowl.
Add arugula, pineapple, and raisins.
Toss gently to coat.
Mango: Mango and Pineapple Salsa
A classic combo, this pairing ais delicious in many different recipes; however, the fruits really shine in a classic pineapple and mango salsa. Plus, the topping is a great way to dress up fish, chicken, pork, or vegetarian options for an always tropical springtime dish.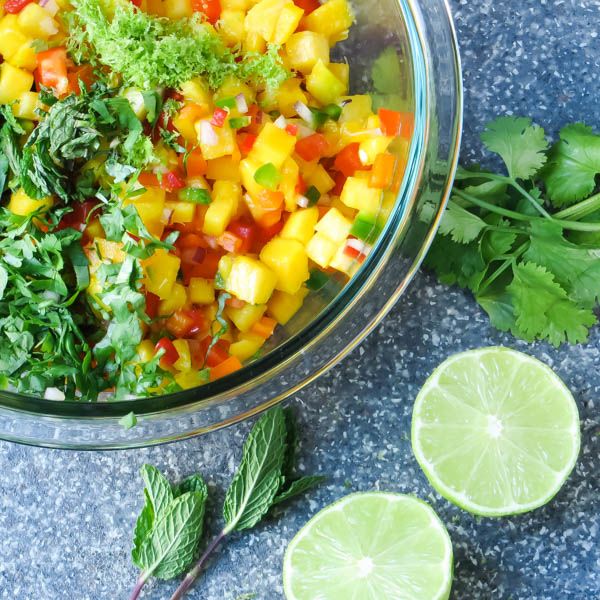 Ingredients:
1 mango peeled, cut into a 1/4″ dice
1/2 cup Chestnut Hill Farms pineapple cut into a 1/4″ dice
1/4 red bell pepper cut into a 1/4″ dice
1 orange bell pepper cut into a 1/4″ dice
1 yellow bell pepper cut into a 1/4″ dice
1/4 cup red onion finely diced
1 jalapeño finely diced
1 red chili pepper finely diced
1 lime zested and juiced
3 tablespoons cilantro leaves chopped
1 tablespoon mint leaves chopped
1 1″ knob ginger peeled
Directions:
In a medium bowl combine the diced, mango, pineapple, bell peppers, red onion, jalapeño and chili pepper. Toss to combine.
Add the lime zest and juice, cilantro and mint. Toss to combine.
Use a microplane grater to grate the ginger onto a cutting board. Carefully scoop the ginger pulp into your hand or into a fine mesh sieve. Squeeze the pulp over a small bowl to capture all the ginger juice. Discard the ginger solids. Add the juice to the salsa and toss to combine.
Taste for seasonings adding salt and freshly ground pepper if desired.
Serve with chicken, pork, fish or shellfish.
Rhubarb: Pineapple-Rhubarb Cobbler
The tartness of rhubarb plays beautifully with the sweetness of pineapple in this fruit-forward dessert. With the extra addition of coconut in both the crunchy topping and tangy filling, this cobbler is a wonderfully tropical way to finish off a springtime dinner.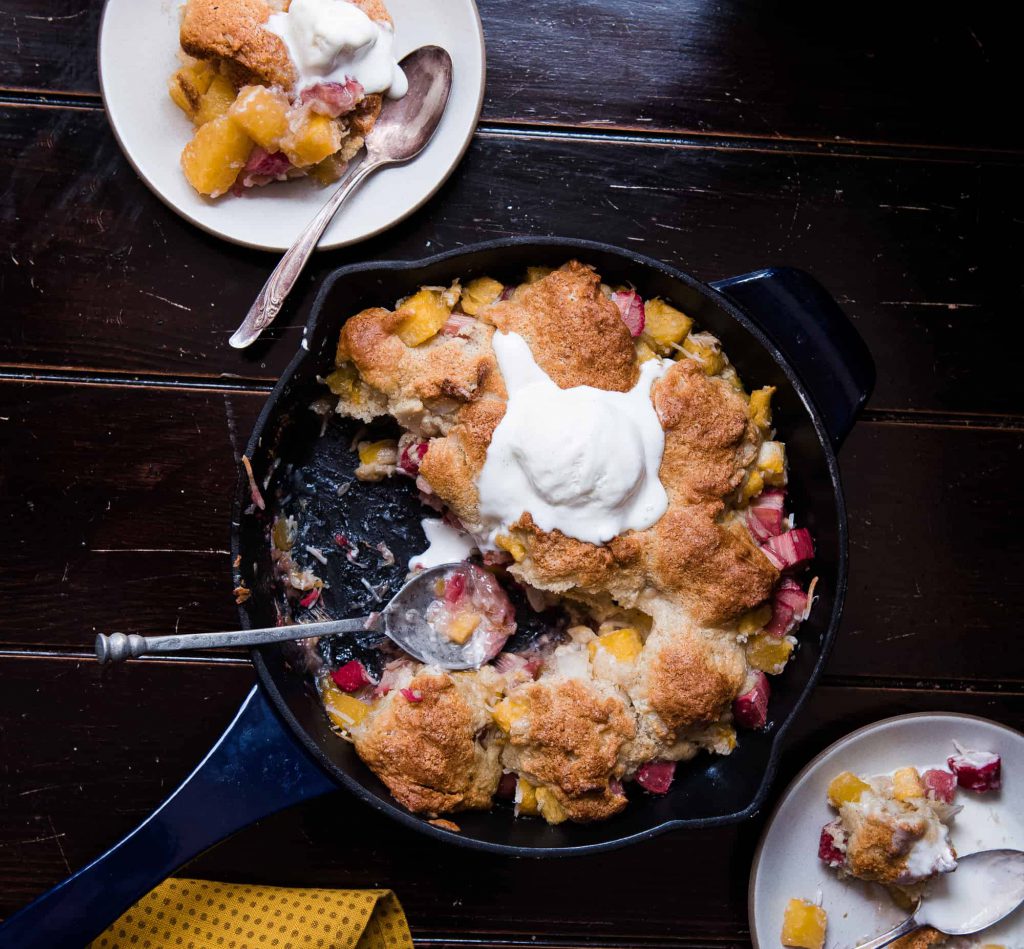 Filling Ingredients:
3 cups rhubarb, cut into chunks
3 cups Chestnut Hill Farms pineapple, cut into chunks
1 tsp lemon juice
1/2 tsp coconut extract
3 tbsp cornstarch
2 1/2 tbsp sugar
1/3 cup shredded sweetened coconut
1/2 tsp ground ginger
Topping Ingredients:
3/4 cup flour
3/4 tsp baking powder
3/4 tsp baking soda
1/2 tsp cardamom
1/2 tsp ginger
1/4 tsp salt
5 tsp sugar divided
2 tbsp chilled butter, cut into small pieces
1/3 shredded sweetened coconut
1/2 – 3/4 cup buttermilk
Directions:
Preheat oven to 400 degrees
In a large bowl combine rhubarb, pineapple, lemon juice coconut extract, cornstarch, sugar, sweetened coconut and ginger. Mix until rhubarb and pineapple are well coated
Pour mixture into a baking dish coated in cooking spray
In a small bowl combine flour, baking powder, baking soda, cardamom, ginger, salt, and 3 teaspoons of sugar.
Cut in cold butter with a pastry blender or fork until the mixture resembles small crumbs. Stir in coconut.
Add 1/2 cup of the buttermilk and stir until just moistened. Add more buttermilk, buttermilk, one tablespoon at a time if the mixture is too dry.
Drop rounded spoonfuls over the top of the fruit mixture and sprinkle with remaining sugar.
Bake for 25-35 minutes until golden brown
Carrot: Pineapple Carrot Cake
Add a tropical twist to classic carrot cake by adding some pineapple. Fresh carrots offer an earthy sweetness, while pineapple gives the cake added moisture and delicious tanginess. The cake can be decorated with chopped walnuts or, for an extra tropical touch, thinly sliced pineapple.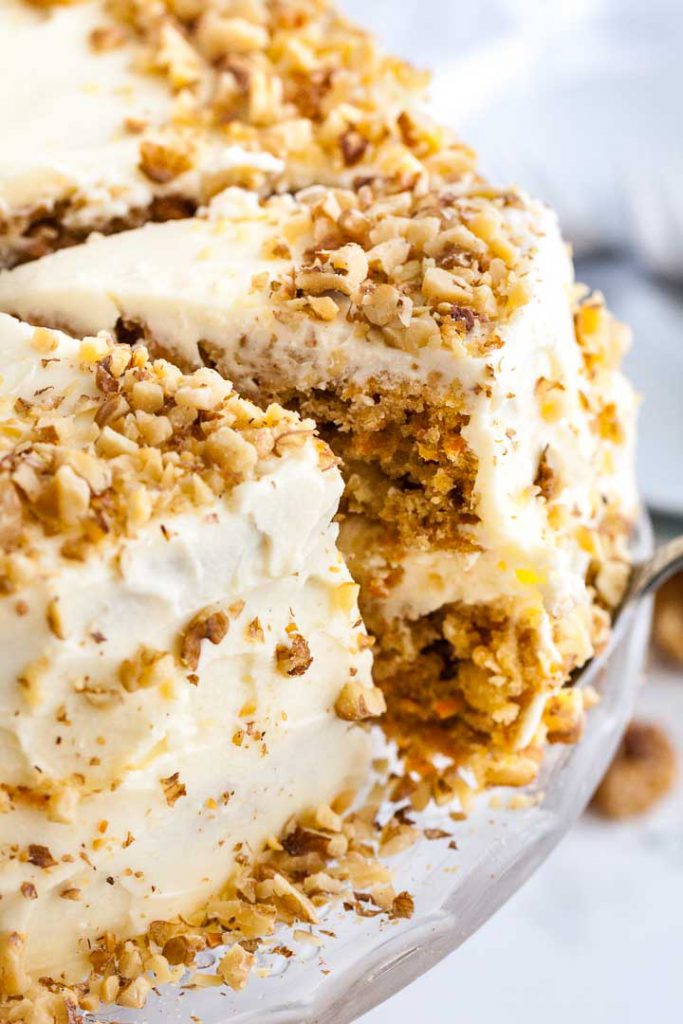 Ingredients:
Carrot Cake Ingredients:
2 1/2 cups all-purpose flour
2 teaspoons baking powder
1 teaspoon baking soda
2 teaspoons ground cinnamon
1/4 tsp ground nutmeg
1/4 tsp allspice
1 teaspoon salt
4 large eggs
1/2 cup unsweetened applesauce
1/2 cup canola or vegetable oil
1 tsp vanilla extract
1 cup brown sugar
1/2 cup granulated sugar
2 cups grated carrot, about 3 large carrots
1 cup fresh Chestnut Hill Farms pineapple, crushed in a blender
1/2 cup chopped walnuts, plus more for decorating
Cream Cheese Frosting Ingredients:
1/2 cup unsalted butter, softened
2 cup powdered sugar, sifted
1 tsp vanilla extract
16 oz cream cheese
Directions:
Preheat oven to 350°F (180°C). Spray two 9-inch cake pans with nonstick spray. Set aside.
In a medium bowl combine flour, baking powder, baking soda, ground cinnamon, nutmeg, allspice, and salt. Set aside.
In another large bowl whisk together eggs, applesauce, oil, vanilla extract, brown sugar, and granulated sugar. Mix with a whisk until no brown sugar lumps remain and the mixture is well combined.
Add dry ingredients to the wet ingredients and mix until just combined.
Fold in grated carrots, crushed pineapple, and walnuts.
Divide batter between the cake pans and bake for 35-40 minutes, or until a toothpick comes out clean.
Let the cakes cool completely in the pans set on a cooling rack.
To make the frosting, beat together softened butter and confectioners' sugar in the bowl of a stand mixer fitted with the paddle attachment at medium speed until light and fluffy, about 2-3 minutes.
Add vanilla extract and cream cheese and beat until blended. If the frosting is a little bit too soft, freeze for a few minutes.
Frost the cooled cake and decorate with chopped nuts.
---
For more ideas for recipes featuring pineapple, subscribe to our newsletter today.