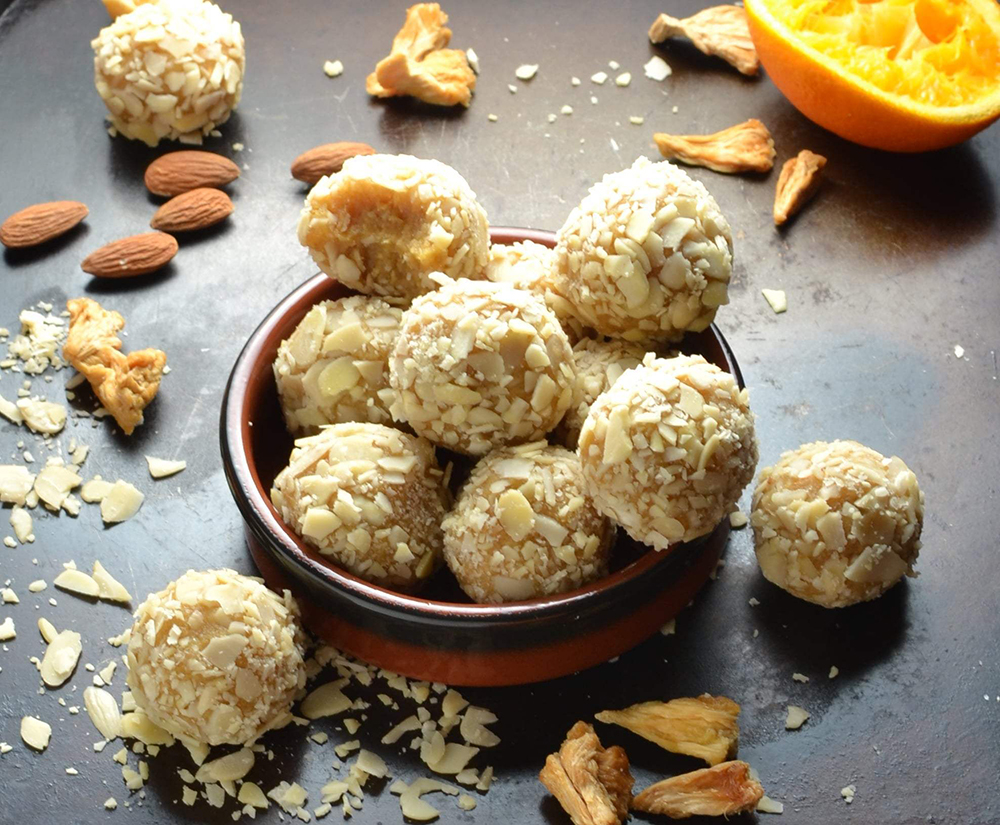 Get Your Daily Dose of Vitamin C With These Tropical Snacks
Whether you start longing for something sugary around 3 or you're dreaming of a bag of chips at 4, it can be hard to resist unhealthy temptations when you're hungry. To help combat our habit of making questionable, cravings-fueled decisions about our snacks, it's best to keep some more nutritious options nearby. So that you can be ready for snack time when hunger hits, we've gathered up some of our favorite pineapple snacks – all with 5 ingredients or less, and all full of good-for-you nutrients that are ready to give you the energy you need to finish the day.
What Makes a Healthy Snack?
When it comes to snacks, not all options were made equal. Most nutritionists agree that a good snack should be filling and contribute to your daily dietary requirements. Ideally, that means it's high in fiber, has plenty of vitamins and minerals, and contains some protein and healthy fats. Since most foods don't contain all of that in one go, it's best to combine a few options, either for an a la carte snack plate or in tasty recipes.
Pineapple, which is packed full of fiber, vitamin C, and bromelain, among other nutrients, is the perfect place to start for building the ideal healthy snack. It's sweet but low in calories and it pairs wonderfully with a wide variety of options. With more than your recommended daily intake of vitamin C in just a single cup, it provides more of the vitamin than many other citrus fruits. Plus, it's the only natural source of bromelain, an enzyme that can aid with digestion and reduce inflammation. As such a powerhouse of nutrition, pineapple has earned its title as a superfood. Adding it into your snack rotation is the perfect way to ensure you're getting a healthy dose of vitamins and minerals every day.
Pineapple Orange Banana Popsicles
For something that'll satisfy your sweet tooth but pack in the vitamins, try these fruit-filled pineapple orange banana popsicles. This frozen version of a smoothie is perfect for summer and, made in advance, is easy to grab when you need something tangy.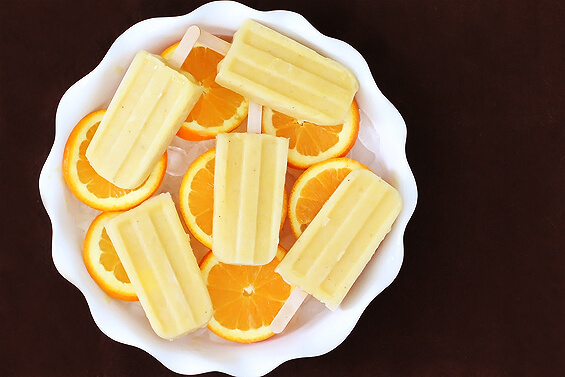 Ingredients:
2 cups fresh chopped pineapple
3 bananas, peeled
2 oranges, peeled
Directions:
Pulse all ingredients together in a blender until smooth.
Pour into popsicle molds and freeze until firm.
4-Ingredient Pineapple Fruit Snacks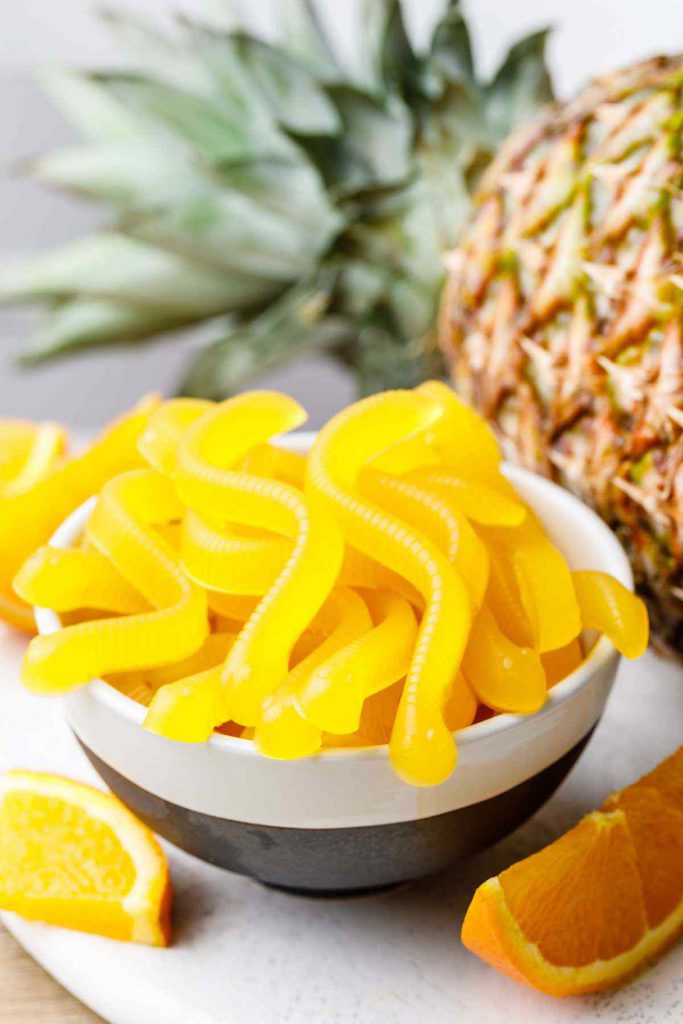 You don't have to be a kid to be craving some fruit snacks! Chewy and fruity, these gummies aren't just fun to eat – they're healthy too. Making them at home means reducing the added sugars and preservatives, resulting in in a candy-alternative that's perfect for snacking on after lunch.
Ingredients:
1 cup diced pineapple
1/3 cup freshly squeezed orange juice
1 1/2 tbsp honey
3 tbsp unflavored gelatin powder
Directions:
Blend together pineapple, honey, and orange juice.
Pour liquid into a saucepan. Add gelatin and mix.
Heat mixture over medium-low heat for roughly 3-4 minutes, or until the gelatin is dissolved.
Pour the liquid into silicone molds. Refrigerate for at least 6 hours or until set.
Rosemary Pineapple Mozzarella Bites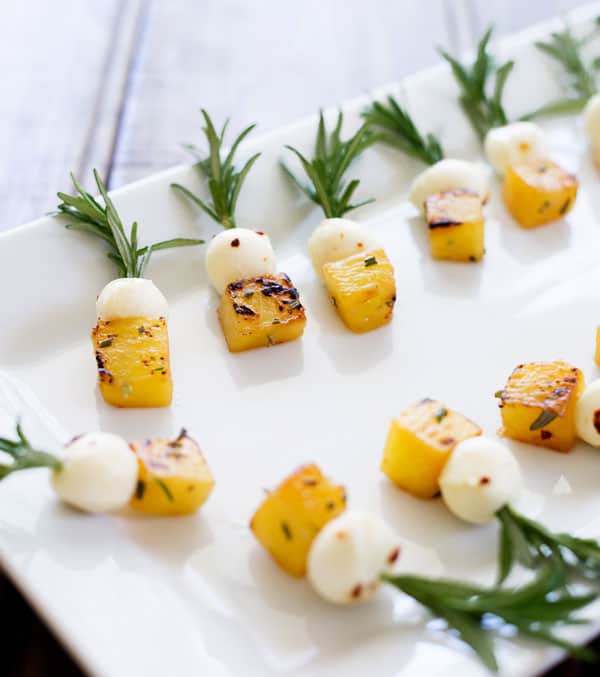 Apples and cheese may be a common snack pairing, but pineapple and mozzarella also make for a delicious combination. For those of you who love salty-and-sweet snacks, these sticks are sure to hit the spot. Don't have time to prepare these in advance? They're also a great choice uncooked – just toss some chopped pineapple and mozzarella balls together, drizzle on some olive oil, and add a sprinkle of chopped rosemary for a snack mix that's healthy and portable.
Ingredients:
2 Tbsp olive oil
1 Tbsp chopped rosemary
20 baby bocconcini balls
1/4 tsp chili flakes or red pepper flakes
1/2 cup Chestnut Hill Farms pineapple
20 cocktail sticks, or trimmed rosemary branches
Directions:
Add oil and rosemary to a pan and heat over low heat. Once heated through, remove from heat and pour into a glass bowl.
Add bocconcini balls and chili flakes to a separate bowl, tossing gently.
Chop pineapple into 20 small chunks. Return pan to heat and add pineapple, cooking on each side for about 2 minutes over high heat.
Remove from heat and add pineapple chunks to oil. Let cool.
Using toothpicks or rosemark branches, create skewers with bocconcini ball and pineapple chunk.
Cover and chill. Remove from fridge at least 15 minutes before serving.
Pineapple, Quinoa, and Almond Energy Balls
For the ultimate grab-and-go snack, try pineapple energy balls. Featuring dried pineapple (learn how to dry your own Chestnut Hill Farms pineapple!) and orange juice, these bites are deliciously tropical and full of vitamin C. Quinoa and almonds add valuable protein and healthy fats, for a small-but-mighty snack that's guaranteed to keep you full until your next meal.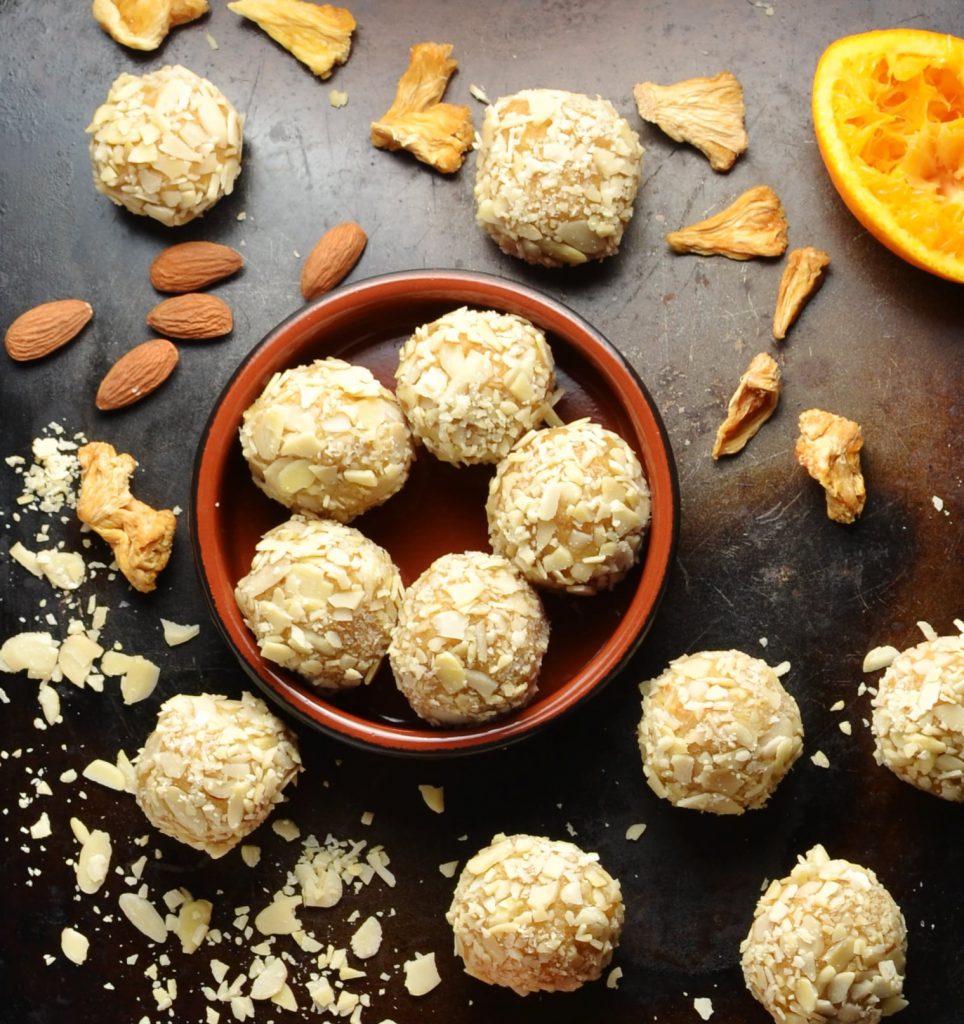 Ingredients:
150 g blanched almonds
150 g dried Chestnut Hill Farms pineapple, chopped
1/2 cup cooked quinoa, loosely packed
6-7 tbsp freshly squeezed orange juice
4-6 tbsp crushed almond flakes, for coating
Directions:
Blend almonds, pineapple, half of the quinoa, and 6 tbsp of juice until combined. The mixture may still be somewhat chunky.
Place in bowl and mix in remaining quinoa. To thin, add additional tbsp of orange juice.
Using your hands, roll mixture into balls. Coat in crushed almonds.
Chill balls for at least 30 minutes before serving.
---
Looking for more ideas for healthy pineapple snacks? For recipes, DIY ideas, and more, subscribe to our newsletter!