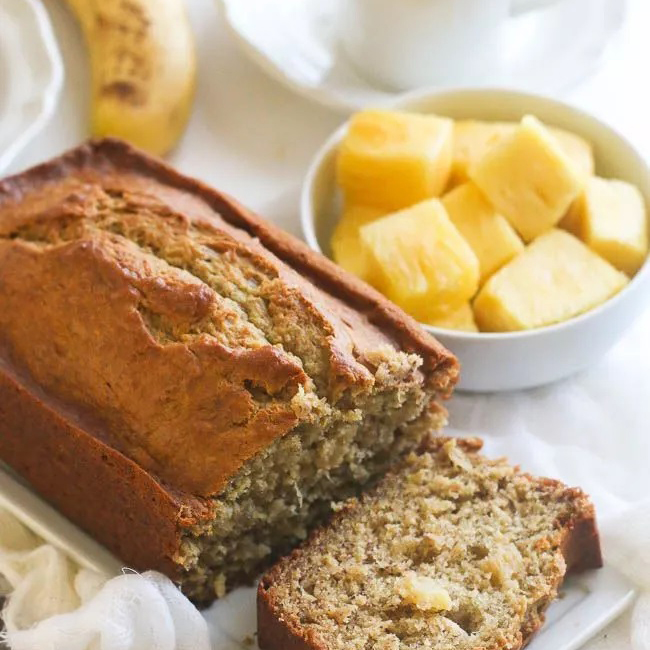 Pineapple and Banana Come Together for the Perfect Tropical Summer Treat
While pineapple and coconut might be a classic pairing (hello, pina coladas!), there's another tropical fruit combo we can't get enough of: pineapple and banana. Even better, our new partnership with Dominican Republic-based banana producer Fresh Fruit Holdings means there's no better to time to get creative in the kitchen. From baked goods to blended beverages, we've found three recipes that feature our favorite fruits and prove that pineapple and banana are truly a power duo.
Hummingbird Pancakes
Though we're big fans of healthy breakfast options like pineapple smoothies, we have to admit – sometimes we just want a giant stack of pancakes. For those mornings (or evenings), we look to this twist on a hummingbird cake, which traditionally features banana, pineapple, and pecans.
Chestnut Hill Farms Tip: To make your own crushed pineapple from a fresh fruit, place chunks in a food processor and pulse a few times. If you're making extra, this can then be canned and enjoyed in the future as well.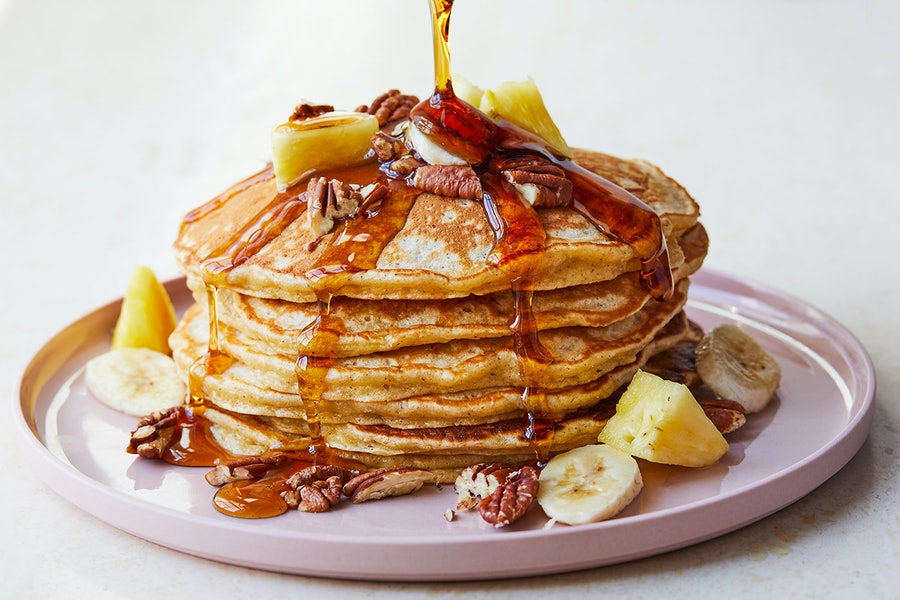 Ingredients:
1¾ cups all-purpose flour
2 teaspoons baking powder
1 teaspoon salt
1/2 teaspoon ground cinnamon
1/2 cup crushed Chestnut Hill Farms pineapple, drained
1/4 cup granulated sugar
1/4 cup light brown sugar
2 large bananas, peeled and mashed (¾ cup)
2 eggs
1 1/4 cups buttermilk
4 tablespoons brown butter, melted
Nonstick cooking spray
Chopped pecans, for garnish
Sliced banana and pineapple, for garnish
Maple syrup, for serving
Directions:
Mix together dry ingredients through cinnamon in a large bowl.
In a separate bowl, mix pineapple, both sugars, bananas, and eggs, then slowly add buttermilk while whisking.
Add dry ingredients and stir until combined. Stir in the brown butter.
Spray two nonstick pans with cooking spray and heat over high heat.
Spoon 1/2 cup of batter onto each pan. Cook for roughly 2 minutes, then flip and cook for an additional 2 minutes.
Plate pancakes and top with choppeed pecans, banana, and pineapple. Serve with maple syrup.
Pineapple Banana Lassi
While many people may be most familiar with mango lassi, the yogurt-based drink is the perfect base for a wide variety of flavors. For this variation, mango and banana come together with ginger and cardamom for a sweet and refreshing drink that can be enjoyed all summer.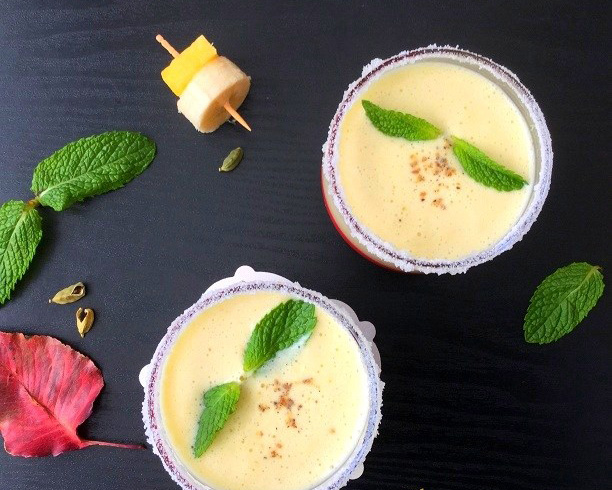 Ingredients:
1 large banana, peeled and chopped
1 1/2 cups Chestnut Hill Farms pineapple, cut into chunks
1/2 inch ginger, peeled and chopped
1/2 cup yogurt
1/2 cup milk
1/2 tsp cardamom powder
Mint leaves for garnish
Directions:
Blend banana, pineapple, ginger, yogurt, milk, and cardamom in a blender until smooth.
Optional: Add sweetener to taste.
Wet the rim of a serving glass with lemon, then dip rim in sugar to coat.
Pour lassi into the glass and top with a sprinkle of cardamom and mint leaves.
Pineapple Banana Bread
Delivering an extra dose of flavor and moisture, the addition of chopped pineapple puts a unique twist on classic banana bread. Plus, like most quick breads, this recipe is easy to whip up and just takes a single bowl. In fact, we suggest making two and freezing one – you'll want to have easy access to this bread when the craving strikes!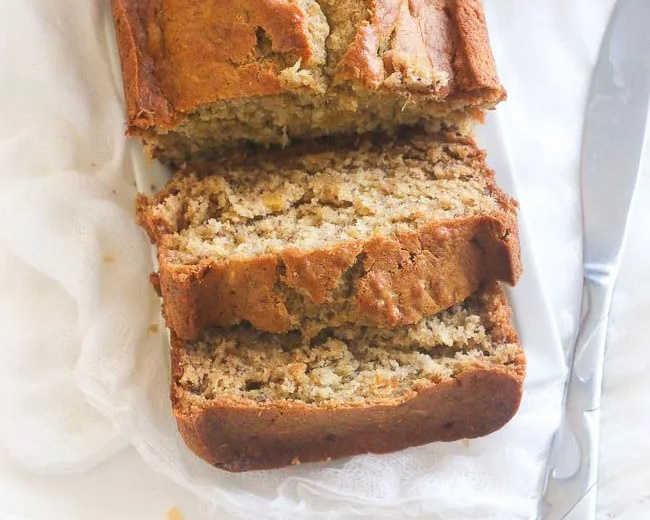 Ingredients:
1 cup mashed bananas
3/4 cup crushed Chestnut Hill Farms pineapple
1/4 cup sour cream
2 large eggs
1 teaspoon vanilla extract
1 teaspoon nutmeg
1/4 cup milk
2 cups all purpose flour
1/2 cup brown sugar
1/2 cup granulated sugar
1 tsp baking soda
1 tsp baking powder
1/2 tsp salt
1/2 cup unsalted butter
1 -2 tbsp rum
Directions:
Preheat oven to 350 degrees. Spray loaf pan with cooking spray.
Mix banana, pineapple, and sour cream together.
Add eggs, milk, rum, and vanilla. Mix until smooth, then whisk in both granulated sugar and brown sugar.
In a separate bowl, combine dry ingredients from flour through salt.
Adding one tablespoon at a time, add butter to dry ingredients and mix with a handheld mixer.
Add wet ingredients.
Using a handheld mixer, add butter to the dry mixture until fully incorporated, and then gradually add wet ingredients.
Mix continuously for roughly 2 minutes or until dry ingredients are incorporated.
Spread batter into pan and bake for about 60 minutes.
Let cool in pan for 10 minutes, then transfer to cooling rack.
---
If you'd like more delicious pineapple recipes delivered straight to your inbox, be sure to sign up for our newsletter today!