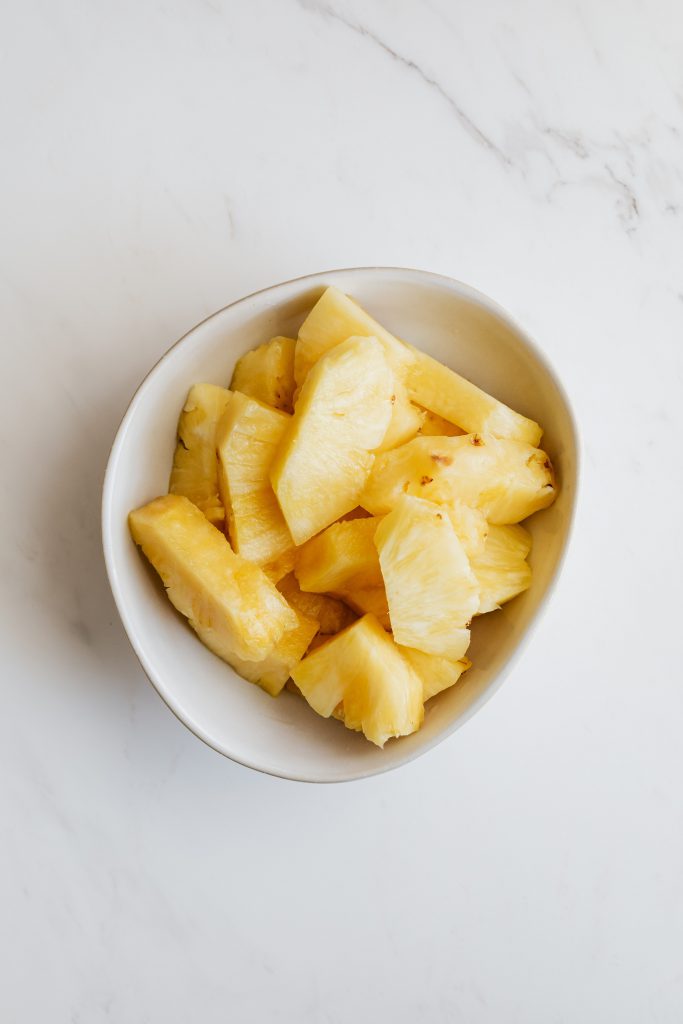 Substitute Pineapple for a Simple but Delicious Dessert
Who doesn't love dessert after a meal? A fresh and sweet treat may be the perfect end to dinner, but sometimes even desserts require preparation. Most people don't want to spend the time making a further mess in the kitchen with all the dinner dishes that need cleaning.
Some people associate desserts with being too unhealthy and full of calories, so they try to avoid them altogether. Contrary to popular belief, eating dessert actually has various health benefits. For example, eating dessert can make you happier and keep you from binge eating.
If you have a sweet tooth and are looking for something that takes no time to make, we might have the solution. Let's talk about Pineapple Romanoff.
The Inspiration for Pineapple Romanoff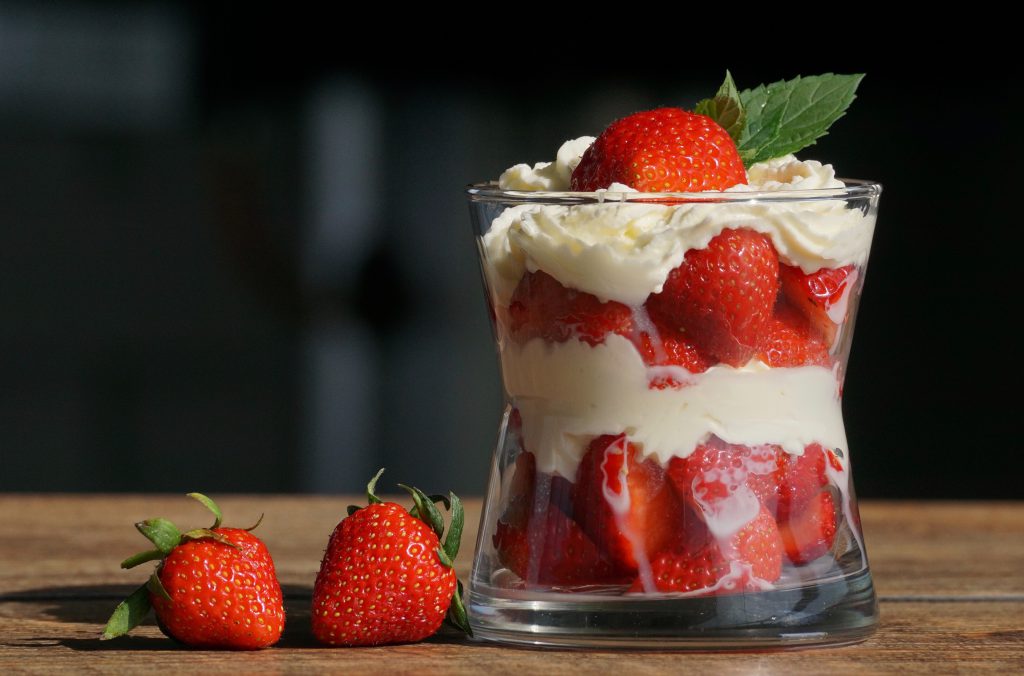 Pineapple Romanoff is a twist on the classic dessert, strawberries romanoff. It is considered an adult version of strawberries and cream because it is commonly made with liqueur. It is also made with whipped cream and ice cream, so it is perfect for a warm day.
The light dessert's origin is unclear but has been linked to three different chefs. It was originally thought to have been created by french chef Marie-Antoine Carême and served to Nicholas I, a Russian ruler of the Romanov family.
Some argue that the dessert was actually created by Auguste Escoffier in the 1920s when he worked as a chef at the Carlton Hotel in London, though his techniques were based on Carême's.
The story doesn't end there, however. In the 1940s, Hollywood restaurateur Michael Romanoff borrowed Escoffier's "Strawberries Americaine Style" recipe, which became popularized as Strawberries Romanoff. Romanoff pretended to be a member of the House of Romanov.
Using Pineapple as Your Romanoff Base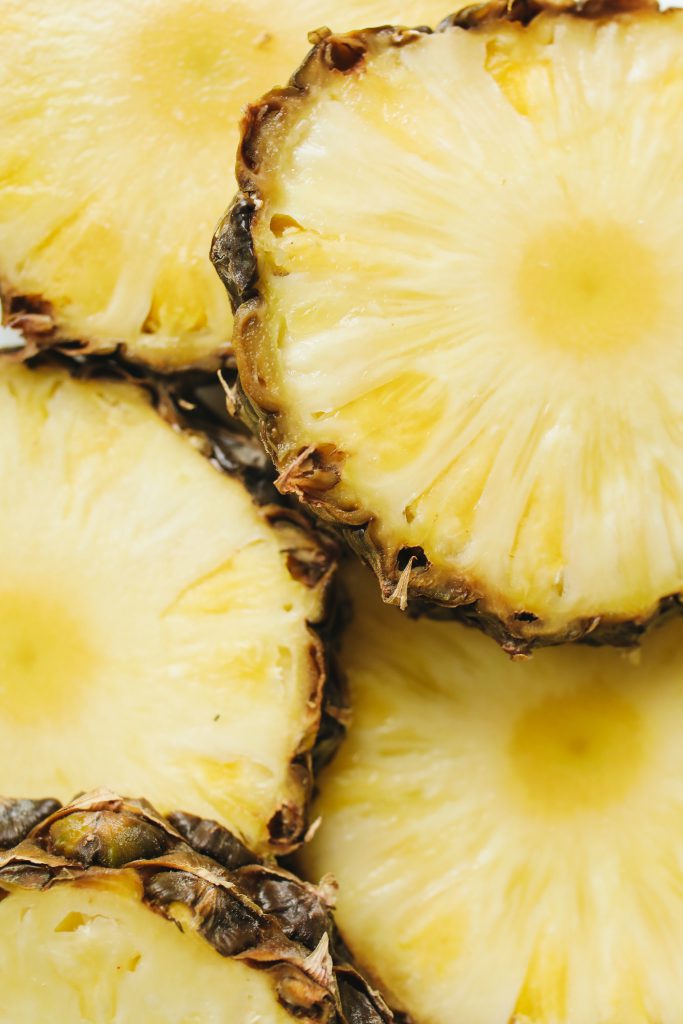 Despite its crazy origin, Strawberries Romanoff is a delicious treat that is only elevated by substituting the strawberries for our personal favorite fruit, pineapple.
As a member of the Clean 15, pineapple is grown without exposure to dangerous pesticides. Paired with its abundance of Vitamin C, which helps keep you from getting sick, pineapple is not only delicious, but also healthy.
It is also known for reducing the risk of macular degeneration, a disease that can cause vision loss.
With all these benefits, we have no doubt that pineapple romanoff will be a hit. If you're unsure of where to start, we pulled together a recipe for you to try.
A Recipe for Pineapple Romanoff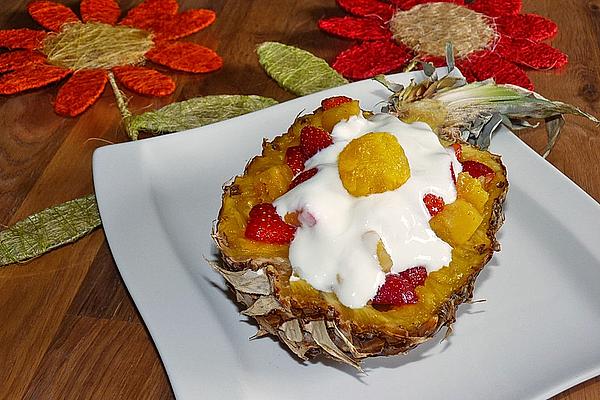 While Pineapple Romanoff is primarily for adults due to the inclusion of liqueur, you can make a healthy, kid-friendly version without the alcohol that will ensure your children are getting their share of fresh fruit. Just make sure you use fresh pineapple instead of canned because it is healthier.
For the adults, try this simple and quick recipe.
Ingredients:
2-1/2 cups of pineapples – cut in quarters
3 Tbl Grand Marnier
3 Tbl granulated sugar
1 Tbl orange zest
1/2 tsp vanilla extract
1 cup heavy cream for whipping
1 pint of vanilla ice cream
Shortbread cookies
Directions:
Place pineapple slices into a colander – rinse and cut into quarters. Set aside.
Whip the heavy cream adding two teaspoons of the sugar and the vanilla to the cream while whipping. Whip until twice in volume and firm.
Sprinkle remaining sugar over pineapples and add the Grand Marnier. Let stand for about 10 minutes before adding to dessert glasses.
Add a small scoop of softened ice cream to the bottom of a glass.
Pile on the pineapples, and add a heaping tablespoon of whipped cream.  Using a microplane zester, zest about 1/2 teaspoon of orange on top.   Tuck in a shortbread cookie to finish it off.
---
CHF Helps You Serve Pineapple Romanoff
Excited to make a light and delicious dessert? Look for Chestnut Hill Farms pineapples and start preparing your Pineapple Romanoff today.