How to Throw a Perfect Pineapple Bash
Celebrate sweet summertime with the perfect pineapple party this 4th of July! Although our tasty pineapples are available year round, peak pineapple season is during the summertime months, from March to July. Here are some delicious and exciting ways to incorporate our pineapples in your Independence Day celebrations.
1. Dazzling Pineapple Centerpieces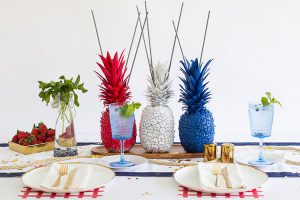 Add some pizzaz to your 4th of July party with these patriot centerpieces. Simply spray paint pineapples using red, white and blue paint. We recommend using paint and primer in one for the best coverage. Allow pineapples to dry completely before inserting sparklers into the pineapple tops. Touch up any chipped paint with a paint brush and arrange your pineapples into a centerpiece for all to see. As dusk approaches, light your sparklers, step back and enjoy!
2. Create a Fun, Patriotic Dish

For most, 4th of July means a weekend full of family, friends and fun grilling out and soaking up the sun with some home-cooked grub. Show off your patriotic side with these fresh berry skewers that are bound to stand out at any party. For the entire recipe, click here. 
3. Refresh With Strawberry Pineapple Popsicles
Nothing quite says summer like fresh fruit and some home-cooking. Make your 4th of July bash stand out from the rest with these homemade strawberry pineapple pops! With just a few simple ingredients, you're ready to start cooling down with this sweet treat.
Ingredients:
2 cups Chestnut Hill Farms pineapple chunks
3 cups sliced strawberries
1/3 cup + 1/2 cup fresh pineapple juice
1 cup water
1 cup granulated sugar
Instructions:
1. In a blender, puree pineapple chunks with 1/3 cup of pineapple juice. Taste and sweeten with simple syrup as desired. Set aside.
2. Wash and clean out blender. Puree strawberries with remaining pineapple juice. Taste and sweeten with simple syrup as desired. Set aside.
3. Pour strawberry puree into popsicle molds, filling mold half way. Next, slowly pour pineapple puree into mold. Since the pineapple puree is more dense than the strawberry, it will cause that swirling/marble effect.
4. Place a layer of foil over the molds, followed by the mold cover. Insert wooden sticks into the mold and then remove popsicle mold cover, leaving only the foil. Place in freezer for at least 3 hours until the popsicles are solid.
5. To remove popsicles from mold, submerge mold into room temperature water for 60-90 seconds. Remove from water and pull popsicles out. Enjoy immediately!
Simple Syrup:
In a small sauce pot, combine water and sugar. Bring to a boil until sugar has dissolved. Let cool to room temperature. Store in fridge until ready to use.