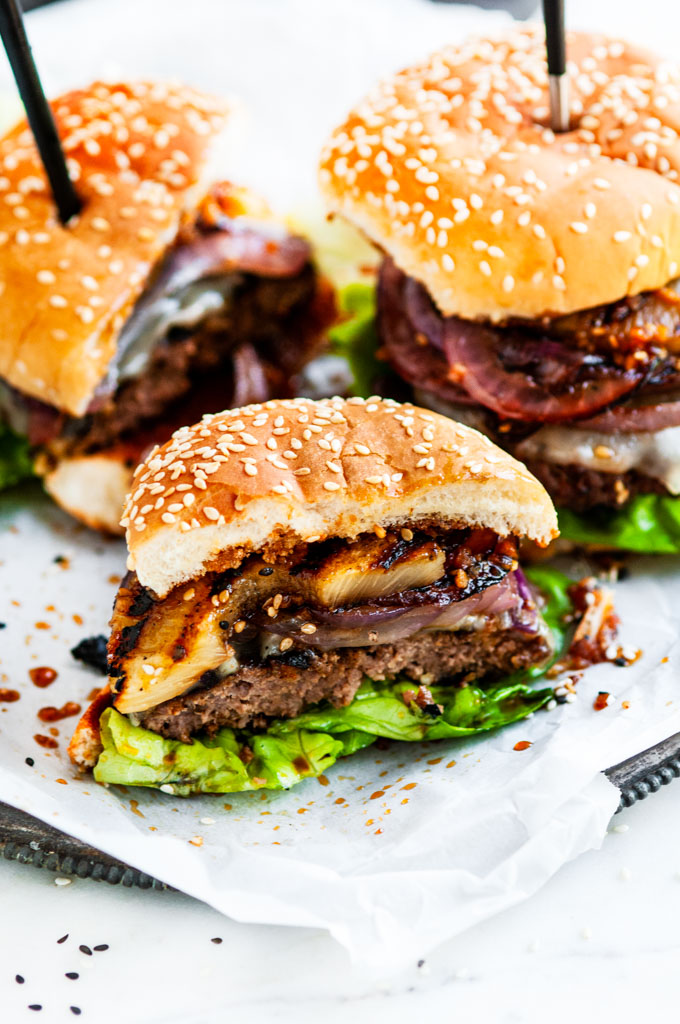 Trust Us – This Tropical Fruit Is Sure to Shine at Your Backyard Barbecue
Get your grill out, light the sparklers, and chop the pineapple – it's almost the Fourth of July! Though celebrations may look a little different this year, we'll never turn down the opportunity to cook up a delicious meal. From spicy-sweet pineapple cocktails to start to creamy pineapple and coconut ice cream to end the night, we've got a tropical menu that'll take your backyard barbecue to the next level – whether shared in person with family or enjoyed over Zoom with socially-distanced friends. Read on to find our picks for Perfect Pineapple recipes to cook up this Independence Day.
Spicy Pineapple Vodka Punch
For a one-and-done cocktail recipe, mix up this sweet and spicy pineapple punch. With 8 to 10 servings in the recipe, there's no pausing to make another drink. Instead, just pour out a glass and get back to grilling. Though with just four ingredients the recipe is simple, muddled jalapenos and sweet pineapple juice strike a perfect balance for a summery, fruity punch.
For another refreshing, fruit-forward alternative, check out our recipe for Pineapple Sangria.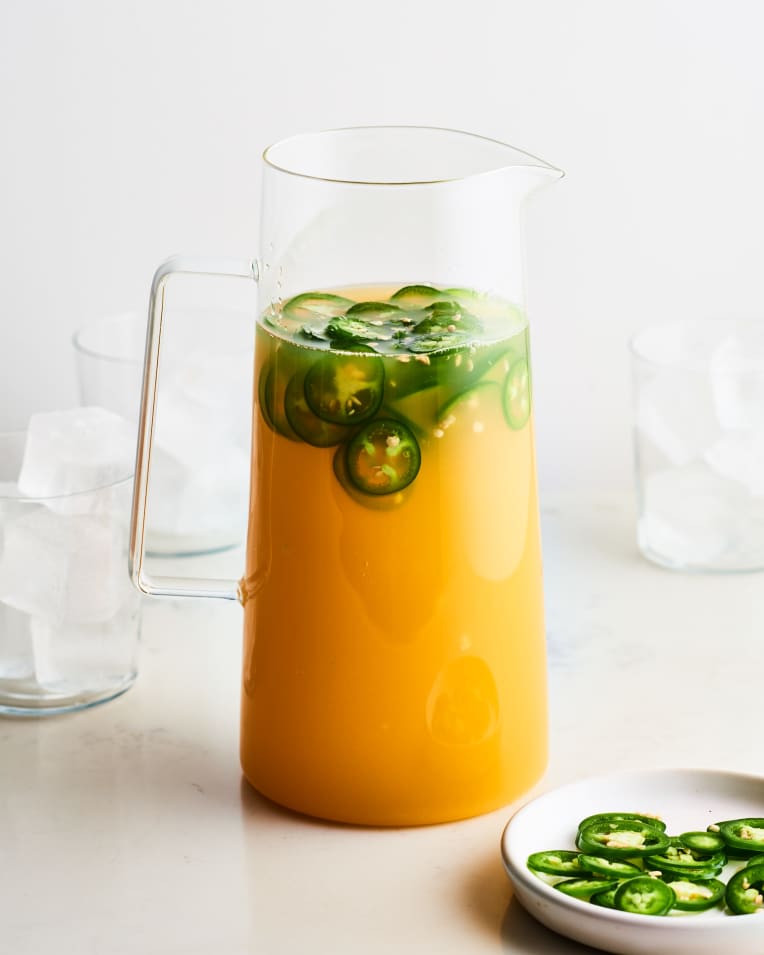 Ingredients:
Directions:
Thinly slice 2 jalapenos and place in a pitcher. Muddle with a muddler or wooden spoon to bruise and release the juices.
Stir in 6 cups chilled pineapple juice and 2 cups vodka. Serve in ice-filled glasses.
Photo & recipe from The Kitchn
Hawaiian Teriyaki Burgers with Grilled Pineapple
It wouldn't be the Fourth of July without getting the grill out! These burgers are a delicious twist on the classic and are topped with grilled pineapple and red onion. Plus, teriyaki sauce in the burger patty itself plays nicely with the sweetness of the pineapple for a dish that'll make you feel like you're at a luau in your own backyard.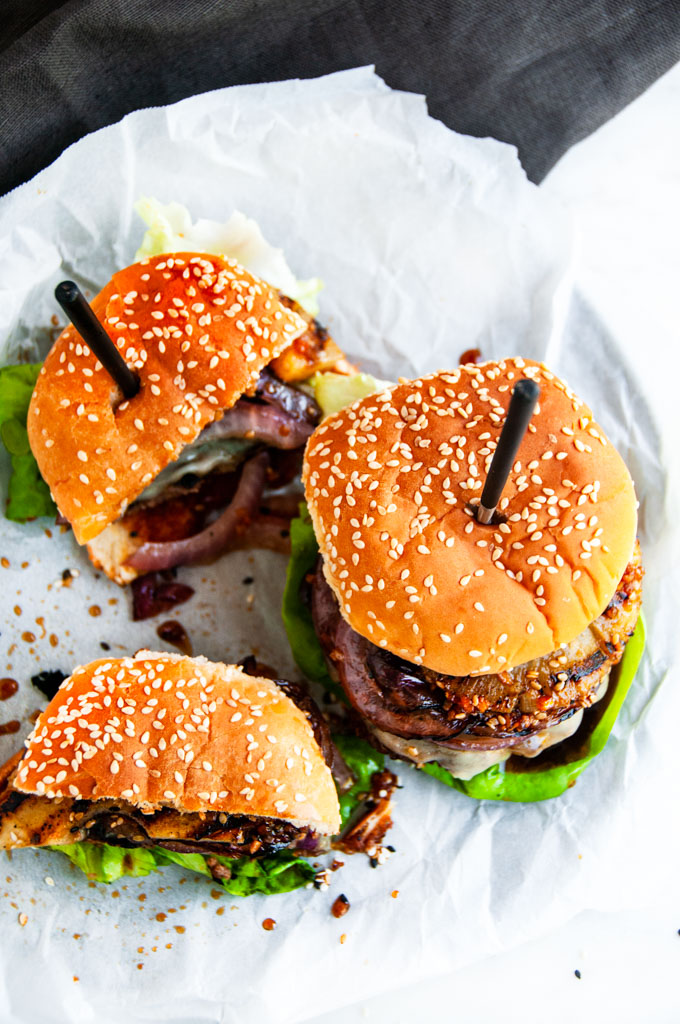 Ingredients:
For the Burger Patties:
1 lb ground beef, 93% or 80% lean
1/4 cup panko
1/4 cup teriyaki sauce
Pinch of coarse salt, fresh ground pepper
For the Burgers:
4 sesame seed buns
4 Chestnut Hill Farms pineapple slices
1/2 red onion, sliced into 1/4 inch rounds
4 slices provolone cheese
Butter lettuce leaves, roughly torn
Teriyaki sauce, for drizzling
Directions:
Preheat an outdoor grill or a grill pan rubbed with a little oil.
In a large mixing bowl, combine ground beef, panko, teriyaki sauce, and a pinch of salt and pepper until thoroughly mixed. Divide meat into four, large and round equal portions to make the patties. Flatten to the approximate size of your burger buns. Press your thumb into the center of each patty, forming an indent, to allow for even cooking.
Place burger patties on the grill surface. Cook one side for about 4-5 minutes. Flip and cook the other side for about 3-4 minutes for a medium rare patty.  For a medium patty, cook 5-6 minutes one side, and 4-5 minutes on the other. Add provolone cheese on top and cook for another minute, until melted. Remove from heat and rest the patties for about 5 minutes.
While burgers are resting, place pineapple slices and red onion rounds on the grill. Cook 2-3 minutes per side until charred. Remove from heat.
Optional: toast the buns on the grill for 2 minutes, face down, until slightly golden. Remove from heat and spread a little teriyaki sauce on each bun.
Assemble the burgers, layering as follows: Bottom bun, butter lettuce, provolone burger patties, red onion rounds, pineapple slices, drizzle of teriyaki sauce, and top bun. Serve immediately.
Charred Pineapple Salad
To keep the grill going, try this charred pineapple salad featuring heaps of fresh produce and a tangy, tropical vinaigrette. Piled high with fruit, this salad is one even kids will dig into willingly. Plus, they can join in on the prep, assisting with tearing the lettuce and whisking the dressing.
Have leftover pineapple? Try chopping it into chunks and making Patriotic Pineapple Skewers for grab-and-go snacks.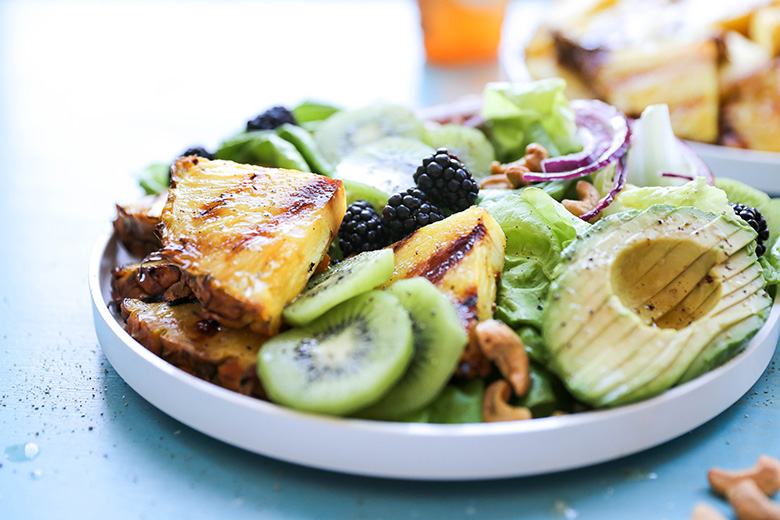 Ingredients:
For the Salad:
1 Chestnut Hill Farms pineapple, trimmed and cut into wedges
2 tbsp honey
2 tbsp canola or vegetable oil
Sea salt
8 cups butter lettuce, torn
4 kiwi fruit, peeled and sliced
2 avocados, pitted and thinly sliced
1/2 red onion, peeled and thinly sliced
1/2 cup fresh blackberries
1/2 cup roasted and salted cashews, roughly chopped
For the Dressing:
1/4 cup red wine vinegar
3 tbsp pineapple juice
1 tsp honey
1 garlic clove, peeled and minced
1/4 tsp salt
1/2 cup extra-virgin olive oil
Directions:
Pre-heat your grill to high.
Drizzle the pineapple wedges on both sides with the honey and oil. Place the pineapple wedges directly on your pre-heated grill grates and cook them for 2-3 minutes per side, or until they are golden and charred in a few places. Remove and transfer them to a clean plate. Then sprinkle them with a couple pinches of sea salt. Set aside.
Meanwhile, make the dressing. In a small bowl, whisk together the red wine vinegar, juice, honey, minced garlic, salt and black pepper. Then slowly stream in the olive oil while you continue to whisk. Set aside.
To serve, divide the lettuce between plates. Top with the grilled pineapple wedges, sliced kiwi, avocado, red onion, blackberries and cashews. Drizzle with some of the dressing. Season with salt and black pepper, if desired. Serve immediately.
Pineapple and Coconut Ice Cream
Give a nod to the upcoming National Pina Colada day on July 10 with this luscious pineapple-coconut ice cream. Although full-fat coconut milk makes the dessert feel indulgent, it still avoids any added sugar, making it a healthier option for ending the night.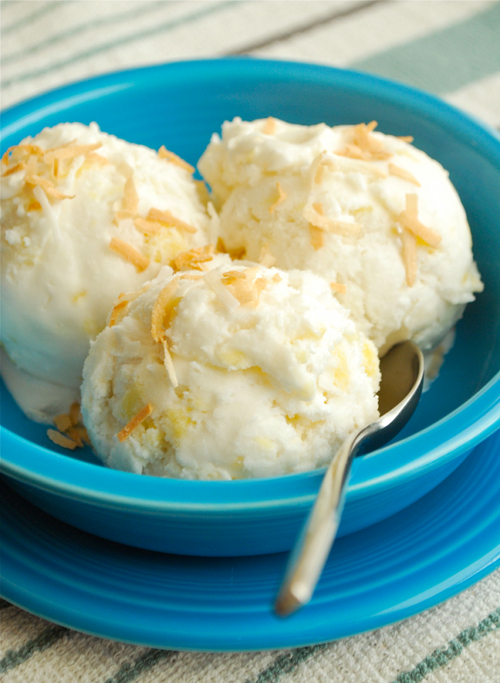 Ingredients:
2 13.5 oz cans full fat coconut milk
1 cup fresh Chestnut Hill Farms pineapple, chopped
1 cup coconut flakes unsweetened, plus ¼ cup for garnish
3/4 cup finely chopped fresh Chestnut Hill Farms pineapple for garnish
Directions:
Combine coconut milk, fresh pineapple, and coconut flakes in a large mixing bowl. Pour into ice cream maker and freeze according to the manufacturer's instructions.
When mixture is about 5 minutes from finishing, add more pineapple, if desired. Freeze in airtight container for at least 3-4 hours, preferably overnight, for best results.
Top with toasted coconut flakes, if desired.
---
Want more delicious pineapple recipes delivered straight to your inbox? Be sure to sign up for our newsletter today!
---