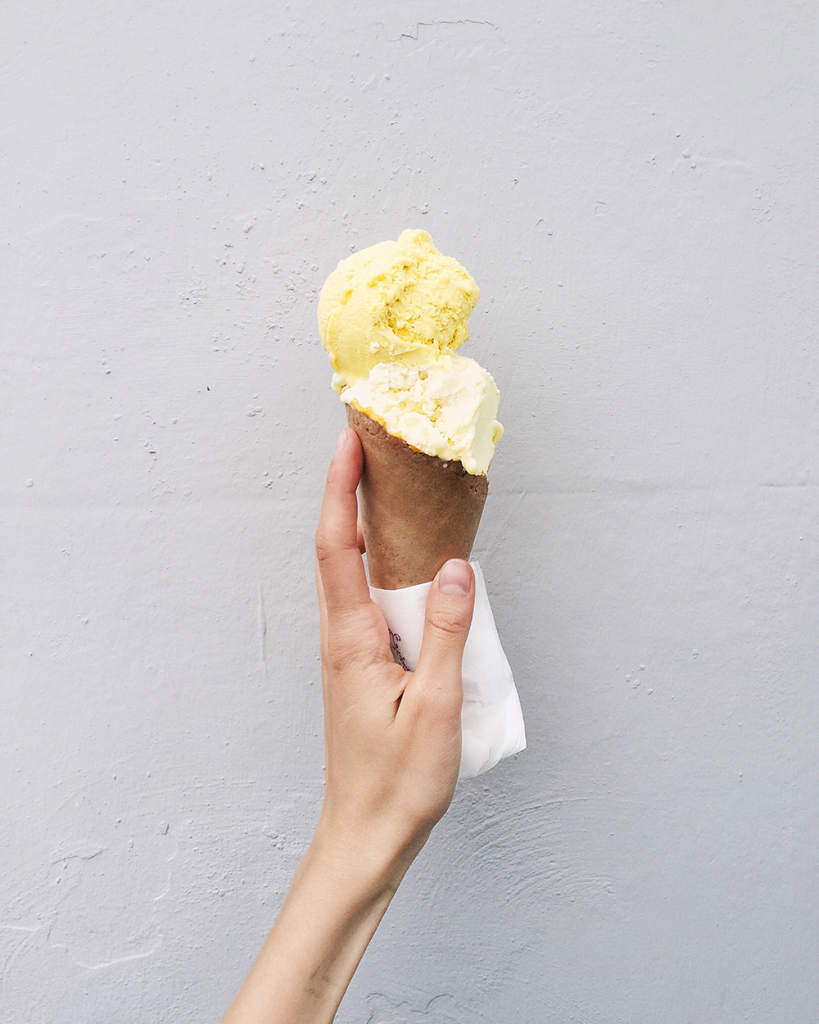 Cut Back On Sugar Without Losing the Sweet With This Easy Pineapple Recipe
Reducing your sugar intake can have huge benefits, both short- and long-term. Studies have found that a 20 percent reduction in added sugars can reduce risk of obesity, type 2 diabetes, coronary heart disease, and more. Thankfully, cutting back on sugar doesn't mean cutting back on sweets – it just means you need to be a bit more creative about how you satisfy your sweet tooth. With just three ingredients, this pineapple "nice" cream is creamy, frosty and, best of all, deliciously sweet – all with no added sugar. Even better, this simple recipe can act as a base for additions like coconut flakes or cherries and can be paired with other simple nice cream flavors for a no-sugar-added sundae. So, whether you're a long-time nutrition expert or you're looking to improve your diet as a New Year's resolution, make some space in your freezer – it's time to get scooping!
What Is "Nice Cream"?
Popularly referred to as "nice cream," this frosty blend is a healthier twist on ice cream or sorbet. Nice cream typically uses frozen banana as a base which, when blended, offers a rich creaminess akin to traditional ice cream. In this recipe, coconut milk also lends itself to silky texture, while pineapple offers plenty of flavor and sweetness (and a lot of health benefits too!). Though not all recipes for nice cream are dairy-free, they are traditionally vegan-friendly and, of course, contain no added sugar.
The Classic Pineapple Nice Cream
With just three ingredients, pineapple nice cream is one of the easiest desserts to whip up – just keep in mind that you'll need at least 4 hours to let the mixture set before digging in. Want it to freeze up faster? Use a metal container (a loaf pan is perfect for this!) and freeze it in advance. The chill will help speed up the freezing process. Another top tip? Keep chunks of frozen pineapple and banana in your freezer so you're always able to satisfy your cravings.
Ingredients:
1 large Chestnut Hill Farms pineapple, chopped into chunks and frozen
2 cups chopped banana, frozen
1 cup coconut milk
Directions:
Add pineapple and banana to a blender or food processor. Add about half of the coconut milk and blend. Add additional liquid slowly and continue to blend until mixture is completely smooth but thick.
Pour mixture into a loaf pan or other container. Tap on counter gently to ensure even distribution and cover tightly.
Freeze for at least 4 hours or until mixture is solid.
To serve, remove nice cream from the freezer and let soften for 30 minutes. Scoop into a bowl and enjoy. OR, scoop several scoops into a blender and blend again for soft-serve texture.
Making Your Pineapple Nice Cream Your Own
If you're feeling brave or just want more complexity to your flavors, don't hesitate to add mix-ins both before and after blending. Here are just a few of our favorite combinations:
Add unsweetened coconut flakes or shredded coconut for a frozen pina colada! (You can also add a bit of rum for an adults-only twist.)
Add some vanilla to your nice cream mix. Then, after blending, fold in crushed pineapple, chopped cherries, and chopped pecans to make pineapple upside-down cake.
Spice up your nice cream with fresh ginger, lime zest, and a squeeze of lime juice.
Looking to sneak in some greens? Avocado is a delicious addition for an extra creamy blend.
---
If you try making pineapple nice cream at home, be sure to snap a photo and tag us @chestnuthillfarms! We'd love to see your sweet creations.
Want more healthy pineapple recipes sent straight to your inbox? Sign up for our newsletter today.