Back to School Pineapple Advice
A pineapple is everything that you want to be on your first day back to school: they stand tall, wear fabulous crowns, and are sweet on the inside! With the new year quickly approaching, it's normal to feel a little anxious about the big first day back to school. With new classes, new friends, new teachers and new challenges…it can be a lot to handle. To lend a hand, we have compiled some back to school tips as perfect as our pineapples!
1. Give Yourself a Boost
Starting out the new year with some healthy eating habits is a great way to prep for the perfect school year. Pineapples are a great option to get yourself feeling recharged and ready to take on the first day! Pineapples are filled with Vitamin C and bromelain, both of which work to keep you feeling healthy and well! This perfect fruit has a source of Vitamin C, which markedly improves and strengthens the immune system, fighting off those back to school germs! This combined with brolemain's ability to work as an anti-inflammatory is extremely beneficial for fighting infections and eliminating bacteria. Not only will this superfruit keep you well this school year…it's delicious! Check out some more health benefits here.
2. Show Some Flair
Nervous about making new friends on the first day? Wearing a unique back to school outfit can show off your personal style and create a great talking point. Try picking out the perfect first day outfit the night before! Not only is it fun to find the perfect ensemble, this will this help you be prepared the morning of your first day. We love this bright summertime outfit to show off your fun side!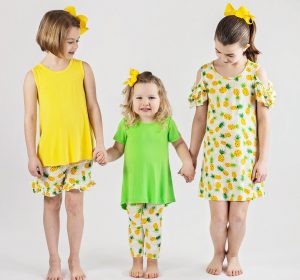 3. Prep With a Smoothie on the Go!
An important first step to having the best first day back to school starts with the best breakfast! Make sure to pick something healthy and satisfying…like this simple smoothie recipe.
Filled with delicious pineapple, strawberries and bananas, just a few ingredients create a great breakfast option for students on the go. Pineapples are packed with Vitamin C and bromelain, which both work to boost immunity and help combat the flu. This is key for staying healthy after being introduced to new classroom germs this school year!
4. Smile and Be Yourself!
The best advice that we can offer to make your first day back to school great is simple: smile and be yourself! If you are feeling nervous, don't forget that this is everybody else's first day too, so everyone's a little nervous. You aren't alone! By putting your best foot forward, you can meet new friends and create relationships with your teachers and coaches.