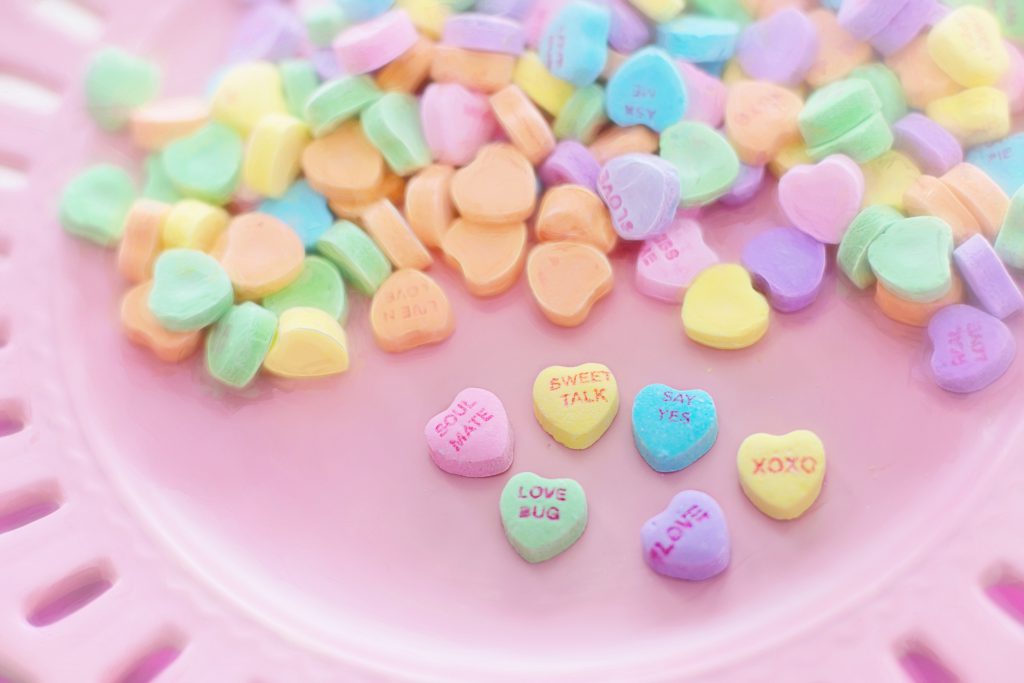 Ideas for the Perfect Valentine's Day
Did you know that approximately 224 million roses are grown for Valentine's Day every year? People love to receive flowers on this special day that celebrates love, but the gifts don't have to stop there.
If you're in search of ideas for the perfect Valentine's Day, look no further. With Chestnut Hill Farms Pineapples, you can make the holiday sweeter for you and your loved one.
Here are some romantic DIY projects and recipes that you can do with a pineapple to help make your loved ones feel special for an unforgettable day.
Valentine's Day Edible Arrangements
Rather than fighting over reservations, make your arrangements edible this year. Surprise your loved one with fresh pineapple (provided by the Costa Rican farms of Chestnut Hill, of course) covered in chocolate.
With 145 million Valentine's Day cards sent every year in the U.S., you won't want to forget yours. These lovely fruit bouquets come with a personalized message, which can also be delivered anywhere in the United States.
You can order your arrangement for Valentine's Day, or even create your own fruit bouquet from scratch.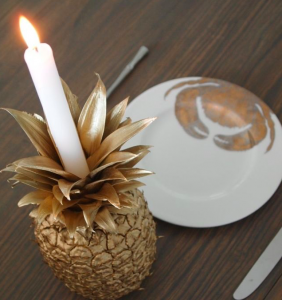 Pineapple Candle Holder
DIY projects make everything fun, especially when you have a pineapple to use. With a Pineapple candle holder, you can transform your table for a candlelit dinner. It's perfect for a romantic Valentine's Day dinner.
What You'll Need:
A Chestnut Hill Farms Perfect Pineapple
Gold spray paint
A taper candle
Directions:
Create a cradle for the candle by twisting the pineapple's center leaves off.
Spray paint the pineapple evenly, making sure to get the tops and undersides of the leaves.
After the spray paint dries, place the candle in the cradle.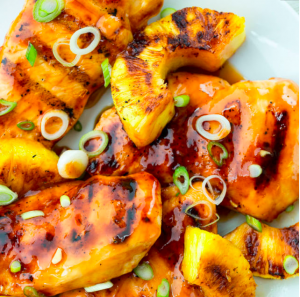 Grilled Pineapple Chicken for a Valentine's Day Dinner
A delicious, home-cooked meal is never a bad route to take on this special day. Using pineapple, you can add a sweet twist to grilled chicken that will have you falling in love with the fruit. It's also a great way to incorporate pineapple and its health benefits into your diet for a stronger heart.
Ingredients:
1 c. unsweetened pineapple juice
3/4 c. ketchup
1/2 c. low-sodium soy sauce
1/2 c. brown sugar
2 cloves garlic
1 tbsp. freshly minced ginger
1 lb. boneless skinless chicken breasts
1 tsp. vegetable oil, plus more for grill
1 CHF pineapple
Thinly sliced green onions
Directions:
In a large bowl, whisk together pineapple juice, ketchup, soy sauce, brown sugar, minced garlic, and ginger until combined.
Add chicken to a large resealable plastic bag and pour in marinade. Let marinate in the fridge for at least 2 hours and up to overnight.
When ready to grill, set the grill to high. Oil grates and grill chicken, basting with marinade, until charred and cooked through, 8 minutes per side.
Toss pineapple with oil and grill until charred, 2 minutes per side.
Garnish chicken and pineapple with green onions before serving.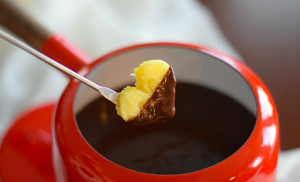 Valentine's Day Pineapple Fondue
There is no better time to indulge in a sweetly decadent dessert than Valentine's day. Pineapple can provide the sweetness you're craving, and with fondue, dessert can also be fun. To help celebrate the theme of love, cut your pineapple into hearts to dip.
Ingredients:
2 cups heavy cream
1 lb. premium semisweet chocolate
1 tablespoon pure vanilla extract
1 tablespoon brandy
Directions:
Put approximately 4 inches of water in the saucepan and bring to a slow boil. Place the mixing bowl on top and pour in the heavy cream; let heat. Meanwhile, break up or chop chocolate into small pieces. When the cream feels hot to the touch, add chocolate and whisk until smooth. Whisk in vanilla and brandy.
Pour into the fondue pot and light the handy fuel underneath; keep the flame low as not to burn the fondue. Arrange your favorite items on a platter and enjoy.
Easy Rum-Soaked Grilled Pineapple
Take your taste buds straight towards summer with this gourmet treat. This recipe combines the sweetness from pineapple with the creaminess of ice cream for another delicious dessert to enjoy on Valentine's Day. For the best taste, we recommend using fresh pineapple instead of canned.
Ingredients:
1/2 cup dark rum
1/2 cup packed brown sugar
1 tsp. ground cinnamon (plus extra for dusting)
1 pineapple, cored and cut into about 6-8 rings
cooking spray
vanilla ice cream
Directions:
In a small bowl, mix together rum, brown sugar, and cinnamon. Then in a glass baking dish (or other container), lay out the pineapple rings and pour the rum mixture over them. Toss to coat, then let soak for at least 15 minutes, flipping the pineapple midway through.
When you are ready to cook the pineapple, strain out the extra rum sauce from the pan of pineapple, and transfer it to a small saucepan. Bring the sauce to a simmer over medium-high heat, then reduce heat to medium-low and simmer for about 6-8 minutes, or until reduced by half. Set aside.
While the sauce is cooking, heat a grill pan or saute pan over medium-high heat until hot. Lightly grease the pan with cooking spray. Add pineapple slices in an even layer and cook for 1-2 minutes per side until browned and grill marks appear. Transfer to a serving plate, and set aside. Repeat with remaining pineapple.
Top each pineapple ring with a scoop of ice cream and drizzle with rum sauce. Serve and enjoy!
---
Happy Valentine's Day from CHF
We hope you're feeling inspired to prepare a Valentine's Day to remember. Look for Chestnut Hill Farms pineapples just in time for the holiday!