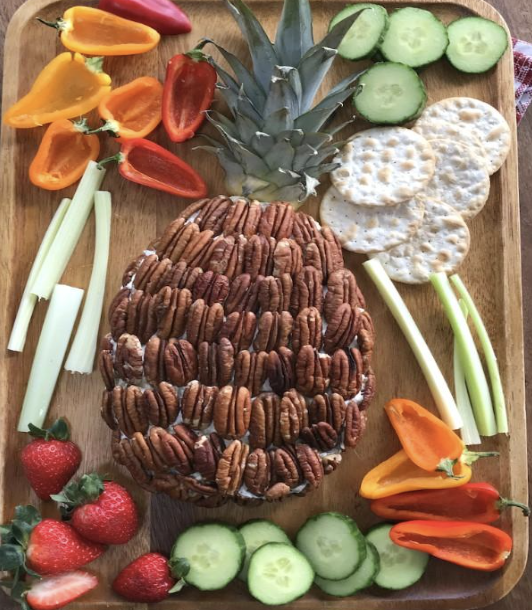 Ready, Set, Snack
It's time to get your Super Bowl recipes ready because on Sunday, February 12, football fans will be gathering to watch the Kansas City Chiefs and Philadelphia Eagles face off to win the Vince Lombardi Trophy. This year's Super Bowl will be hosted at Glendale, Arizona's State Farm Stadium, nicknamed, "the Big Toaster."
Whether you are rooting for the Chiefs or Eagles, the perfect Super Bowl party can be a winner with delicious recipes fit for a quarterback. Check out this sweet and savory dish below to kick off your perfect Sunday night football party with your favorite: The Perfect Pineapple.
Pineapple Party Dip
Original Recipe by Proud Italian Cook
Ingredients
1 Perfect Pineapple, chopped
2 – 8 oz bricks of cream cheese, softened
8 oz. bag of raw unsalted pecan halves, a little more just in case some are cracked.
1 tablespoon grain mustard
¼ each of a red, orange and yellow pepper, diced small
⅓ cup of black olives, sliced and chopped (optional)
2 or 3 green onions, finely chopped
¼ cup chopped pecans
2 heaping tablespoons of freshly chopped parsley
Salt and pepper to taste
Instructions
Cut the crown off your Chestnut Hill Farms Perfect Pineapple and slice the fruit half lengthwise (long) so it lays flat. Set aside the fruit and reserve the crown of the pineapple for ending decor.
Scoop out and chop about a cup of the pineapple fruit. Set it aside.
In a medium bowl, add the softened cream cheese and grainy mustard. Beat with an electric mixer until smooth and creamy.
With a spatula, fold in the reserved pineapple, colored peppers, chopped pecans, olives, onions and parsley, making sure everything gets mixed in.
Taste and add whatever you would like more of.
Refrigerate the mixture overnight in a bowl covered with plastic wrap.
When ready to serve, place cream cheese mixture onto your serving platter, shaping like a football. Remember the crown is going to be placed on top, therefore allow room on your serving platter when positioning the cream cheese mixture.
Decorate the pecan halves from top to bottom covering the sides as best you can, overlapping the pecans to cover most of the cheese mixture.
Position the crown in place at the top of your creation, and add your dipping veggies, crackers and chips all around.
Serve and enjoy!
Want more great recipes for the Super Bowl?
Check out these other delicious Super Bowl recipes that will have your guests wanting more:
The Perfect Pineapple Salsa: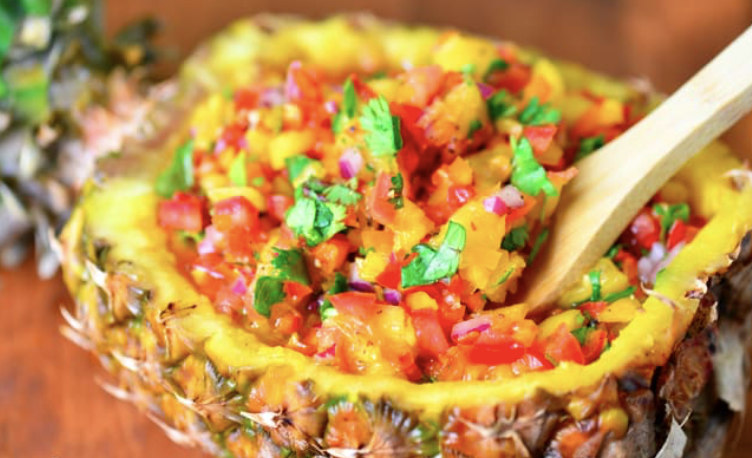 Salsa is a classic snack to serve at any Super Bowl party. Why not do something a little different this year? This pineapple salsa in a pineapple bowl is easy and elegant, and so delicious!
The Perfect Pineapple Bacon Poppers: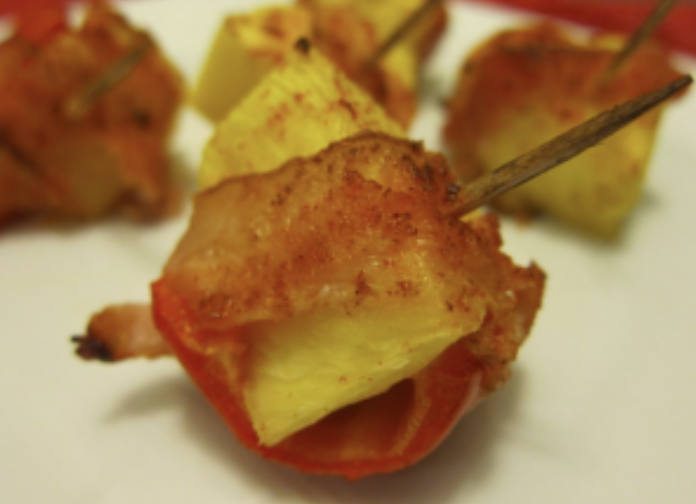 These sweet and salty football-themed bites will be reigning champs no matter whose team you're on. Impress your host or your guests for Super Bowl Sunday and enjoy!
---
At Chestnut Hill Farms, we are one of the world's leading growers, importers, marketers, and distributors of premium-quality produce grown in diverse locations throughout Latin America. We take pride in growing the "Perfect Pineapple" for any meal. Check out Lloyd's Corner for more recipe ideas.