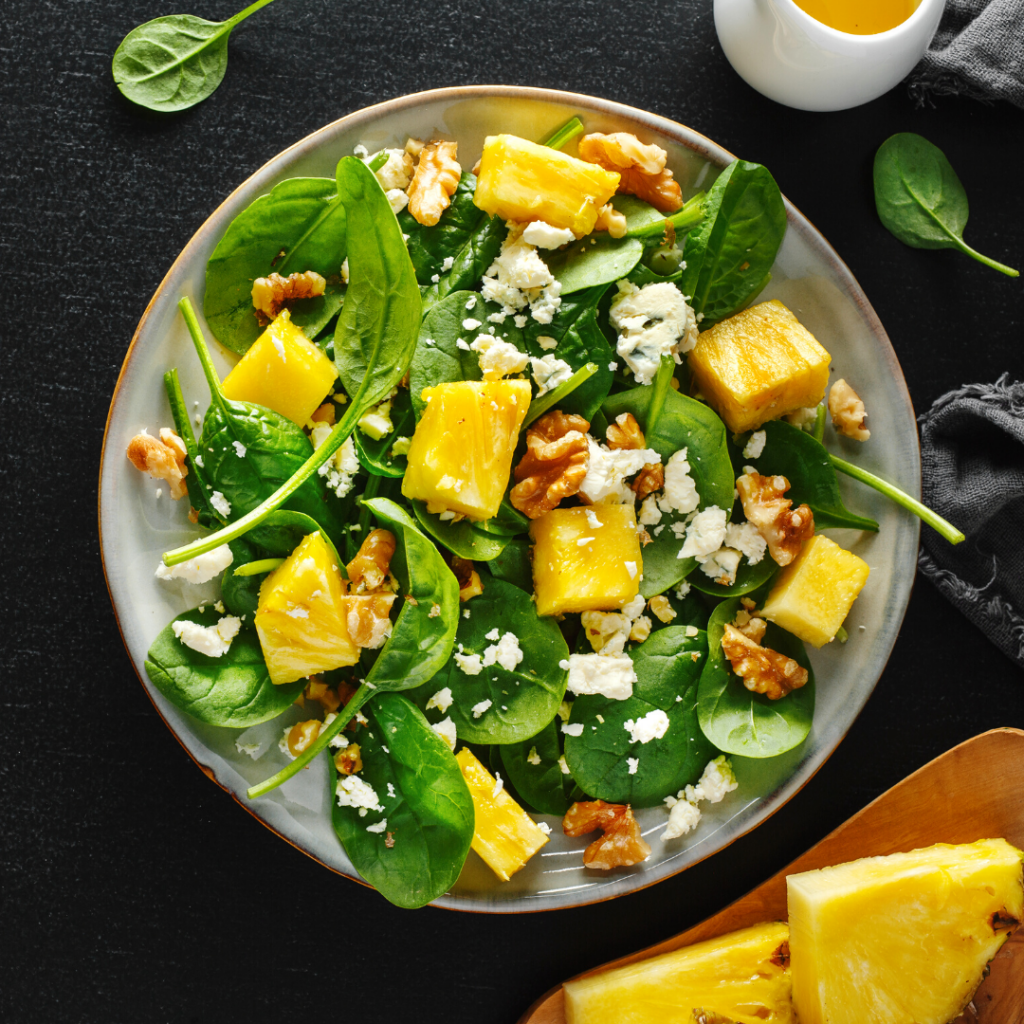 Pineapple Meets Vegetables for a Taste Explosion
We all love a lil' somethin' sweet. Especially in the summer, it can be tempting to reach for an ice cream cone. However, there are other food combinations that can be just as sweet, without the calories and added sugars. Creating a tasty pineapple salad will keep you refreshed by the pool, at the beach, and relaxing with friends.
Pineapples are a beneficial fruit for our bodies because they are high in vitamin C, B6, and magnesium. Especially while sweating in the hot summer sun, we can use every nutrient we can get. When trying to eat healthy it is great to have those extra vitamins and even better when it comes from something as delicious as pineapple.
It's not all about the pineapple! Salad greens contain many vitamins and healthy components key to a well-rounded diet. Greens contain vitamin A and C, calcium, and fiber and are naturally low in calories and sodium.
There are many different ways to create a perfect pineapple summer salad fit for any occasion. Feel free to experiment with the different ingredient lists, toss everything together, and voila—a culinary masterpiece!
Cucumber Pineapple Salad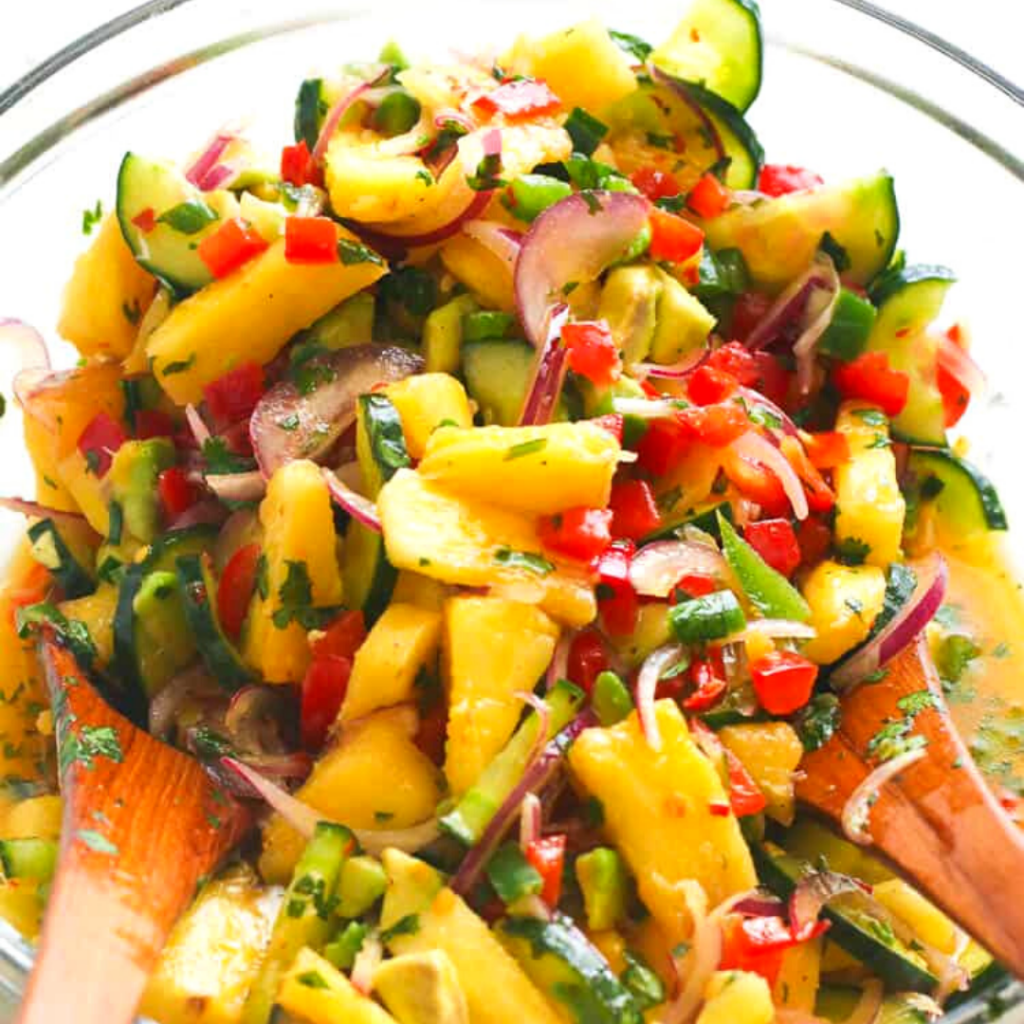 In need of a refresh from the hot, summer heat? This pineapple cucumber salad is a fresh option perfect for the middle of the afternoon, poolside, or in the comfort of A/C. You won't believe how much of a breeze this dish is to whip up.
Salad Ingredients:
1 Chestnut Hill Farms Perfect Pineapple, cut into chunks
1 cucumber, seeded and cut into half-moons
1 red onion, thinly sliced
1 jalapeño, seeded and diced
1 avocado, diced
1 red bell pepper, diced
¼ cup cilantro, chopped
Dressing Ingredients:
2 tbsp lime juice
¼ cup olive oil
2 tbsp honey
½ tsp red pepper flakes
1 tsp white vinegar
Salt and pepper
Instructions:
Add lime juice, olive oil, honey, red pepper flakes, white vinegar, salt, and pepper into a small bowl. Whisk all ingredients together.
In a large bowl, add pineapple, cucumber, red onion, jalapeño, avocado, bell pepper, and cilantro.
Pour dressing over the pineapple salad and toss. Let the salad sit in the refrigerator for at least one hour, or (preferably) overnight.
Broccoli Pineapple Salad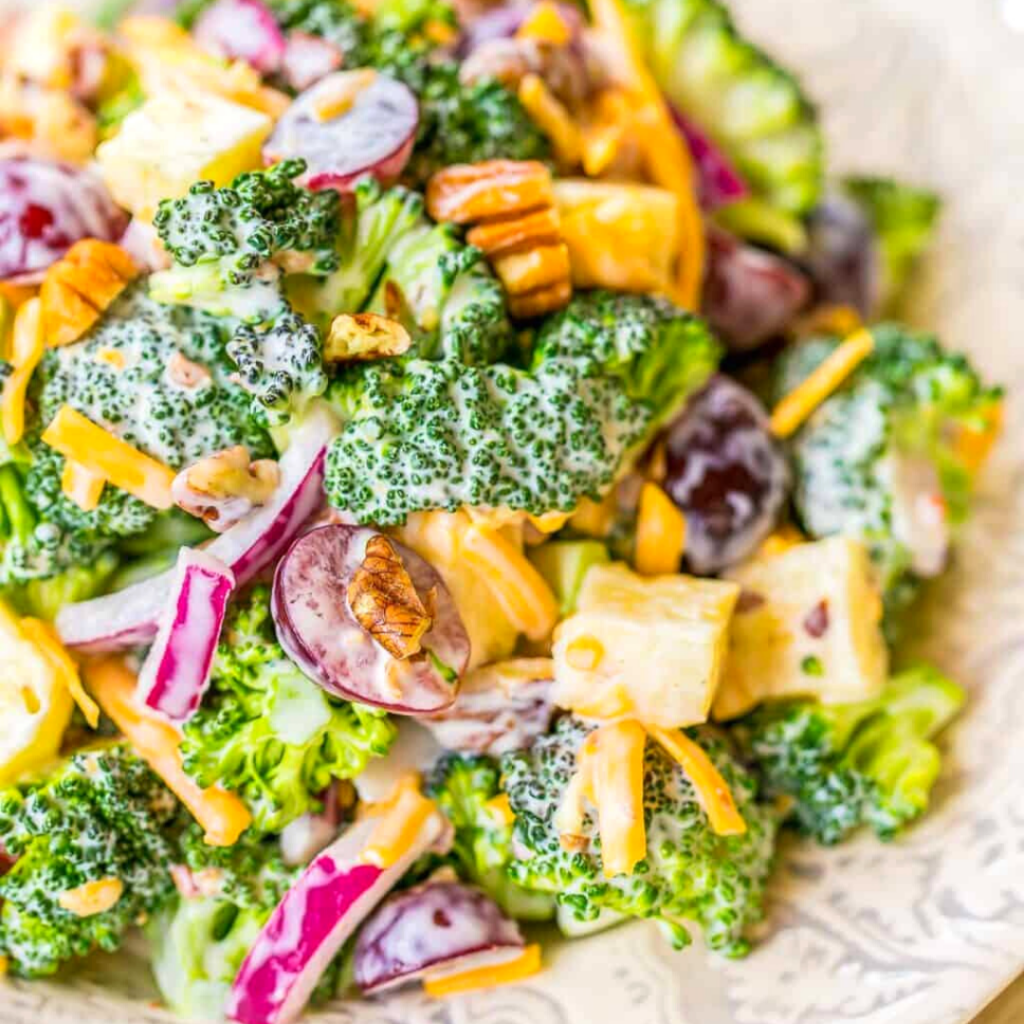 If you're looking for something a little heartier, try mixing in more green veggies. This riff on classic American mayo-based salads is a scene-stealer at cookouts from Memorial Day to Labor Day!
Pro tip: if you're looking for a vegan alternative, skip the bacon and swap tahini for mayonnaise.
Ingredients:
6 cups fresh broccoli florets
1 cup grated cheddar cheese
½ medium red onion, chopped
1 cup red seedless grapes, halved
½ cup Chestnut Hill Farms Perfect Pineapple diced
¼ cup chopped pecans
3 slices of cooked bacon, chopped
1 cup mayonnaise
2 tbsp apple cider vinegar
1 tbsp sugar
Instructions:
Combine the pineapple, broccoli, cheese, onion, grapes, pecans, and bacon.
In a small bowl, combine the mayonnaise, vinegar, and sugar. Spoon the dressing over the broccoli mixture and toss until evenly coated. Serve immediately!
Chicken, Avocado, and Grilled Pineapple Salad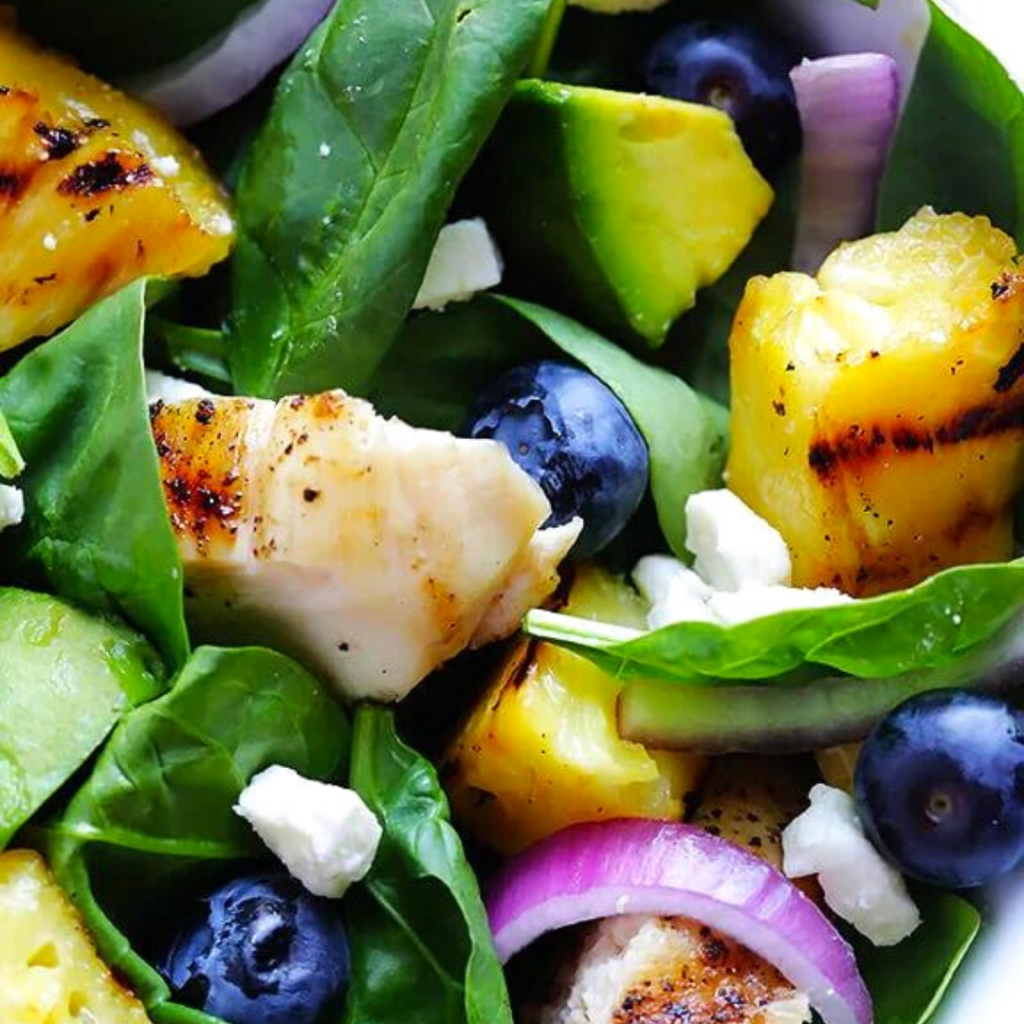 The last salad on our list involves a little more prep and cook time, but is worth every second. The sweetness of the pineapple playing with the nutty, butteriness of ripe avocado will send your taste buds on a flavorful journey. With fresh produce available during peak harvesting season, this protein-packed salad will be your new summer go-to. Enjoy it as an appetizer or a full meal!
Salad Ingredients:
1 Chestnut Hill Farms Perfect Pineapple; peeled, cored, and sliced into 1-inch thick rings
2 boneless, skinless chicken breasts
2 tsp olive or avocado oil
8 cups of baby spinach
1 cup fresh blueberries
1 avocado, peeled, pitted, and dice
½ cup crumbled feta cheese
¼ red onion, thinly sliced
Honey Garlic Vinaigrette
Salad Instructions:
Brush the chicken on both sides with olive oil, then season to taste with salt and pepper.
Preheat your grill or pan to medium-high. Place pineapple slices and chicken breasts on heat. Cook for about 5 minutes per side, or until the chicken is cooked through. Let chicken and pineapple cool for 10 minutes (to keep all of the juices in before cutting).
Toss together spinach, blueberries, feta, red onion, pineapple, and chicken. Add salad dressing of your choice, and serve immediately.
Honey Garlic Vinaigrette Ingredients:
¾ cup avocado oil
¼ cup apple cider vinegar
3 tbsp honey
2 cloves garlic, minced
Salt and pepper
Honey Garlic Vinaigrette Instructions:
Whisk all ingredients together until blended. Let sit for at least 10 minutes. Whisk again, then drizzle over salad. Dressing can be prepared in advance and stored in the refrigerator for up to four days.
Enjoy the Perfect Pineapple this Summer
The warm summer months are the perfect time to take on a new and healthier diet. But, you don't need to wait for the calendar to change to get your healthy on—start with the perfect pineapple and salad ingredients today!
---
To get Chestnut Hill Farms news and updates delivered to your inbox, sign up for our newsletter.