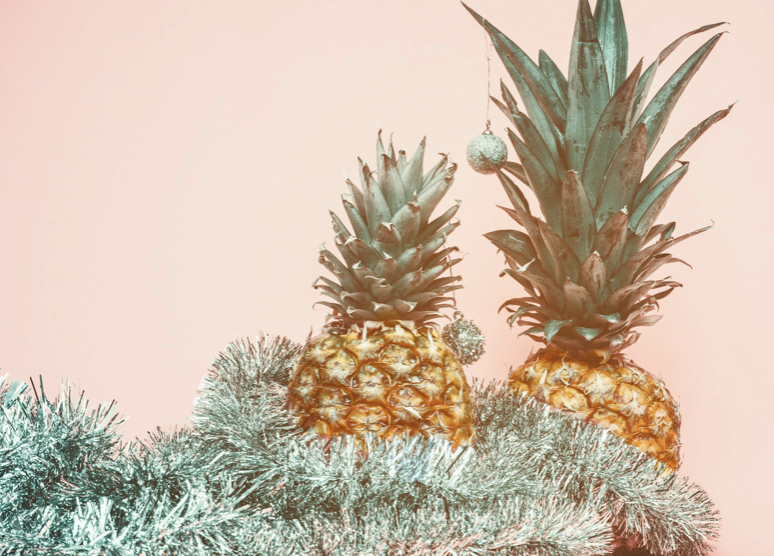 Embrace your inner Gordon Ramsey at your next holiday party by incorporating the vibrant flavor of fresh pineapple. The sweet zing of these pineapple holiday recipes incorporate our favorite superfruit and will leave a lasting impression on friends and family during this season of festivities. 
The Best Winter Dishes with the Healthy Perfect Pineapple.
The queen fruit will not only wow your guests, but it will keep them healthy, too. The perfect pineapple is packed with bromelain, a natural immune system booster. Allow yourself to indulge in something sweet without overdoing it. A serving of this fiber-rich fruit will help to minimize your waistline while maximizing the feeling of satisfaction. Did you know a daily dose of Chestnut Hill Farms pineapple can also lower your risk of getting cancer? 
Use the following pineapple holiday recipes to spice up your next get-together!
Pineapple Jam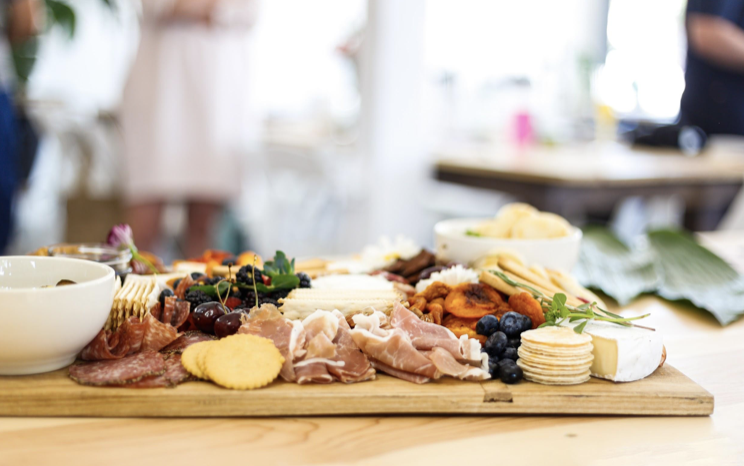 Incorporate this tasty spread into your next show-stopping charcuterie board. 
Ingredients
1 cup of sugar
2 fresh lemons, juiced
1 fresh Chestnut Hill Farms pineapple, peeled and diced
Instructions
Add all ingredients into a medium-sized pot and bring to a boil.
Reduce heat and simmer for about 1 hour.
With an immersion blender or potato masher, crush the fruit into small bite-sized (or smaller) pieces.
Most of the liquid should be evaporated. The natural pectin in the fruit will thicken the jam. This is stable in the refrigerator for up to three weeks.
Pineapple Tiramisu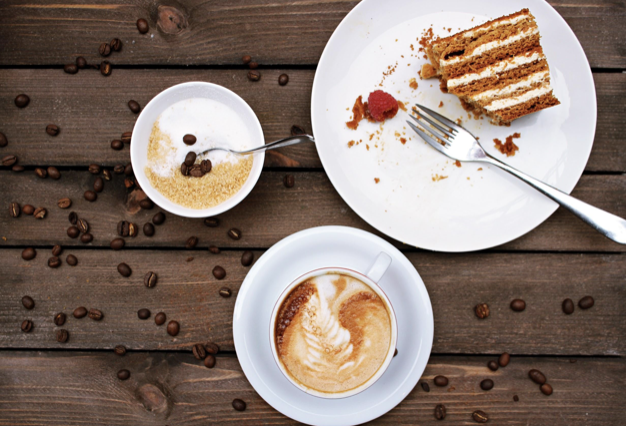 A fresh twist on a classic Italian dessert!
Ingredients
1/2 cup pasteurized egg yolks
1 lb Mascarpone cheese
6 tbsp sugar
1 Chestnut Hill Farms pineapple
1 box of ladyfingers
4 strawberries, cut half
1/4 pint wild berries
Instructions
Whisk egg yolks and 4 tbsp sugar together in a mixing bowl until it becomes a pale color and is light in volume and texture. Be sure not to over "cream" the mixture. Add mascarpone cheese and stir until consistency is smooth.
Remove skin from pineapple with a large knife. Cut in half and remove the core. Cut a 1-inch slice from the bottom. Place in a food processor with 2 tbsp sugar. Pulse until the fruit is finely chopped and has released juice.
Drain contents into a strainer and reserve the juice. Discard chopped pineapple in a strainer.
Cut remaining pineapple into 1-inch slices.
Layering the Tiramisu
Soak 10 ladyfingers in pineapple juice until liquid is absorbed. Do not allow them to sit too long.
Place a layer of ladyfingers in a round mold. Cover ladyfingers with slices of pineapple.
Add a thick layer of mascarpone cream. Repeat process.
Garnish by alternating lady finders, remaining pineapple slices, sliced strawberries and wild berries.
Refrigerate for a minimum of 1 hour before serving.
Instant Pot Pineapple Pulled Pork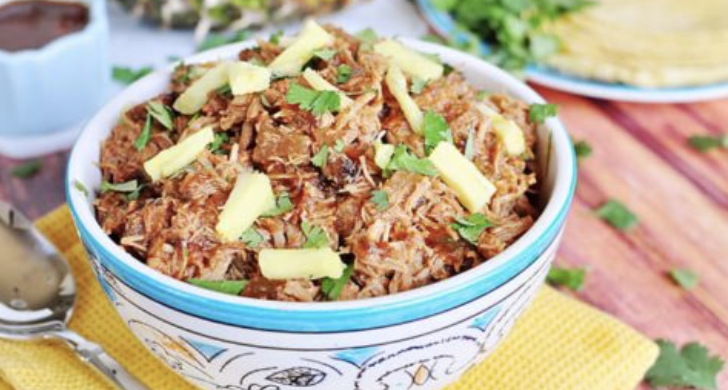 For all of our Instant Pot lovers, try this delicious recipe for fantastic tacos or sliders!
Ingredients
2 cups chicken stock
3.5 pounds pork
1/3 cup hoisin
1 cup fresh Chestnut Hill Farms Pineapple, mashed
Instructions
Slice the pineapple and cut out the hard inner core. Use a masher to juice and break up the pineapple into small bits and set aside.
Place the pork into the Instant Pot with 2 cups of low sodium chicken broth.
Close the lid of the on the Instant Pot and hit Meat/Stew button and set the timer for 90 minutes.
Make sure to close the seal. You don't want the pressure to vent until the end.
Once the Instant Pot beeps after 90 minutes, let the pressure naturally release for 10 minutes and then vent on your own.
Stain most of the liquid out of the pot saving about 1/2 cup of water.
Shred the pork and return to Instant Pot.
Measure out 1 cup of pineapple and add pineapple with juice and hoisin sauce into the instant pot with the pulled pork.
Set on high pressure for 5 minutes.
Quick-release the steam and serve on a bun or tortilla.
Quick Pineapple Bread Recipe with Self-Rising Flour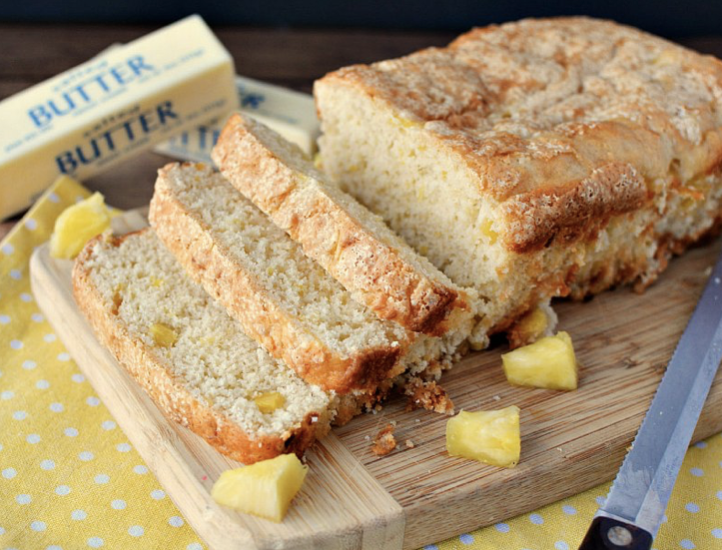 Banana bread is a thing of the past after you try a bite of this treat.
Ingredients
2 cups self-rising flour
1 cup white sugar
2 cups fresh pineapple
1/4 cup water
Instructions
Preheat oven to 350 degrees F and grease a loaf pan.
Combine flour and sugar together in a bowl and mix well. Add pineapple and continue to mix. Add water and the mixture will come together.
Get a little arm workout in while mixing.
Pour batter into prepared pan and bake for 50-60 minutes or until center is set.
Let cool before slicing.
Pineapple Coconut Moscow Mule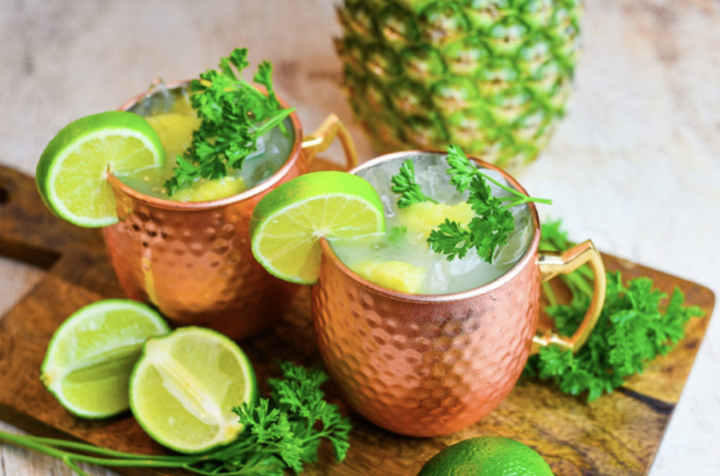 This fun drink wins with both presentation and taste.
Ingredients
2 cup vodka
3 cup pineapple coconut juice
3 cup ginger beer
1 cup chopped fresh cilantro
2 cup of Chestnut Hill Farms Pineapple chunks
1 lime
Instructions
In a large pitcher, add pineapple chunks and fresh cilantro.
Pour in vodka and stir for a minute until well blended.
Pour in ginger beer and pineapple-coconut juice and continue to stir.
Slice the lime in half and squeeze one half of the lime into the pitcher and continue stirring until blended.
Add ice to the copper mugs and pour pineapple mix. Add a few additional pineapple chunks, if you choose, and top off with fresh cilantro then serve.
Want More Pineapple Holiday Recipes?
Keep your loved ones healthy and satisfied by staying updated on new Chestnut Hill Farms recipes. Subscribe to our newsletter and be the first to know about our next perfect pineapple dish.