Cool Off, Relax and Unwind with Summer Pineapple Treats
Summer has arrived and pineapple season is in full swing. Sweet, fresh pineapple may be the perfect snack to bring to the beach, but our favorite prickly fruit can reach beyond a simple afternoon treat. Check out our summer pineapple recipe round-up to find out how the queen fruit can help you cool off, relax and unwind this summer.

Pineapple Lemonade Ice Pops
In this refreshing summer pineapple pop recipe, sweet lemonade and tropical pineapple combine to create a quintessential summer treat. Experience the nostalgia of childhood lemonade stands and the relaxation of an ocean breeze while you cool off with a healthy homemade pop.
Materials
1 Chestnut Hill Farms Pineapple
1 Lemon
½ cup water
Popsicle Molds + Popsicle Sticks
Blender
Instructions
Carefully chop the Chestnut Hill Farms pineapple into bite-sized cubes. Place on a sheet and freeze pineapple cubes for 4 hours or overnight.
Place 1 cup of frozen pineapple, the juice of 1 lemon and ½ cup water into the blender and blend until fully incorporated.
Pour the mixture into the ice pop molds and allow to freeze for 4 hours. Enjoy!


Natural Pineapple Face Mask
The summer heat and sun rays can take a toll on your skin! It's important to take some time out of the long summer days to practice self-care. While many fruits are rich in active enzymes and fruit acids, pineapples have a unique enzyme that is all their own: Bromelain.
Packed with health benefits, bromelian acts as a natural chemical peel. The enzyme will eat up dead cells that are dulling your complexion and reveal fresher, newer skin.
Materials
Blender
A Chestnut Hill Farms Pineapple
Directions
Wash pineapple thoroughly. Slice off ¼ of the pineapple.
Carefully peel the rough skin of your pineapple piece with a knife. Chop the pineapple into smaller chunks and place into the blender.
Blend for about 20 seconds or until the mixture turns into a frothy puree. There is no need to add water!
Wash off all makeup before applying mask to clean skin. Use a brush to carefully spread the pineapple puree onto your face, taking care to avoid your eye area. (If pineapple gets in eye, flush with water immediately.)
Lay back and let pineapple sit on the skin for 5 minutes. Once the 5 minutes is up, keep your eyes closed and rinse off the mask with cold water. Pat gently with a towel to dry.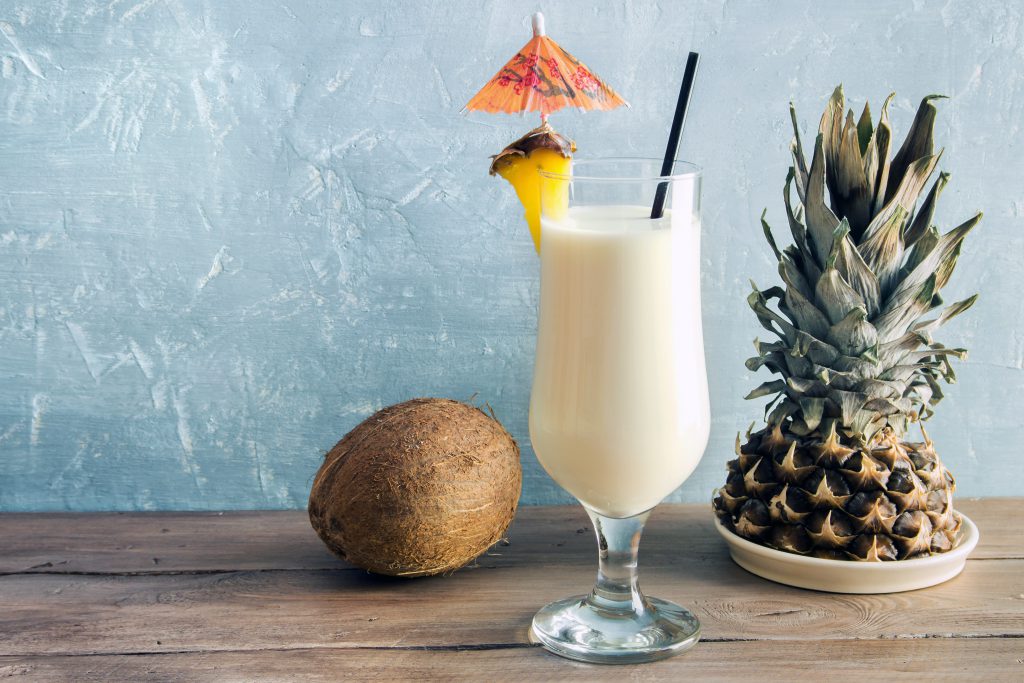 The Perfect Pina Colada
Materials
½ Chestnut Hill Farms pineapple, peeled, cut into 1½-inch pieces

6 ounces sweetened cream of coconut

2 ounces unsweetened coconut milk

8 ounces white rum

2 tablespoons fresh lime juice

3 cups of ice

2 ounces dark rum

Blender
Instructions
Arrange cubed pineapple on a sheet in a single layer and freeze for 3 hours or overnight.
Place frozen pineapple, cream of coconut, coconut milk, white rum, lime juice and 3 cups of ice in the blender and puree until smooth.
Transfer the blender cup to the freezer and freeze for 25-35 minutes. The mixture should be the consistency of a milkshake.
Blend again until the drink is a frozen and slushy consistency. Pour the pina colada mixture into 4 glasses.
Top each glass with ½ oz. dark rum. Garnish with lime or pineapple wedge, if desired. Cheers!
Sign up for the Chestnut Hill Farms newsletter for more fresh pineapple recipe ideas!