Fire Up the Grill this Memorial Day
Memorial Day weekend is the official welcome party to the summer season. Whether you celebrate the long weekend with BBQs, pool parties or beach days, it's the perfect time to officially welcome sweet summer days. These Memorial Day pineapple treats are easy to grill up and perfectly capture the spirit of summer.
Vanilla Rum Grilled Pineapple with Ice Cream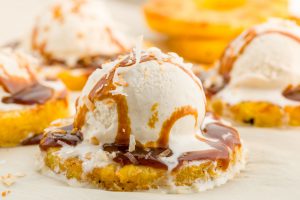 Sweet, tropical and just a little boozy, this Memorial Day pineapple treat has summer written all over it. The grilled pineapple releases natural sweetness, the cool ice cream adds a refreshing touch and the zing of rum makes this dish perfect for a celebration.
Recipe from Baptist Health
Ingredients
1/4 cup honey
1 oz vanilla extract
2 oz rum (or rum extract)
1 Chestnut Hill Farms pineapple: cored, halved lengthwise and sliced lengthwise into 12 spears
2 tablespoons sweetened coconut, toasted
Fat-free vanilla ice cream
Instructions
Combine the honey, vanilla extract and rum in a small bowl and whisk until incorporated.
Place pineapple spears in a single layer on a cooking sheet. Brush mixture evenly over pineapple spears to fully coat them. Cover the cooking sheet with plastic wrap and let the pineapple marinate in the refrigerator for 2 hours.
Grill the pineapple over medium-high heat for three minutes on each side. Your pineapple should be thoroughly heated and have visible grill marks.
Sprinkle with coconut. Garnish with ice cream, if desired.
Grilled Summer Fruit Skewers

Nothing says backyard grill-out like a skewer full of goodness. In this Memorial Day Pineapple portable treat, sweet meets savory and toasty meets refreshing. The balance of sweet fruit, slight salt and honey create a delicious form of summer on a stick.
Recipe from Delish.
Ingredients
6 

peaches, sliced

1 pt. 

Strawberries, sliced

1 Chestnut Hill Farms 

pineapple, cut into large cubes

8 

skewers, soaked in water for 20 minutes

Extra-virgin olive oil, for drizzling
kosher salt
Honey, for drizzling
Instructions
Preheat grill to medium-high. Skewer peaches, strawberries, and pineapple. Drizzle with olive oil and season with salt.
Grill for 5-6 minutes on each side, until fruit is tender and slightly charred.
Drizzle with honey.
Brown Sugar Cinnamon Grilled Pineapple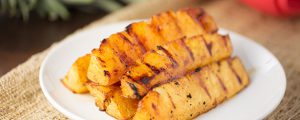 Listen, we love pineapple- but have you ever wished fruit could taste a little more like cookies? Wish no more. These brown sugar cinnamon grilled pineapples taste sweeter than a sugar cookie. The natural juices of the pineapple release a dreamy sweetness when warmed and combine with the brown sugar cinnamon for a match made in heaven. The butter and brown sugar create an unreal caramelization when grilled. This is the dessert you've been waiting for.
Recipe from The Recipe Critic
Ingredients
One Chestnut Hill Farms pineapple cut into spears
½ cup brown sugar
½ cup butter, melted
1 teaspoon cinnamon
Instructions
Lay the pineapple spears on a sheet pan and sprinkle with cinnamon.
Whisk together the melted butter, brown sugar and cinnamon. Microwave for roughly 10 seconds so the mixture is thin and easy to pour. Spread on top of the pineapple.
Grill for about 7-10 minutes or until it is starting to turn golden brown.
Brush excess sauce from the sheet pan back on top of the grilled pineapple before serving for added flavor.
Sign up for the Chestnut Hill Farms newsletter for more fresh pineapple recipe ideas!