Fire Up the Grill this Fourth of July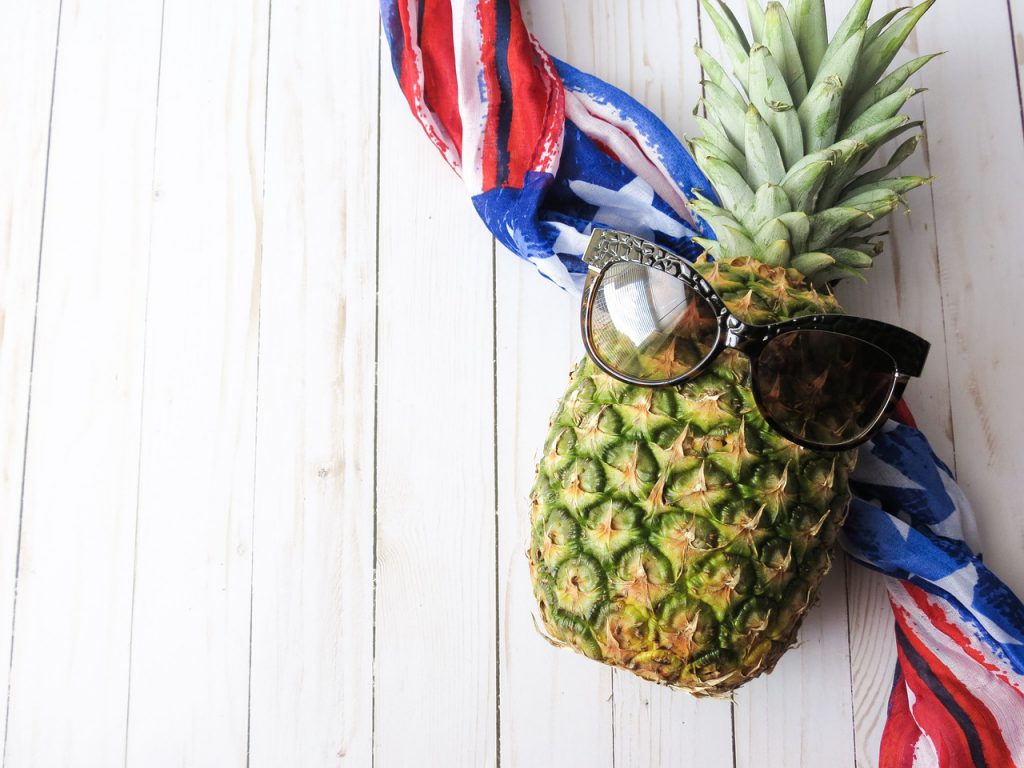 Celebrate the Fourth of July with an all-American backyard barbecue! Nothing says sweet summertime quite like friends, family, fireworks and a fired-up grill. Treat your guests to these delightfully different grilled pineapple recipes for a refreshing twist on classic summer favorites. 
Grilled Pineapple Margaritas with Jalapeno 
Get the party started with this fiery kick on an iconic poolside refreshment. Pairing bright, sweet and smokey flavors with a bit of heat creates a party drink packed with all the elements of a firework show. (Recipe serves 2.)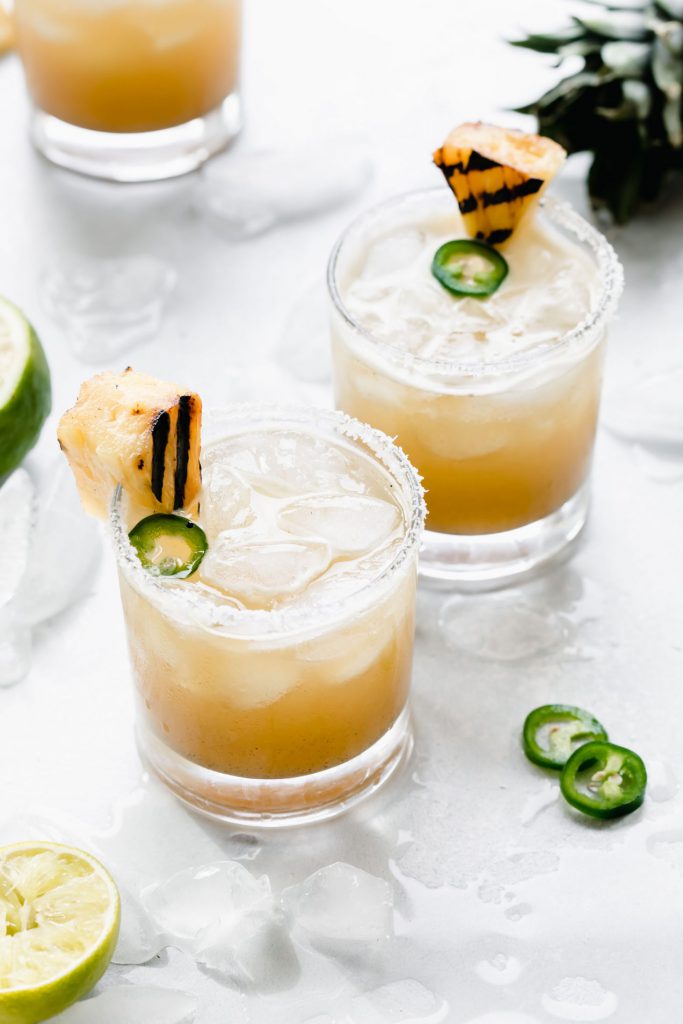 Photos and recipe sourced from Platings and Pairings.
INGREDIENTS
Grilled Pineapple

1 Chestnut Hill Farms Pineapple, chopped into 1-inch thick slices
Jalapeno Infused Tequila
1 cup silver tequila

1 jalapeno, sliced
Cocktail
3 ounces jalapeno infused tequila

1-ounce triple sec

2 slices of pineapple, grilled and chilled

3 tablespoons fresh lime juice

2 tablespoons agave syrup

¾ cup water

1 teaspoon vanilla extract

Crushed ice

Salt, grilled pineapple and lime for garnish
DIRECTIONS
Jalapeno Infused Tequila
Place tequila and jalapeno in a mason jar and seal with a lid.

Shake to combine and allow to steep for 12-24 hours.

Strain out the jalapenos and discard.
Grilled Pineapple
Preheat grill to medium-high and oil it lightly.

Grill pineapple slices for 4-5 minutes on each side, until bold grill marks are visible and pineapple softens slightly.

Place the grilled pineapple in a bowl and allow to cool completely in the refrigerator.



Cocktail 
In a blender, add jalapeno-infused tequila, triple sec, 2 slices of grilled and chilled pineapple lime juice, agave, vanilla extract and water to the blender.

Blend until smooth. 

Run a lime wedge over the rim of each glass and dip into salt to form a salt rim.

Add crushed ice to each glass, pour in the margarita mixture and garnish with extra grilled pineapple or lime wedges. 
---
Grilled Pineapple Hawaiian Barbecue Chicken
Burgers and hotdogs might be go-to grilling staples, but why not elevate your patriotic party? These grilled pineapple Hawaiian barbecue chicken packets are packed with summer flavors and require virtually no cleanup. That way, you can grill up, eat up and get back to celebrating.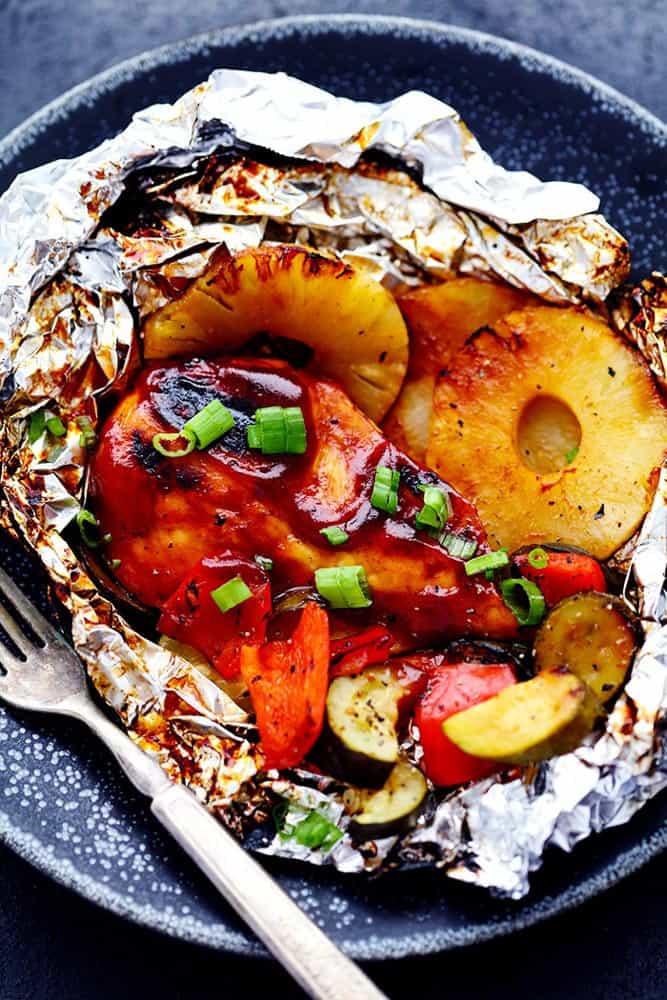 Photos and recipe sourced from The Recipe Critic.
INGREDIENTS
1 Chestnut Hill Farm pineapple, sliced

4 boneless skinless chicken breasts

1 cup barbecue sauce

2 teaspoons soy sauce

1 teaspoon garlic

1 red bell pepper, cut into squares

2 medium zucchini, sliced

Green onions, for garnish
DIRECTIONS
Heat grill to medium heat.

Cut 4 sheets of heavy-duty aluminum foil, large enough to wrap chicken and veggies into a packet.

Place a chicken breast in the center of each piece of foil. Divide the veggies between the four packets and add 2-3 pineapple slices to each.

In a bowl, whisk together the BBQ sauce, soy sauce and garlic. Spread 2 tablespoons of sauce onto each chicken and set aside ¼ cup of sauce for later.

Wrap aluminum foil around chicken to form a sealed packet. Place chicken packets on the grill and grill for 13-15 minutes, flipping halfway through.

To serve, remove packets from the grill and open them carefully. Baste with reserved sauce and garnish with green onions.
---
Grilled Pineapple with Lime Dip
Cool things off with this sweet and tropical dessert option. The juicy and bright sweetness of grilled pineapple is perfectly balanced by a cool and zesty lime dip. It's the perfect way to welcome a summer evening after a sunny day.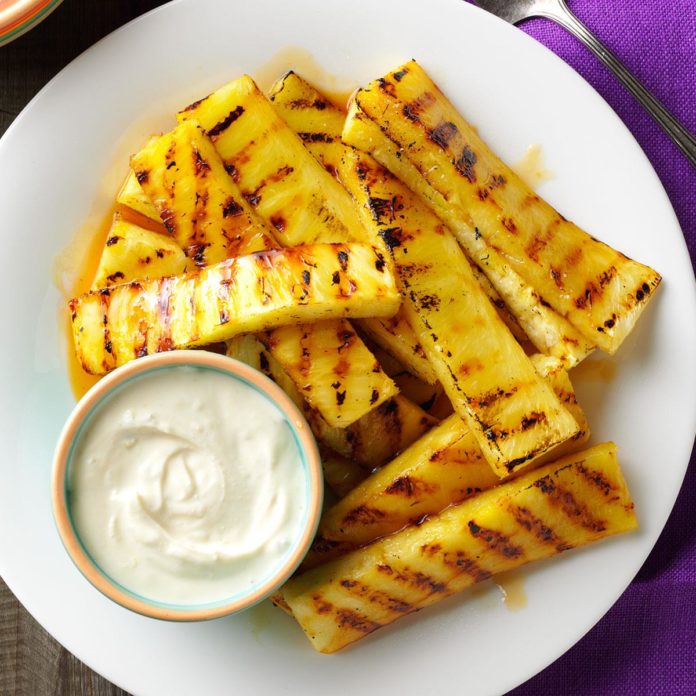 Photo and recipe sourced from Taste of Home.
INGREDIENTS
Grilled Pineapple 
1 Chestnut Hill Farms Pineapple

¼ cup brown sugar, packed

3 tablespoons honey

2 tablespoons lime juice
Lime Dip
3 ounces cream cheese, softened

¼ cup plain yogurt

1 tablespoon brown sugar

1 tablespoon lime juice

1 teaspoon lime zest
DIRECTIONS
Core the chestnut hill farms pineapple and cut into eight wedges. Cut each wedge into two spears.

Combine brown sugar, honey, lime juice and pineapple spears in a large resealable plastic bag. Seal the bag and turn gently to coat. Let marinate in the refrigerator for one hour. 

In a small bowl, beat cream cheese with an electric mixer until smooth. Add in yogurt honey, brown sugar, lime juice and zest and beat until combined. Cover and refrigerate until serving. 

Lightly oil grill and heat on medium-high. Drain and discard marinade. Grill pineapple, covered, for 3-4 minutes on each side until grill marks form.

Allow to cool slightly and serve with lime dip.
Sign up for the Chestnut Hill Farms newsletter for more fresh pineapple recipe ideas!