Grilled Pineapple Galore: A Sweet Goodbye
We're all sad to see summer go, but what better way to end the season than with a celebration of all the great sunny times you've had? With a few pineapples at hand, you can create the perfect end of summer BBQ party with all your loved ones for an unforgettable night. We've got a few ideas to spark up that pineapple party fever, and we all know you can never have too much pineapple. To get this party started, you need a sweet backyard, a BBQ grill master (master level optional), lots of drinks and all the best people that need a little summer celebration to look forward to.
Grilled Pineapple Appetizers
To kick off this pineapple frenzy, appetizers are a must and we've got a couple options for your hungry guests. We're taking it just one step further from your classic grilled pineapple kabobs and skewers with Pineapple Bites—one for the veggie eaters and one for the meat-eaters.
Rosemary Pineapple Mozzarella Bites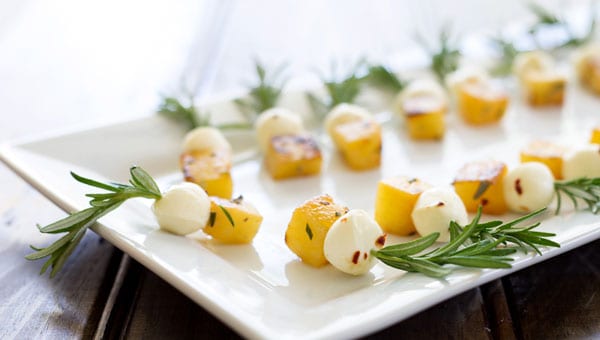 Recipe and photo sourced from Cook Craft Love.
Sweet and herby, these little skewers will be gone too fast. They are a one bite appetizer, so you don't fill up before the real deal. They're super easy and super quick to make, yet still so full of bold flavor with a combination of a Chestnut Hill Farms pineapple, mozzarella sautéed in a rosemary infused oil and a sprinkle of chili flakes.
Ingredients
20 baby bocconcini balls
2 Tbs olive oil
20 cocktail sticks, or trimmed rosemary branches
1/2 cup Chestnut Hill Farms pineapple
1/4 tsp chili flakes, red pepper flakes
1 Tbs chopped rosemary
Directions
Place the olive oil into a frying pan, add the rosemary and place over a low heat. Allow the oil to heat up and as soon it starts to shimmer, remove from the heat and pour the oil into a heatproof bowl.
Drain the bocconcini balls and placing them in a separate bowl with the chili flakes. Shake gently to ensure each ball has a little chili on it, then set aside.
Cut the pineapple into 20 small chunks. Click here for some easy ways to cut up a pineapple.
Place your frying pan back on the heat (no need to wash it) and add the pineapple. Cook over a high heat for 2 minutes then flip and cook on the other side for a further 2 minutes.
Remove from the heat and tip the pineapple into the warm rosemary oil. Allow to cool.
Take your cocktail stick (or rosemary branch) and push on a baby bocconcini ball. Add a chunk of pineapple and set onto a platter.
Cover and keep chilled until your party. Just remember to remove them from the fridge at least 15 minutes before you want to eat them.
Bacon Wrapped Pineapple Bites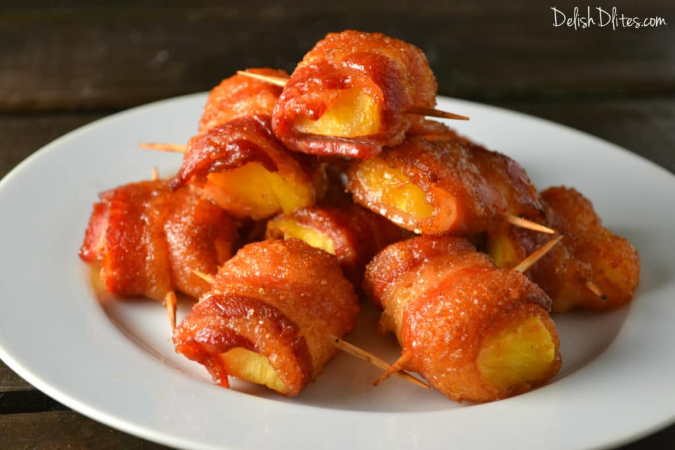 Recipe and photo sourced from Delish Dlites.
Sweet and salty, these bacon wrapped pineapple skewers are yet another quick and easy appetizer recipe to win the hearts of all the guests at your end of summer BBQ (if they don't love you already, they'll just love you more).
Ingredients
24 1" inch chunks of Chestnut Hill Farms Pineapples
8 strips of thick-cut bacon, cut into thirds or 12 strips of regular bacon cut in half.
1/3 cup brown sugar
24 wooden toothpicks
Directions
Cut a Chestnut Hill Farms Pineapple into 1-inch cubes
Line baking pan with aluminum foil, then place a cooling rack onto the lined baking sheet
Wrap each piece of pineapple with a piece of bacon and secure with a toothpick.
Dip each bacon wrapped pineapple bite into the brown sugar, patting it on as needed.
Bake at 350 degrees for 25-35 minutes, until bacon is slightly crispy and sugar is caramelized (Grilling is also a great option).
Allow to cool before serving.
Pineapple Grillin': The Real Deal
Grilled Pork Chops with Pineapple-Onion Salsa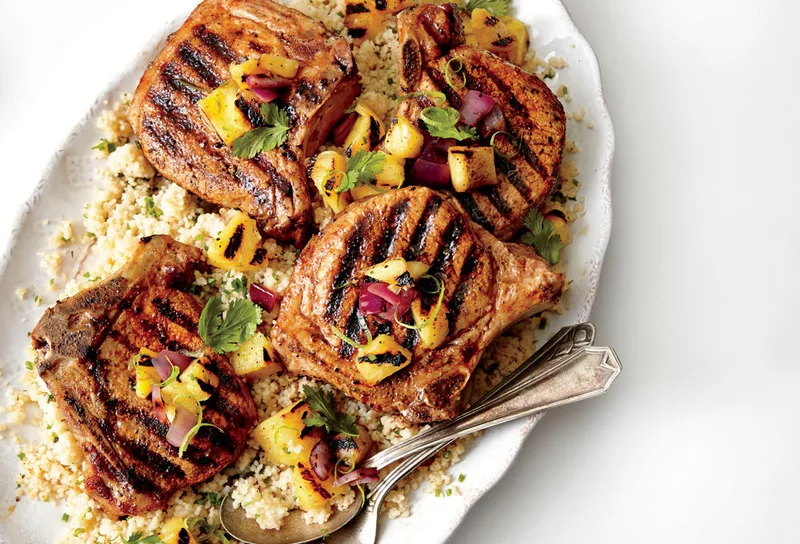 Recipe and photo sourced from My Recipes.
What's a BBQ party without grilling up some smoky pork chops? The main star in this recipe is the sweet and tangy pineapple-onion salsa that pairs perfectly with any of the grilled meats. It also goes great with salmon or any preferred fish, even grilled tofu! The choices are endless, as well as the endless variations of pineapple salsa!
Ingredients
1/2 teaspoon onion powder
1/2 teaspoon smoked paprika
1/2 teaspoon freshly ground black pepper
1 1/4 teaspoons kosher salt, divided
4 (10-ounce) bone-in pork rib chops (about 1 inch thick)
2 tablespoons olive oil, divided
Cooking spray
3 (1/2-inch-thick) red onion slices
1 trimmed fresh Chestnut Hill Farms pineapple, cut into 1-inch-thick slices
1 teaspoon lime zest
1 tablespoon fresh lime juice
2 tablespoons chopped fresh cilantro
Directions
Heat a large grill pan over medium-high heat. Combine first 3 ingredients and 1 teaspoon salt. Rub pork chops on all sides with 1 1/2 tablespoons oil; sprinkle evenly with spice mixture.
Coat pan with cooking spray. Grill pork 6 minutes on each side or until desired degree of doneness.
Remove from pan; let stand 10 minutes.
Rub remaining 1 1/2 teaspoons oil over onion slices. Add onion and pineapple to pan. Grill onion slices 3 minutes on each side or until well-marked; grill pineapple slices 2 minutes on each side or until well-marked. Remove from pan.
Coarsely chop onion, and cut pineapple into 1-inch pieces. Toss grilled onion and pineapple with lime zest and juice, cilantro, and remaining 1/4 teaspoon salt.
Top pork with salsa.
End of Summer BBQ Pineapple Party Twisted Punch
Pineapple Party Punch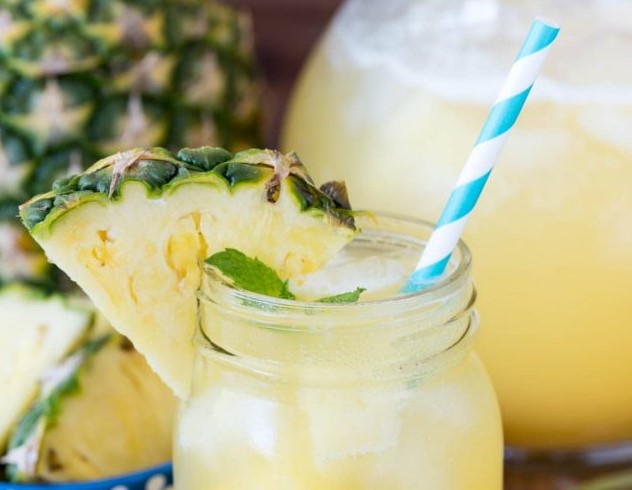 Recipe and photo sourced from Crazy for Crust.
We can't forget an essential contribution to your end of summer BBQ celebration. Pineapple cocktails. There's a pineapple cocktail out there for everyone, whether it's a Piña Colada, Pineapple Sangria or a Pineapple bourbon, the only way to make it perfect is with a Chestnut Hill Farms pineapple garnish.  Here's a fun punch to serve your guests for a summery twist.
Ingredients
4 cups pineapple juice — chilled
 1/2 cup white rum — or coconut rum
 1 bottle — 750mL Prosecco, chilled
 Frozen Chestnut Hills Farms pineapple — about 2 cups
Directions
Pour pineapple juice, rum and Prosecco into a pitcher. Add frozen pineapple to keep it chilled. Serve the same day it's made.
Non-Alcoholic Version: skip the rum and Prosecco. Use lemon-lime soda (regular or diet) or club soda instead.
An Even Sweeter Goodbye with Pineapple Dessert
Grilled Pineapple with Vanilla Ice Cream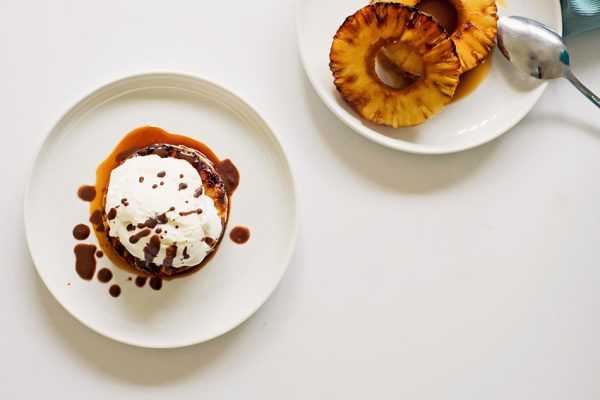 Recipe and photo sourced from Make and Takes.
Last but not least, we've also got a little something to cure an extra sweet craving. This grilled pineapple and ice cream combination screams summer-time so loud you'll forget it's coming to an end.  Super simple and refreshing, it's the best summery dessert for a perfect end of summer BBQ party.
Ingredients
2 cups brown sugar
1 teaspoon ground cinnamon
1 fresh Chestnut Hills Farms pineapple, cored and cut into rings
cooking spray
vanilla ice cream and chocolate/caramel sauce to serve
Directions
In a large baking dish add pineapple rings and rub them with brown sugar and cinnamon mixture. You can add some rum too, if preferred. Allow them to stay for at least 10 minutes before grilling.
When you're ready, heat a grill pan over medium-high heat until hot or use the outside barbecue. Lightly grease the pan with cooking spray and add pineapple slices leaving some space between the rings. Cook for 1-2 minutes per side until you see the grill marks and the color changes to brownish. Transfer to individual serving plates and allow to cool down a bit before serving.
To serve, top each grilled pineapple ring with a big scoop of vanilla ice cream and drizzle with chocolate or Caramel sauce. Serve immediately.
Don't forget to Sign up for the Chestnut Hill Farms Newsletter to stay in the know for more endless fun pineapple recipes and party ideas.